Korean Club: Dancing into the new year
Officers introduce the club with a K-Pop choreography guessing game
"ITZY's song — 'Dalla Dalla'!"
A student shouts out, then jumps up in celebration as co-president and senior Kelly Sadikun gives him a thumbs up. She hands him a donut hole, and the game continues. During Korean Club's first meeting on Sept. 18, attendees participated in a game where they had to guess a K-Pop song's name from the silhouette of a group's dance routine on a YouTube video. When a student got an answer correct, they were rewarded with a donut hole. 
Korean Club is a place for many K-Pop lovers to congregate. This year, the club will be implementing a dance committee that will be uploading monthly K-Pop dance covers on YouTube. 
Junior Natalie Zhou joined Korean Club her freshman year, and after being a part of last year's Culture Night dance performance, will act as this year's dance committee head. However, while she loves the K-Pop aspect of Korean culture, she also hopes that Korean Club can expand people's interest in Korean culture in general.
"I think people should join because we cater to a large amount of different interests," Zhou said. "For example, we do food events … dance events and culture events too. I [also] hope that Korean Club becomes a good way for people to make friends with more people because that's something that's really important to me."
Similarly, co-president and senior Kelly Sadikun believes that Korean Club isn't just a place for K-Pop enthusiasts to have fun — the club will also be teaching about Korean government, history and language. There will be a variety of events in the coming year, including the popular Spicy Noodle Challenge, inter-district gatherings and Korean snack tasting. 
"We hope to give people a more nuanced view of Korea," Sadikun said. "[For a] lot of people, their knowledge about Korea comes from media, K-Pop, TV shows and dramas, [but] that doesn't necessarily accurately represent Korea as a whole."
Last year, the club hosted an inter-district event with Cupertino High School for the Korea Legacy Committee, which is dedicated to helping Korean senior citizens in poverty. Secretary and senior Elena Chen feels that using many students' interest in K-Pop dances through the new dance committee, the club may be able to gather more devoted members and bring awareness to other prevalent issues in Korea.
"Not just with dancing, another thing a lot of kids like is the food," Chen said. "That might be a way to get students to be more involved … then start getting introduced to the club itself. And then if they keep coming, we [can] start introducing more ideas [and issues]."
However, Sadikun recognizes that simply capturing students' interest with their new plans is not enough. In her previous years as an officer, she's noticed that attendance continues to dwindle as the school year progresses. With the dance committee, she expects more students to continue coming to meetings and events during the school year, so that eventually more people can understand Korea culture beyond just K-Pop culture.
"We [know many people's hobby is K-Pop], but [we also want them to know about] how K-Pop helped Korea as a country and what it's like as a country as a whole," Sadikun said.
The club will hold meetings at lunch every other week in room E102.
Watch the YouTube video to play the K-Pop choreography guessing game:
Click through the photo gallery to learn more about the first meeting:
About the Writer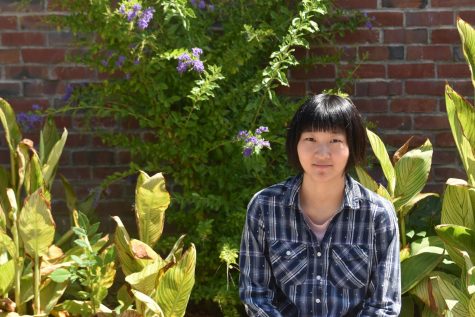 Claire Yang, Graphics editor
Claire Yang is currently a senior at MVHS and a graphics editor for print.