Fresh perspectives: New Go Club officers remark on upcoming year
Examining the goals and aspirations driving this year's officer team
Senior and Go Club president Ethan Wang dipped his hand in a plastic container of polished white marbles and absentmindedly thumbed one between his fingers, preparing to make his next move in a match of Go. During lunch on Sept. 23, students gathered around gridded wooden boards in a corner of Chinese teacher I-Chu Chang's classroom. Members of Go Club engaged in heated matches of traditional Chinese board games including Go, Mahjong and "xiangqi" while student mentors circulated the room, assessing members' play styles and making suggestions.
While Go Club has been active for over five years, most of the current officers are starting their first year on the leadership team — almost all of the previous officers were seniors. The new officers this year hope to achieve goals that they believe last year's leadership overlooked, especially Wang, who believes the previous officers "were just there to put it on their college apps." Wang is passionate about not only spreading the inherent beauty of Go, but also helping more Chinese students at MVHS reconnect with their cultural roots.
"I want people to take away the elements of playing Go — how it teaches thinking ahead [and] planning ahead," Wang said. "I know a lot of Chinese students [whose] parents played Go in the past, and they were interested, but coming to a school like MVHS, they were forced to do academic things. We're trying to help them build their sense of identity [and] reconnect with their culture."
Senior and Treasurer Eric Chen shares Wang's vision of connecting with Chinese culture, especially through students who are already passionate about Go. 
"We are inherently a cultural club," Chen said. "Lots of students here in [MVHS] have a Chinese heritage, so we hope to connect back to that heritage. Ethan Wang, our current president, has played in Go tournaments [as] a child, and so have many other Asian kids, so we hope to form a connection between them and bring people together."
One aspect of the club that officers hope to improve is member inclusion and engagement,  such as increasing club promotion efforts in order to broaden knowledge of Chinese board games among the student body. Senior and Director of Events Jack Tian reflects on the Culture Night event Go Club held last April to gather interest, where participants could challenge officers in a match of Go and earn a chance to win cake. 
"[Culture Night] was just a quick promo for a club to gather interest," Tian said. "This year, we're trying a lot harder. We started doing Club Info Day, and we started putting a lot of effort into the culture and trying to create more appeal, and we got more new people."
In addition to outreach efforts, Tian is also passionate about planning more board game tournaments, both on and off campus. He is currently in the final stages of planning the club's first tournament, an off-campus tournament that will be held in two weeks and will feature a pair of AirPods as the grand prize, funded by the school's club treasury.
Reflecting back, Wang believes that event planning was a major weakness of last year's leadership team. He and his team are determined to be more proactive in planning and advertising tournaments.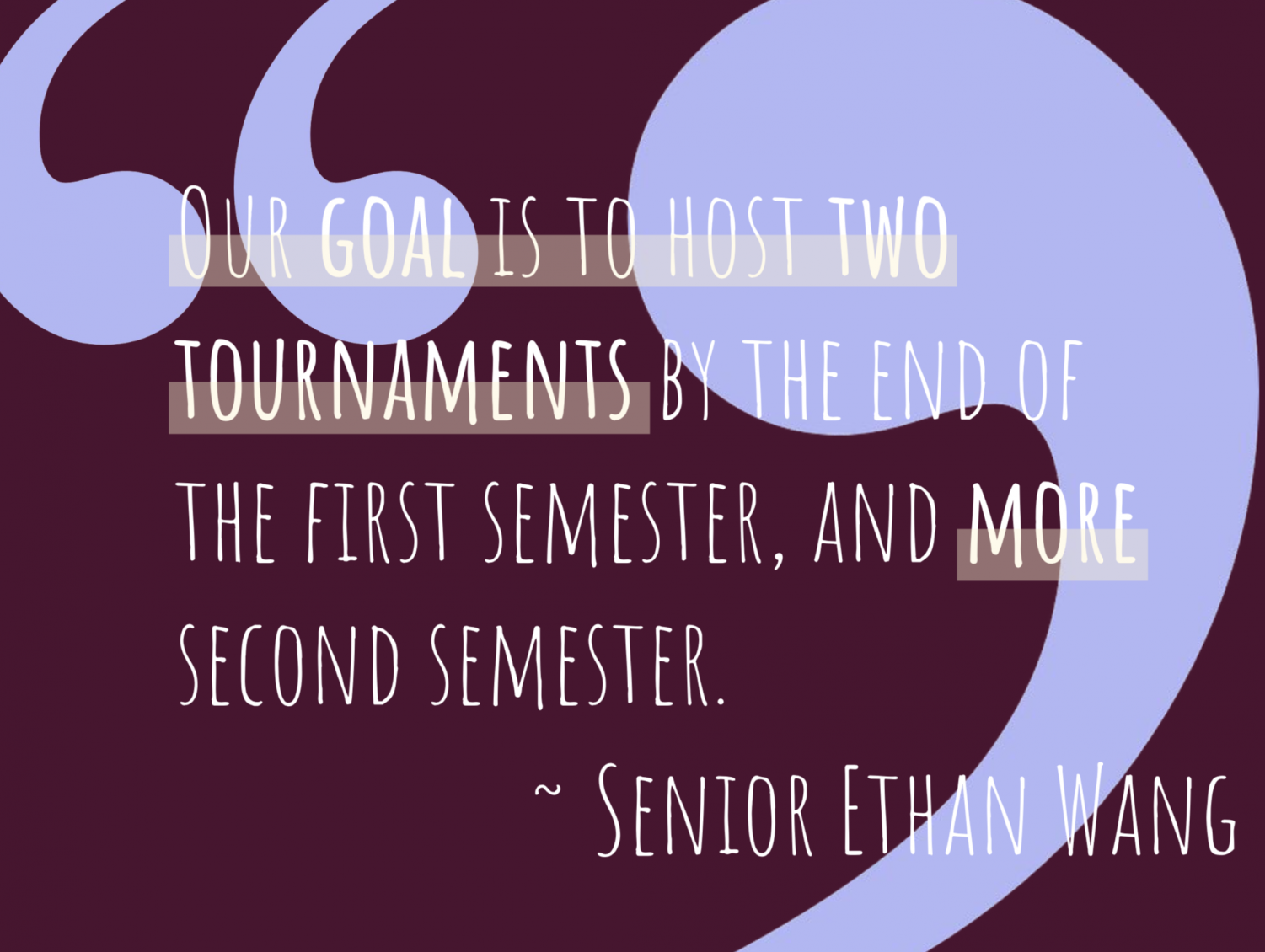 "The problem last year was that the officer team was very passive — they didn't really do anything, so we want to change that," Wang said. "We're trying to do as many things as possible. Our goal is to host two tournaments by the end of the first semester, and more second semester."
Aside from tournaments, Tian and Wang are also implementing a longer series of internal games into their weekly club meetings. To achieve this, they will set up an ongoing bracket and play tournament matches during each meeting.
Chen is enthusiastic about these tournaments — he sees them as fun and unique opportunities to increase the club's impact across campus.
"I'm excited for these tournaments especially because I think it's going to be a lot of fun and very competitive," Chen said. "I'm excited to see if we can perhaps draw out some hidden Go talent across [MVHS]."
Check out the photo gallery from Go Club's lunch meetings below.
Go Club meets every Monday during lunch in A203.
All graphics by Robert Liu