Back from the brink: A new start for WiSTEM
In the face of last year's disappointments, the Women in STEM club holds its first meeting to promote a new start
T
he Women in Science, Technology, Engineering and Math (WiSTEM) club held its interest meeting on Wednesday, Sept. 18 to outline the year's activities for potential members. The meeting was held in biology teacher and club advisor Lora Lerner's classroom. There, WiSTEM officers gave their presentation to a group of interested girls, one of these girls being sophomore Nica Tofighbakhsh.
"For me, [it's] mainly just as a career, I want to do neuroscience when I'm older, and I'm really interested in just the STEM courses in general," Tofighbakhsh said. "This sounded like a good opportunity to explore that more."
In line with Tofighbakhsh's general interests, WiSTEM is planning to take a more exploratory direction with the club this year. Vice President and junior Eesha Ramkumar has contributed to planning this new direction, which includes WiSTEM interacting with a greater diversity of fields.
"This year we're kind of branching out the club into a lot of different sections," Ramkumar said. "So we're gonna do labs … last year [the labs] were super bio-concentrated, [but] we're going to get that engineering aspect too this year."
However, the STEM field still emcompasses a wide variety of topics, some of which are not included in WiSTEM's plans. For first time member and freshman Avni Gandhi, the aspects of STEM that she's interested in are not currently incorporated in the club's curriculum.
"I thought we were going to do more building stuff and more coding things," Gandhi said. "I'm not sure [if I'll continue with the club] — I already have a lot on my plate."
Gandhi's position is similar to that of last year's WiSTEM members, who also chose to opt out of meetings, according to Ramkumar. Ramkumar, an officer then as well, recalls those discouraging times with a laugh.
"Oh my god, last year —it's very embarrassing — we only had  15 kids on the mailing list, and I don't know, one or two showing up to meetings, so it [was] obviously very disappointing," Ramkumar said. "This year, [we're] very happy with the turnout. [It] was like, at least 30 kids."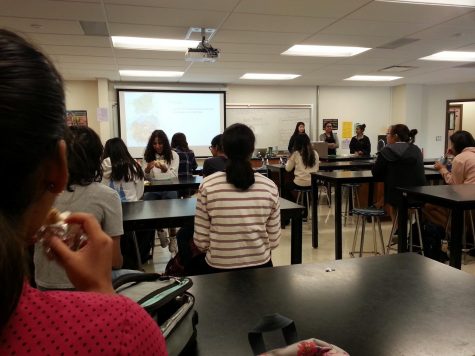 Ramkumar mentions how attendance was actually an issue that WiSTEM had been trying to implement  for the upcoming school year.
"Last year, we came from this place where we weren't, I guess, not doing enough advertising," Ramkumar said. "There were very few girls, and you know all the CS clubs here are very popular with guys. So this year [we worked] to promote that [popularity], especially with club info day, with attracting girls."
The gender disparity in STEM is an international issue, with only 28% of the science and engineering workforce comprising of women as of 2018. The gender makeup of WiSTEM is an important factor for sophomore Sanya Garg, who has observed this trend at school.
"I've always been really interested in STEM, but something that's always been there is that if you go to any of the other STEM clubs on campus, there's been a really big gender gap," Garg said. "In CS club, for example, when I went to the interest meeting there were only three girls in the class, which was kind of discouraging."
But at the WiSTEM interest meeting, in a biology classroom full of females, Garg finds a much more comfortable space to enjoy her interest in STEM.
"This club is kind of an opportunity to be in an environment where everyone is similar to you, and [you can] find others with similar interests," Garg said.