Climbing the ladder: Two MVHS students qualify for and compete in prestigious physics olympiad
Students earn awards for their test rankings on the USAPhO exam
The United States National Physics Olympiad (USAPhO) is a prestigious exam administered by the American Association of Physics Teachers (AAPT) that tests high school students on physics concepts and theories beyond the scope of the high school curriculum. Known for its difficulty and tight selection of the competitors, only a few are able to win awards.
The exam is comprised of two sections, each with a set of three problems — participants have one and a half hours to complete each section. In addition to being proficient in physics, competitors are required to be well-versed in both theories and mathematics. After passing the first round of tests, the F = ma exam, junior Brandon Guo earned a bronze medal after taking the USAPhO.
Anticipating the difficulty of the exam, Guo prepared outside of school by reviewing textbooks, watching online video lectures and taking practice tests. However, Guo believed his preparation did not help him on the exam due to the unpredictability of what concepts would be covered.
"I felt alright, it was kind of what I expected," Guo said. "I knew that based on how I was comparing against the rest of my peers, I fell somewhere in that range. There was a sense of relief I guess, that what I've done do prepare has kind of reflected itself in the awards."
Junior Jacob Nie prepared using similar practice and approaches as Guo — as a result, Nie earned an gold medal and an invitation to the USAPhO training camp. An award of this prestige is only granted to the top 20 students in the nation. From this camp, five students are chosen to represent the U.S at the International Physics Olympiad (IPhO). Nie is satisfied after being given this opportunity, because he feels it serves as recognition for his hard work.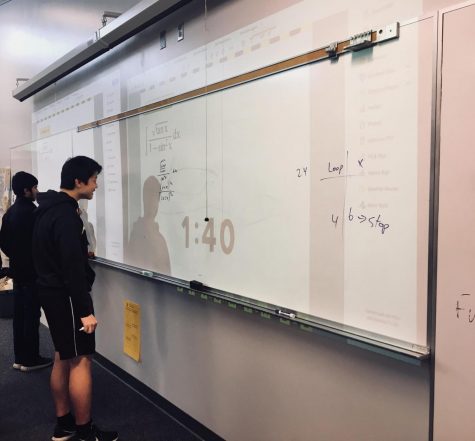 The IPhO features experimental aspects of physics, which differs from the purely theoretical nature of the USAPhO exam. When asked how being selected for the IPhO would change his life, Nie responded "I wouldn't be able to go hiking over the summer in July." Overall, the levels of success he has achieved in physics has made it one of Nie's gratifying pastimes.
"Physics is pretty cool, to some degree," Nie said. "Maybe I only think it's cool because I'm good at it — that's a possibility. A lot of people think that about certain things. Like pianists who are good at piano think that piano is cool, maybe only because they're good at it. I think that's a factor when you consider how cool something is."
Guo is also passionate about physics, but attributes his interests to the challenging nature of the problems, rather than his level of success in the subject.
"Physics is just that one of those things that's so difficult [that] to be able to solve a problem and to make even a little bit of progress on a problem is something that's really satisfying," Guo said. "I definitely think that I'll be participating in this exam in the future just because it's a fun exam and looking at these really difficult physics problems is extremely rewarding."