Getting into the Groove: Japanese Club prepares a dance for Culture Night
Japanese club continues to practice their routine despite facing obstacles
The bell rings for lunch, and kids trickle in, dotting the dark-green turf of the lower field. Some chat, while others pass a softball back and forth. However, in the back corner, near the softball diamond, a group of fifteen students don't sit in the typical lunch  circle — they all face the exact same direction in a line as they eat their lunch. It's practical, as they simply want to shield themselves from the sun, but from afar, the Japanese club members stand out from the other students.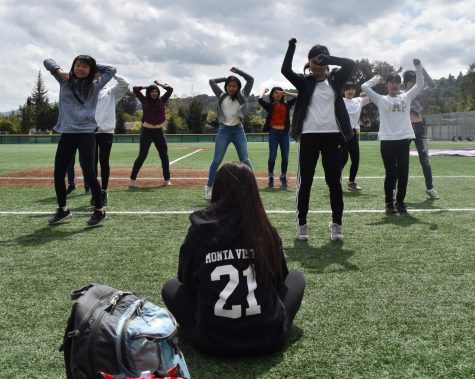 For the past three weeks, the Japanese Club and Japanese National Honor Society (JNHS) members have been coming to the lower field every lunch to practice their dance  routine for one of their biggest events of the year: Culture Night. Held on April 11 this year, Culture Night is an annual congregation of every culture club (such as the Korean Club and Chinese Club) to experience different traditions. Anyone is welcome to participate, and each club prepares different methods to exhibit their respective cultures.
For Japanese Club, preparing an annual dance routine is their representation of Japanese pop culture. While the performance is exciting to watch, many don't realize the amount of organization and practice required to execute such a routine.
First, president and senior Etsuka Tomonaga chose what song the club would cover: "Suki to Iwasetai" by artist IZ*ONE. Then she, as well as her sister and sophomore Asuka Tomonaga, had to learn the choreography to the song in order to teach the rest of the club. As they are part of the MVHS Dance Team, they were qualified to do so.
"I can teach [the members] how to move their bodies," Asuka said. "And then for the formation, I'm looking to make them symmetrical. I'm looking that they are moving in the right place or dancing the right way or looking in the right direction."
Although the members have been practicing at home and during lunches, learning the routine hasn't been completely smooth sailing — just organizing the formations have proven to be difficult.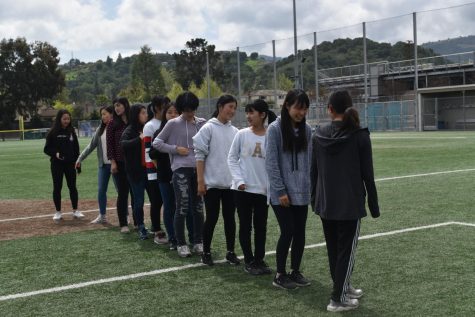 "This is so difficult because IZ*ONE is only twelve people, but we have fourteen," Etsuka said. "So we need to adjust the formations. The movements are just hard, and some of them are not experienced dancers at all, so it's a little hard to teach. But everyone is energetic about it so we can make it a [good] performance."
JNHS President and senior Sabrina Stone expresses worry as well, but she is certain that the routine is coming together. Stone is the only JNHS member participating in Japanese Club's performance of "Suki to Iwasetai." However, Japanese Club and JNHS will present a combined cover of "Koisuru Fortune Cookie" by AKB48, a popular Japanese idol girl group.
"We're getting there, and in the next couple of days we'll pull it together," Stone said. "I do like the songs and am excited to dance. But just trying to put everything together with the time constraint has been interesting."
Having had to organize a larger-scale routine, Asuka has faced obstacles as well but is confident in the members' motivation — especially their willingness to practice outside of lunches. On the whole, she summarizes the sentiments of both Stone and her sister and eagerly awaits their performance.
"I'm a little bit nervous, but I really hope it's going to be okay," Asuka said. "I'm so excited."