Tea and Tunes: Chinese club hosts party with boba and karaoke
Chinese club buys boba for its members in karaoke meeting
The air filled with chatter as Chinese club members filed into room A204 on March 12. A karaoke machine was set up in the center of the room, and trays of pearl milk tea from Cafe Lattea and small red candies were displayed on the side desk. Senior Jessica Lee walked up to the front of the room and tested the microphones before setting them gently on the ground and asking the club members sitting down, "Any song requests?"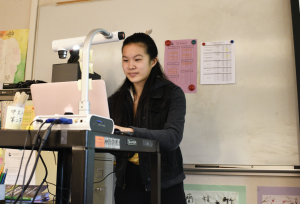 Almost instantly, three students rushed to respond. "Dui Bu Qi!" shouted one. Another pressed for famous singer Jay Chou. As the instrumentals started, they picked up the microphones and began to sing as the other students smiled and sang along from their seats.
Chinese club hosts a boba party twice per semester, where club members who attended at least five meetings are rewarded with free milk tea, and other members are given candy. Club member and sophomore Bryan Zhu believes that events like these draw attention to the club and encourage participation.
"I'm Chinese, and I guess by joining the Chinese club I could meet other people with the same heritage, the same culture," Zhu said. "I've [also] brought some of my other friends that aren't Chinese. I think they've gained a new appreciation for Chinese culture too, and that's really cool."
Zhu is one of the most active members of the club, and during the meeting, he was one of the most enthusiastic participants, constantly giving song requests and encouraging his friends to sing along. President and senior Jessica Lee was happy about his contributions, as more participation was one of the officers' biggest goals for the meeting.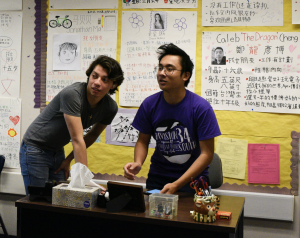 "We know people enjoy doing karaoke, and we also thought that karaoke needed snacks because we usually provide some kind of food," Lee said. "It's second semester, so we wanted to re-engage the members. We decided that now would be a good time to get everyone excited again."
According to Lee, the timing of the party was perfect due to the altered schedule from the California Assessment of Student Performance and Progress (CAASPP) testing. With the extra time, the officers were able to make a trip to a milk tea store in the morning.
In order to decide which members receive boba, the club always ends their meetings by giving the students a link to a form they fill out. The responses are transferred to a spreadsheet where Lee and the other officers are able to track how many meetings each member has attended. Vice president and senior Vincent Tran believes that the club's newly implemented organization methods have greatly improved the club's popularity.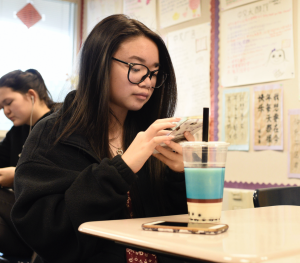 "The past two years, the club was totally dead – we had no members whatsoever," Tran said. "Then […] we had a new board and we've been having successful meetings ever since."
With the lunch party continuing the club's streak of successful meetings, as lunch came to a close, Lee and Tran thanked the members for coming. They plan to do more of the same types of meetings, and with good reason: the members had a great time.
"It's fun, we get to do karaoke, we get boba," Zhu said. "It's everything a Silicon Valley kid wants to do, right?"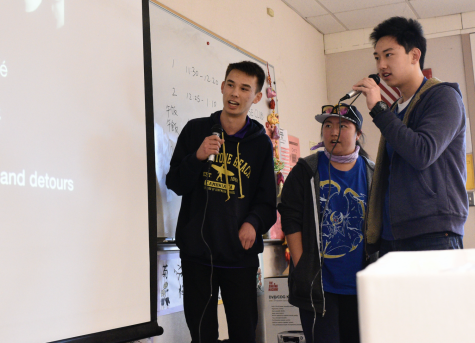 See this playlist for a list of popular karaoke songs.
All photos by Emily Xia