Advisory: Adult Content
Discovering why teenagers watch porn
I shouldn't have seen this.
This was all an anonymous MVHS student, who will be referred to as Todd in order to protect his identity, could think when he accidentally landed on the infamous website Pornhub. He found the images on the screen to be vulgar, obscene and uncomfortable.
However, that didn't stop him from exploring the website. After all, his classmates often joked about watching porn, and the constant buzz and excitement over the topic made it a mystery. Soon, the arousal kicked in.
According to Dr. Chauntelle Tibbals, a gender and sexuality sociologist at the University of Southern California, this sexual desire is a natural part of the human body. Courtesy of simple biology and psychology, Tibbals says that when humans are maturing into adults, they become more sexually aware and curious.
"If you take a young person at this stage in their life and treat sex as a mysterious, shameful, factually inaccurate and a simply uncomfortable phenomenon, a young person may in turn seek information from the source that's both accessible and seems the most relevant," Tibbals wrote in an email. "[Now] thanks to technology, that's porn."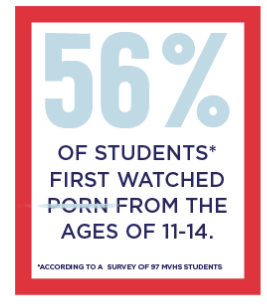 But according to Tibbals, porn is not intended for or marketed to young people, although it is still easily accessible for teenagers. She mentions that since the topic of sex is regulated by social norms and surrounded by taboo, the information and answers teenagers seek regarding sex become difficult to find.
For Tibbals, curiosity is the basic and simple underlying factor that draws teenagers to porn. Alleviating stress, seeking arousal or boredom are other factors for watching porn, according to Psychology Today. For Todd, sexual desire coupled with stress urges him to watch porn once a week.
According to a survey of 154 MVHS students, 25 percent watch porn regularly, though only 26 percent talk about it with others. According to Todd, the majority of people aren't able to talk about porn due to the awkwardness that stems from the vulgarity of the topic. This same discomfort produced Todd's initial regret when he watched porn for the first time.
"Porn is vulgarity times a million, so I guess that's why it's frowned upon and why I initially felt bad about seeing it," Todd said. "But then I got past my naivete and realized that it isn't bad to watch, as long as it's in moderation. I realized this when I saw people that I knew for years, girls and guys, including people who have never uttered a vulgar word — ever — start to speak about sex and porn. I realized that most people watch porn. It's [a] biological desire."
For Tibbals, the idea that porn must have some impact on young people is compelling. Pornography has developed into a polarizing issue, and according to Alyssa Harlow, a doctoral student at the Boston University School of Public Health, many people are often either pro-porn or anti-porn.
But she also says that those people do not understand the complexity of pornography. There are many different types of pornography, with some being very violent and degrading and others less extreme. For Harlow, it is the variety which contributes to the split view on porn.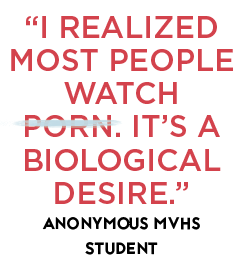 Harlow emphasizes there are teenagers who might be negatively affected or not affected at all by watching porn. For example, watching more violent forms of pornography will have different effects on a teenager than watching feminist pornography, a genre of film dedicated for gender equality.
"There is some research [associated with watching more violent forms of porn] that shows negative effects, like decreased condom use or being more likely to agree with sexist or misogynistic attitudes or gender stereotypes or having worse real-life sexual experiences," Harlow said. "There is also research that shows positive effects, like helping LGBTQ teenagers feel less alone and some positive body image effects. And then there is some research that shows no effect at all."
According to Harlow, it's important to be educated about what some of the negative and positive effects of porn might be, a concept called media literacy: the ability to critically analyze media content that a person interacts with.
"It's about going beyond just watching pornography, and instead thinking about how that media might affect your behavior, attitudes and beliefs," Harlow said. "It really comes down to being informed about what you are watching or listening to."
Both Tibbals and Harlow agree that educating youth is important for controlling the influence of porn. Tibbals mentions that since porn isn't intended for young people, it's important for them to understand the production and fantasy that goes into adult content creation.
Harlow expands on media literacy and says that it informs teenagers about gender norms that are portrayed in pornography, consent and how a lack of consent is never acceptable. Even though they may see violence in pornography, students must recognize that healthy relationships in real life do not and should not involve violence or any kind.
Todd has himself seen the effects of the lack of media literacy surrounding adult content. Recently, he started noticing the damaging effects of porn, including the way it skews views about sex and takes out the element of intimacy.
"We understand Hollywood filmmaking and fantasy and stunt driving, thus we don't see rampant mimicking of 'Fast and Furious'-esque driving styles and heist behaviors," Tibbals wrote. "If we educated young people and understood the production and fantasy that goes into adult content creation, we might see fewer behaviors that seem to be copying the content."