Boys Basketball: Matadors secure a win against Saratoga HS
Matadors maintained the lead throughout the game
Senior AJ Falak raced down the court hoping to score the first points of the game. Coming back from a defeat against Lynbrook HS during their first game of 2019, the Matadors were hoping to secure a strong lead quickly against Saratoga HS. Falak bent down, about to shoot, but an aggressive scuffle between him and three SHS defenders and the referee's shrill whistle resulted in a foul. This slightly tumultuous start to the game was soon amended as Falak secured both free throws and sophomore Rohan Shah and senior Rohan Inampudi scored two- and three-point shots respectively, giving the Matadors a 6-2 lead four minutes into the game.
The Matadors maintained this lead, finishing the first quarter with a score of 16-12, heading into the second quarter with teeming momentum. Aside from a brief tie towards the middle of the quarter, the Matadors managed to retain their lead throughout and end the quarter with 30-24 lead. Shah credits the team's lead through a majority of the game to a strong desire to win and bounce back from the disappointing loss they had faced two weeks ago against Lynbrook HS.
"I just knew we had to win [this] game, and it definitely was the best win for us," Shah said. "We just had to play our game and not worry about the other team."
Similar to Shah, Falak was pleased with the team's overall performance, and aside from small improvements such as playing more physical and communicating on defense, says he is happy to have secured the win.
"We just needed to come out with a win," Falak said. "This week is really important to us going forward with our season as our goal is to make CCS, so it was good that we came out on top."
The Matadors peaked during the third quarter, scoring 19 points through effective passing and also applying good defense. Saratoga's defense proved to be a slight challenge for Shah, the tallest player on the court because he was usually double-teamed. Despite this, he used it as an opportunity to benefit his team.
"Doubling can get annoying, but that just means that one of my other teammates are open," Shah said. "When I know a double-team is coming, I just have to look for one of my other teammates. In the end, it's always going to be five versus five."
The Matadors ended the third quarter on a high note, increasing their lead to 11 points. The fourth quarter was low-scoring and the Matadors managed to stay calm and secure a 63-56 win.
"Our main thing [during] this game was to play as a team," Shah said. "[To] not be selfish, just playing for each other, and making the other team run."
About the Writers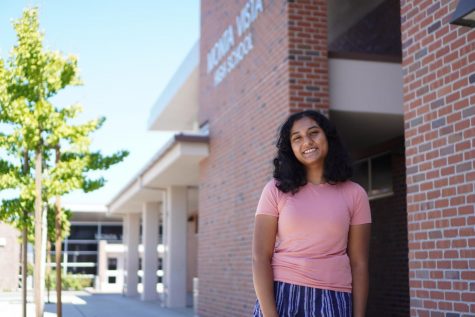 Oishee Misra, Editor-in-chief
Oishee is currently a senior and the co-editor-in-chief for El Estoque. She's an artist, and the walls of her room are plastered with artwork. She loves listening to music and obsessively creates Spotify playlists and plays the piano. She's also a total foodie (although her cooking attempts are usually disastrous). She loves reading the Opinion section of New York Times, and hopes to live in New York City and be an NYT columnist someday.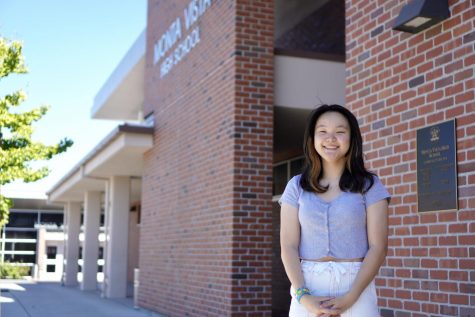 Justine Ha, Managing Editor
Justine Ha is currently a senior and a managing editor for El Estoque. She enjoys taking photos, producing videos, driving to nearby beaches and viewpoints in the Bay Area, and exploring new cafes with friends.