The sound of equality: Empowering songs for MLK Jr. Day
A playlist of songs from various artists for MLK Jr. Day
"
We will not be satisfied until justice rolls down like waters and righteousness like a mighty stream."
On Aug. 28, 1963, Martin Luther King Jr.'s voice pierced through the air at the Lincoln Memorial, reaching over 200,000 audience members in his renowned speech, "I Have a Dream."
Born into a small family in Atlanta, Ga. in 1929, King was extremely religious from a very young age. He regularly attended church and was very much aware of the racial prejudice and segregation that he and his family, as African-Americans, experienced often.
As a 27-year-old, King led boycotts and encouraged many to rally against racial discrimination, eventually forming the Southern Christian Leadership Conference (SCLC) in 1957. Throughout his lifetime, he removed segregation in public transportation in Montgomery, sponsored mass meetings to register black voters and ended segregation at school cafeterias in 27 cities.
Although he was never able to see the end of segregation before his assassination in 1968, King gained national recognition for the impact he had on the movement. His persuasive rhetoric and non-violent activism reached the hearts of millions of Americans, and his legacy continues to be celebrated in public schools through the observed national holiday, Martin Luther King Jr. Day (MLK Day), on the third Monday of January.
Since King's assassination, there have not only been movements for racial equality, but for countless other causes as well, the most well-known being the movements for gender equality and LGBTQ+ community.
"
We cannot walk alone. And as we walk, we must make the pledge that we shall march ahead. We cannot turn back."
In honor of the quickly-approaching MLK Jr. Day, here's a list of songs about empowerment and equality, with a short summary detailing each song.
Biographical Information: https://www.biography.com/people/martin-luther-king-jr-9365086
Songs:
WARNING: Many of these songs and videos contain disturbing imagery as well as profanity.
This is America – Childish Gambino (2018)
Artist Childish Gambino, also known as Donald Glover, uses this song to comment on American culture and its gilded society, while also advocating for racial equality. The video includes startling images of mass killings and chaos while Gambino and his backup dancers cheerfully sing along and dance to the music, showing America's focus on lighthearted pop and celebrities while death and massacre from police brutality occurs in the background.
Glory – Common ft. John Legend (2014)
"Glory" was written for the soundtrack of the civil rights movie "Selma," depicting MLK's life and his march from Selma to Montgomery in 1965 for voting rights. Legend and Common's collaboration won the Best Original Song award at both the 2015 Golden Globes and the 87th Academy Awards.
Neighbors – J.Cole (2016)
J. Cole wrote this song inspired by personal events. Police raided his home in Fayetteville, N.C., from allegations from his neighbors that he was selling drugs in the establishment. Cole was extremely angry about this assumption based on racial stereotypes and channeled his passion into this emotionally charged track.
Where is the Love? – The Black Eyed Peas ft. Justin Timberlake (2003)
"Where is the Love" was written to protest against police brutality and racism. In Timberlake's verse, he reveals the death and killings that have occured and asks the listener whether they will continue to ignore such a blatant issue. In 2016, an updated version of the song was created in collaboration with The World in order to raise money for educational programs.
White Privilege II – Macklemore and Ryan Lewis ft. Jamila Woods (2016)
As a Caucasian rapper, Macklemore, witnessing all the violence happening with police brutality, decides to speak up by showing how much natural privilege he receives being a certain race, while he should be treated the same as any other individual regardless of ethnicity. This song is a follow-up to the original song released in 2005, "White Privilege."
Baltimore – Prince ft. Eryn Allen Kane (2015)
On April 12, 2015, 25-year-old Freddie Gray died of a spinal-cord injury in Baltimore while in a police van after being arrested with insufficient evidence. None of the police officers involved faced charges. Following this event, as well as the ensuing riots, Prince and Kane released this song, pleading for a better and more peaceful world.
I'm Not Racist – Joyner Lucas (2017)
The music video for this track centers around two men having a conversation about racism. The Caucasian man continuously perpetuates that he is not racist, and that the African-American population is exaggerating the injustice. In the second verse, the African-American refutes this, with examples of previous oppression and violence. Both perspectives are extremely radical, and Lucas uses his song to emphasize finding a balance between the two differing beliefs for a more peaceful society.
Chains – Usher ft. Nas and Bibi Bourelly (2015)
Usher, Nas and Bourelly, in the lyrics, despair over the constant shootings happening to African-Americans and the lack of security they have in their lives simply because of their ethnicity. They equate their oppression to being wrapped in chains, unable to escape American discrimination.
Don't Shoot – The Game ft. Rick Ross, Puff Daddy, etc. (2014)
"Don't Shoot" is a collaboration between 12 mainstream African-American artists: Problem, Yo Gotti, DJ Khaled, King Pharaoh, Ginuwine, Tyrese, Tank, Wale, Curren$y, 2 Chainz, Swizz Beatz, The Game, Rick Ross, Puff Daddy and Fabolous. Featuring 10 individual verses from each artist, this song is a patchwork of styles uniting for a common message: highlighting racial equality.
Shed a Little Light – James Taylor (1991)
In this gospel song, Taylor reflects on MLK Day directly, grouping all of humankind in one category. He references King's "I Have a Dream" speech, describing the desires and wishes that people of color have to see their children "grow free and strong."
All illustrations by Emily Xia
About the Contributor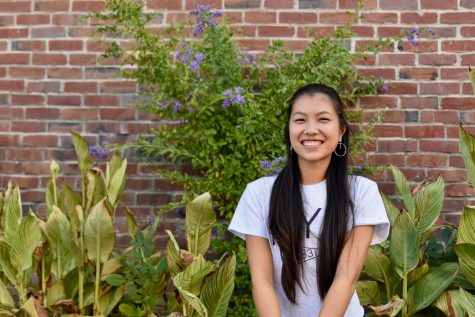 Emily Xia, Managing Editor
Emily Xia is currently a managing editor in both journalism classes. She spends her time on El Estoque writing stories, designing pages and creating graphics. Outside of school, she enjoys drinking boba and practicing color guard.