Fighting fire in the digital age
Seniors Aditya Shah and Sanjana Shah developed a Wildfire Sensor device that has attracted Google's attention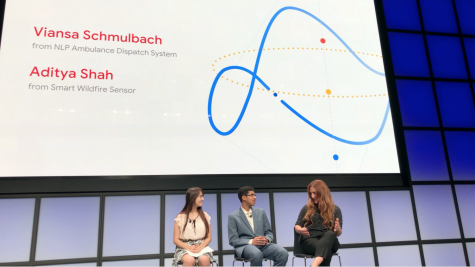 On Mon., Oct. 29, senior Aditya Shah participated in a panel at the Google Event Center in Sunnyvale to launch Google's Artificial Intelligence Impact Challenge and was interviewed by Chief Operating Officer for AI Irina Kofman.
Shah was invited to participate in the panel because of the Smart Wildfire Sensor device that he and senior Sanjana Shah (no relation) have been working on for the past year and a half. Aditya explains that he and Sanjana combined their technological interests with their drive to create change to fight the deadly wildfires that have been raging across California.
"We saw the wildfires take the headlines so we thought 'Why don't we build something using the existing experience [and] technology [we have] and band together to work on this?'" Aditya said.
Aditya and Sanjana worked together to code and build the Smart Wildfire Sensor, a device that detects wildfires by collecting weather data such as humidity, wind speed and temperature. The sensor also takes a photo of the forest, then assesses the photo to determine the amount of possible fuels in that particular area of the forest, in order to initiate action before deadly fires strike.
Previously, Sanjana created the Smart Flood Sensor in 2016 and Aditya worked on Raindrop U.S., a non-profit focused on informing people about the California drought. Aditya explains that their previous experience of applying technology to large-scale environmental problems allowed them to create the Wildfire Sensor.
"Because of our previous entrepreneurship, [we're able to] look at a problem and create solutions to solve it," Aditya said. "I was [thinking] about the devastating wildfires that were happening in California and I had [a] realization. We live in the world of amazing technology. And since Climate Change is in full swing, our generation needs to use the technology we have and devise solutions to environmental issues that are happening. Sanjana [and I] share that passion."
Sanjana explains that she was inspired to create the Wildfire Sensor when she was working at a Berkeley Lab as an intern and was forced to evacuate the workplace immediately due to a rapidly approaching wildfire.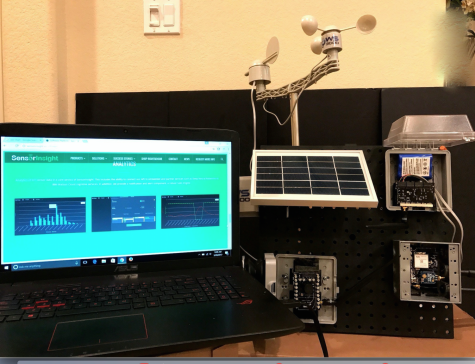 "There was a wildfire close to us – I heard all of the phones ring simultaneously, and there was an automated message saying 'We need to evacuate now, there's been an incident on Berkeley's campus,'" Sanjana said. "I left the building and saw a bunch of standstill cars, and that's what terrified me. I left Berkeley's campus and walked for two miles to the closest library."
Sanjana explains that profit was never her and Aditya's incentive to create the sensor. Their primarily goal was — and still is — to provide a tool that government agencies can use to minimize wildfire damage and respond to wildfires proactively.
"This project is part of a nonprofit," Sanjana said. "We don't want to sell it, we want to deploy it. We want to approach the government and [get the sensor] installed in forests. I think there's [100] million acres of land and forestry in California and deploying this device is our key goal."
Aditya also expresses that he isn't concerned with "marketing" the Wildfire Sensor and isn't focused on the attention or success it has brought him. He says his primary focus is to refine the prototype so it can be put to immediate use.
"We haven't really talked much about monetizing [the sensor]," Aditya said. "If it'll be monetized, it'll be more focused on selling to governments, possibly forming a corporation that's funded by the government. We still have to think about that, [but right now] we're really busy just working on the prototype and advancing it further."
Rupali Shah, Aditya's mom, explains that her son was never focused on the attention or fame the Wildfire Sensor has brought him, but rather its capacity to save lives and protect the environment. However, she was says she wasn't surprised at Aditya's success because she saw his commitment and passion for the project from the beginning.  
"It was never about getting recognition [for Aditya], he wouldn't do anything to gain recognition," Rupali said. "He's very passionate about the environment. He sees issues in the world and he wants to use his skills to solve those issues. It's not so much of a surprise that Google approached him to me because he was really working on something that sticks close to home. I am very thankful to Google for encouraging his talents."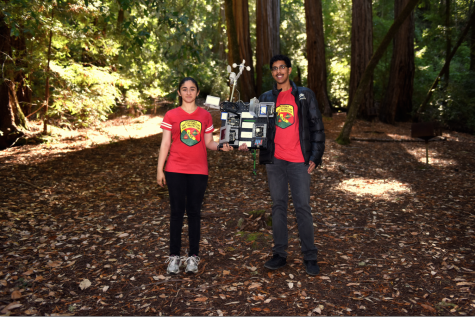 Sanjana and Aditya spent a year and a half developing and testing the sensor and reached out several companies to further educate themselves on the technology involved. They also contacted Cal Fire, the agency responsible for fire prevention in California, to express their interest in collaborating with them. After learning of the Wildfire Sensor due to the publicity it was receiving, Google invited Aditya and Sanjana to speak at a panel, but Sanjana wasn't able to attend due to illness.
Google also created the "AI for Social Good" competition, in which the creators of the winning prototype or invention will win 25 million dollars to execute their idea. Aditya and Sanjana are planning to enter the Wildfire Sensor in the competition.
At the Google panel, Aditya delivered a speech and was interviewed about his and Sanjana's technological creation process. Rupali believes that the panel was the culmination of everything Aditya has worked on throughout his high school career and was her proudest moment as his mother.
"In order for you to stand in front of 300 people, policy-makers, politicians, Google executives, folks from the industries and the press, it's a very daunting thing," Rupali said. "I'm so proud of him. He was working for this event all along. It wasn't about Aditya's technology background [at the panel], but about his entrepreneurship background. When he was standing there, on the stage, you could see his passion for his ideas and it was really the proudest moment for me, to watch him on that stage."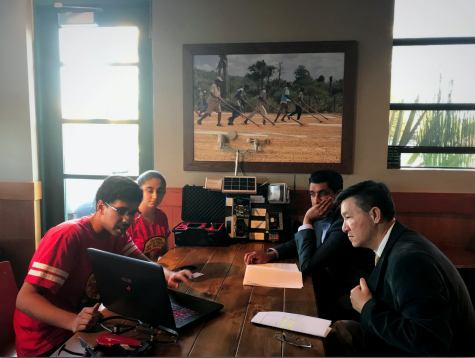 Aditya believes that it was primarily the timeliness of the issue that attracted Google's attention and recognition. He says that since government agencies didn't have the tools to gauge and prevent wildfires effectively, the sensor gained momentum very quickly.
"We got a lot of attention for our device from many sources, like the New Zealand government, Switzerland and Sweden and also tech companies like Nvidia," Aditya said. "[Google] saw that we were getting attention and the impending threat of wildfires [got them interested]. Cal Fire wasn't really able to contain those wildfires well and they saw that there was a really interesting potential in what we were working on."
Overall, Aditya explains that the whirlwind of publicity and international acknowledgment he and Sanjana have received has been gratifying. But their focus hasn't shifted from wanting to use their passion to create change.
"It was a very inspiring experience, but it really compelled us to work even harder," Aditya said. "[Now that we know how] high the stakes are, we've started working more and thinking about other applications as well. [I'm glad that] Sanjana and I were able to band together to address such a prominent issue in California."