Switching roles from teacher to student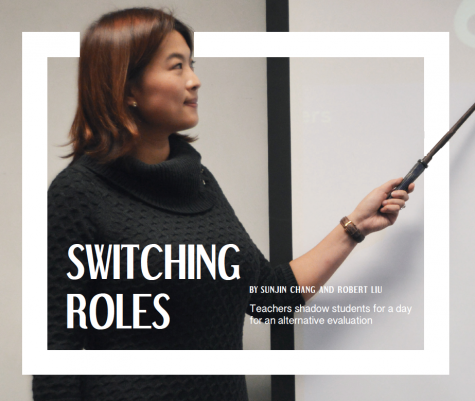 On Tuesday, Nov. 27, four teachers walked in the footsteps of MVHS students as an alternative to their traditional teacher evaluation: Chinese teacher Zoey Liu, science teacher Lora Lerner, math teacher Sushma Bana and literature teacher Vanessa Otto. For the duration of the entire day of the alternative evaluation, they followed the life of a student.
A few years ago, Assistant Principal Nico Flores and the assistant principals at that time, consisting of now principal Ben Clausnitzer, decided to provide an option for teachers to experience the school-day through the eyes of their students.
"[Through the debrief] we found out that there's a lot of positive things that come from it," Flores said. "When we find positive outcomes along with positive strategies to implement to build relationships and to better teaching, we're all for it."
This is not the only alternative evaluation option available for teachers. Some teachers choose to participate in analyzing mastery grading while others choose to have an administrator provide feedback as they try to implement specific, new strategies into their classroom.
The course registration process was the same for the teachers as they are for students: they were asked which grade and classes they wanted to join for the day, and the administration developed a schedule for them. However, one requirement was to have the teachers take all seven classes throughout the day.
"We want them to feel why we are advocating for kids not to take seven classes," Flores said.
Liu was responsible for following sophomore Brian Xu. Not only did she follow him throughout his classes, but she also spent brunch and lunch with him and his friends. Liu reflects on her experience as a valuable learning opportunity; she recounts the different teaching strategies she learned from observing other classes.
"All the teachers were very professional, very enthusiastic [and] they put so much effort and thoughts into making the class engaging for the students," Liu said. "The way they decorate the environment, the way they talk to the students, how they set up the classroom and how they set up the culture of the class. [Teachers] want to make the learning environment safe, friendly and engaging for students."
During her day as a student, Liu witnessed how different teachers implemented non-academic activities into their class period, such as icebreakers or writing notes to the teacher to shift students' concentration away from solely academics. There were other teachers who decorated the room with encouraging, motivational quotes. However, the most significant teaching method that caught Liu's attention was the ambient music welcoming students into the classroom and accompanying them as they participated in different activities.
"The World Core [class] blasted music when the students came into the classroom, so it feels fun, joyful and relaxed when you come in," Liu said. "Having students engaged in class and feeling relaxed [is] the best way to have students destress in the class."
For Liu, observing examples of exemplary teaching from other teachers was just as valuable as familiarization with the amount of stress students experience. Liu is not sure how to implement some of the different teaching styles in her own classroom immediately, but she has already decided that some small changes can quickly improve her students' attitude when coming into her own classroom.
"The journalism class, the teacher had students basically teach the class by themselves; students take attendance, students do the agenda, students do the presentation, students lead the discussion," Liu said. "I don't know if our students are fully ready for that, but I like the idea of giving the control to students, letting them run the class."
While Liu followed in the footsteps of an actual sophomore, biology teacher Lora Lerner had a typical freshman schedule built for her. Walking into all the classes surrounded by students, Lerner mentions the look of surprise that filled the faces of students.
"They'd look at me a little funny, but actually mostly positive," Lerner said. "I had to ask a lot of students for help, and mostly they were able to help and interact with me."
Lerner's school day started with the suicide prevention assembly during her Literature and Writing class, followed with a biology exam. As a biology teacher herself, she reflects on this experience as helpful for fellow biology teachers and students. While she accepts that she may not have received a perfect score, Lerner focuses more on the fact that she was able to assess and critique other teacher's exams and possibly clear confusion, believing that the feedback that comes with an outside perspective is extremely helpful among teachers.
"When I was taking the test, I was Wwriting a bunch of little notes about things," Lerner said. "That's actually helpful for us as teachers. I think having that outside perspective on what we do is super helpful."
Lerner treated the day as less of an evaluation and more as an opportunity to learn and develop as a teacher. She believes that embracing a positive growth mindset of learning and accepting insights to grow as a teacher rather than focusing on the fact that she's being judged is extremely helpful.
"I think it's an effective way to help teachers grow," Lerner said. "The fact that it's an alternative evaluation is kind of a separate issue; I'm not sure how much it evaluates me as a teacher. The idea is that I will apply what I did to my own practice, and by that, I would potentially grow as a teacher, so then in that sense, it's helping me to grow. Doing something different perhaps allows me to grow in a different way."
The alternative evaluation provided Lerner with an opportunity to observe different classrooms and gain exposure to new ideas.
"I never would have thought about it if I just stayed in my own room all the time," Lerner said. "Just getting out there and seeing some different lives, different places, different people doing different things, I think, that to me, in the end, is the biggest benefit of this."
Throughout the day, teachers participating in the evaluation were expected to fully immerse themselves in the life of a student; they were restricted from traditional faculty privileges such as staff parking and reserved bathroons, instead having to use student restrooms, park their vehicles in the student parking lot and eat in the student cafeteria.
A week after the teachers had completed their experience, the four teachers who conducted their alternative evaluations sat down with the administration team to debrief. One of the topics was on the music teachers played before, during and after class. The teachers had appreciated the positive energy in the classroom when music accompanied their class. Another topic was the idea of providing students with natural breaks during long class periods.
"As teachers, they were used to talking all the time, and when they couldn't talk they thought it was challenging," Flores said. "Realizing that human beings, whether it's student or teachers, they're all the same, like to talk and interact."
Teachers and administrators also discussed the pros and cons of stressful student schedules, especially those where multiple academically challenging classes were placed together. In addition, they discussed whether or not seating arrangements should be arranged in groups that encouraged student discussion or rows.
"[We learned to] make sure we're really incorporating student needs along with curricular needs," Flores said. "It's a delicate balance and sometimes curricular needs need to take a step back so that we can really address the student needs."
During their debrief meeting, one thing all the teachers agreed on was their exhaustion at the end of the day. The teachers commented on how their day stopped at 3:30 p.m. and they didn't have to go home and do homework or participate in extracurricular activities. This served as a reminder that student days don't end at 3:30pm.
Ultimately, Flores is satisfied with the outcome of the alternative teacher evaluations, and he hopes to see this tradition continue in the future. He believes teachers will be able to take the lessons they had learned from the experience and implement them into their classrooms.
"The more that we can have our staff figure out how it feels to be a student, it's really valuable for everyone," Flores said.