Thinking ahead and making moves
Go Club's president and vice president share plans for the upcoming semester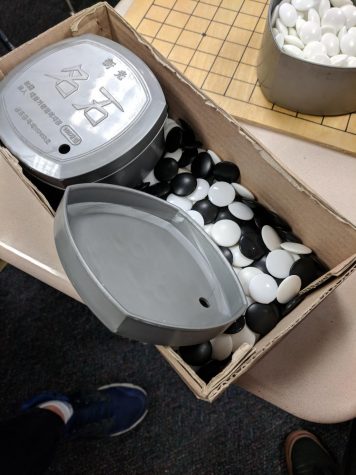 Go Club president and senior Jason Zhang and vice president and senior Jedwin Mok have spent over five years each playing Go, a traditional Chinese strategy game where two players place black and white pieces onto a gridded board to surround more territory than the other. As seniors, with only one year left to lead the club, Zhang and Mok have planned for the club to hold more activities during their final semester at MVHS. Read the Q&A below to learn about what they have planned.
El Estoque: How did you start playing Go?
Jason Zhang: I started playing Go in seventh grade when my mom signed me up. Eventually, I thought I want to lead Go Club and I started playing Go a lot. It's just a very fun and relaxing game. It's also one of those games where your parents think you're doing something special, it's not like you're just playing Counter-Strike where they know you're not doing anything serious. You're playing Go.
Jedwin Mok: When I was little, I played a lot of chess and board games. Starting in sixth grade, I really gained an interest in Chinese culture and the way it's shaped who I am, so I started learning to play Go. I found Go is a way to relax, to be able to help my brain process complex ideas.
EE: What does Go Club provide for the MVHS environment?
JM: I think that Go Club is a great place to be because of the community, the inclusiveness and the diversity we bring to this campus. Go is a really interesting game because it's very different from Western games like chess and checkers.
JZ: It's a place where you can really just relieve your stress because Go is a game of logic and skill and fun, so it doesn't require any extra or innate abilities. You don't have to be a certain status – just come in and you play Go, and it's fun.
EE: What are Go Club's plans for the upcoming semester?
JZ: We're thinking about hosting a Go tournament in which we will actually have some pretty big prizes and anyone can join. We are also participating in culture night, where a bunch of culture clubs such as Go Club, Chinese Club, and Chinese Honor Society all come together and host an event with a lot of activities. It's a lot of fun, and that's going to happen during second semester as well.
EE: What are some of the events you plan on holding during Culture Night?
JZ: We're thinking about setting up a mini Go puzzle section for activities, teaching kids how to play Go and maybe performing a dance for the performance.
EE: What advice do you have for people who are trying to pick up the game?
JZ: We actually have a specific department with its own officers that work on skill and introduction to Go. They teach the rules and how to play and we have intro level games. It's a very guiding process. Go isn't very hard to play, but it's very hard to master, so you come in and just practice.