Technovation first-timers
New members of Technovation prepare for upcoming challenge competition
With business plans, app development training, Hackathons and 80 girls, the teams from the MVHS Technovation club have been eager to start preparing for their annual Technovation Challenge competition. Technovation is a club for girls to learn basic coding languages and app development skills by participating in competitions and weekly meetings, each team creating an app.
The club grew from around 40 members to 80 this year, meaning more teams will be registering their app in the Technovation Challenge in March. This calls for the officers of Technovation to use more time to mentor teams outside of their weekly Thursday meetings. According to Technovation President and senior Isha Chakraborty, the weekly meetings run too short for their schedule this year. To counter this, the officers planned their first Hackathon for the teams to participate in more in-depth interactive programming and business workshops.  
"We've been [busy] because our club kind of shot up in attendance." Chakraborty said. "It's been more focusing on how to be bring our workshops to larger audiences, that's been through hosting Hackathons and stuff. Most of our teams came in with no experience, so it's really starting off from the ground and then making sure that at least they have some level of knowledge of programming."
Chakraborty believes this is an efficient way to push the teams to start on their apps early in the year, primarily because of the increase of freshmen participants. The Technovation Challenge requires teams to dedicate more time outside of meetings, with Chakraborty worrying about the inexperienced members.
"The biggest thing is that work commitment and the time commitment," Chakraborty said. "A lot of [freshmen] don't take it very seriously until the end, which is why we [organized] the Hackathon and are setting more strict structured guidelines in the beginning so that wouldn't happen."
Freshman Anushka De agrees, as she and her team of all freshmen girls have not participated in an app development competition before and have no prior experience in the coding languages they had chosen to use for their app. De appreciates the effort the officers of Technovation have put in to support her fellow freshmen members.
"[The hackation] really helped us because we were really set on our idea and then after the Hackathon, we kind of realized that our idea was kind of flawed in a lot of ways," De said. "It was good that we figured [it] out early. We don't know that much about building an app using Xcode and Swift. It's a learning process because none of us are really familiar with it but they had workshops there for it."
Like Chakraborty, freshman Riya Ranjan of De's Technovation team says the Hackathon and club meetings do not give them enough time to prepare and build their app. Their team is in the early stages of development still, and they feel they are falling behind. To make up for this, they meet on weekends to discuss their business plans and begin the basics.
Ranjan believes her team's main focus at the moment should be the relevance and importance of their app, and whether its an idea they can execute. Their team is discussing whether they can build an app for people with neurodegenerative disorders, and supply games that can train the users' memory retention.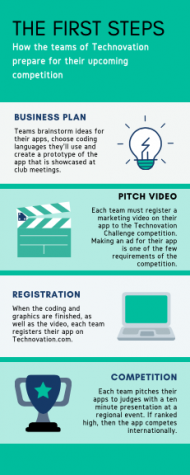 "We were thinking of doing something that could help out Alzheimer's or Dementia [patients], maybe with games or something in our app that would help with memory retention and speech," Ranjan said. "In terms of the miniature goals that we're going to set for ourselves as we reach the competition, we're probably going to think of what features we want to include because obviously, that's what you're coding for. And then also, just the user and the graphics."
According to Chakraborty, the teams tend to be grade-centric and freshmen girls stay together, creating a disadvantage for the freshmen as they likely have no experienced members to support them. To help with this, the officers of Technovation maintain constant communication with each team and provide support outside of meetings. Some members can register as official alumni and mentors to the Technovation program. De says having the officers and upperclassmen accessible to them for advice is essential to help execute their app.
"It's really great because they have tutors and mentors that can help us learn how to create an app that we want," De said. "The officers and [older members] are really helpful and make sure that we have the right good idea and steering us in the right direction. It's really nurturing and helpful to have an environment with just girls that are promoting you."
Chakraborty joined as a freshman in 2014, and with her leaving this year for college and stepping down as president, she hopes that this year she will see a freshmen team with an app that will bring on international success, as well as something Technovation can be proud of.
"I hope that all the freshmen have something that they can carry on for the next four years of their high school experience," Chakraborty said. "I hope that they all come end up competing too because that's always a big boundary to cross, and then we're hoping for a world champion this year."
Ranjan and De, along with the rest of their team, will continue to work on an app they hope that can benefit and leave a lasting mark on their community. Ranjan believes that being part of something she sees as challenging is better for her freshman year than if she were to join later on in her high school career.
"For freshman year, you should kind of be exploring what you want to do and throughout high school," Ranjan said. "That's why personally, I'm in a lot of clubs and it's just to see what we're interested in. It's important to be able to contribute to the community and this is a really good way to do it."
About the Contributor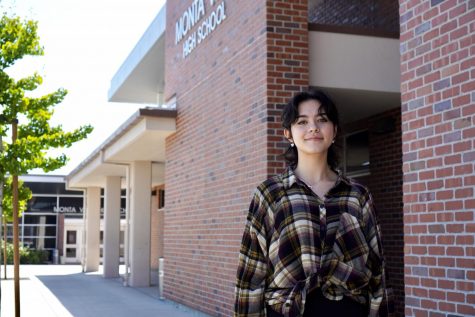 Ayah Ali-Ahmad, Co-Editor-in-Chief
Ayah Ali-Ahmad is the co-Editor-in-Chief of El Estoque. Outside of El Estoque, she is the President for Gender-Sexuality Alliance club and the Senior Director of Communications for MVHS's largest volunteering club, Octagon. In her free time away from her school life, she enjoys listening to music and getting boba with friends.