MVHS Future Business Leaders of America's Shark Tank series
MVFBLA hosts a business workshop with guest speakers
On Nov. 3, MVFBLA hosted the second day of a business pitching program as part of their Shark Tank series. The first day of the event occured on Oct. 27, and the next will be hosted on Nov. 17. Students gathered in the student union at 10 a.m. to listen to guest speakers and work with their teams to develop a business idea. The event was facilitated by Director of American Enterprise Projects and junior William Yang.
"Through this, we aim to teach students the various parts of the business plan so that they are able to develop their own plans," Yang said. "At the end of the [Shark Tank series], they will present to a panel of judges in a Shark Tank fashion, so we invited guest speakers to teach students and provide them with insights on the business world."
Although they hosted the Shark Tank program last year, they added guest speakers into the workshops this year to provide students with a more comprehensive experience.
"Last year, we just had officers present about history, but this year we invited a lot of distinguished professionals and experienced entrepreneurs through the Rotary Club," Yang said.
To kick off the workshop, guest speaker Richard Lowenthal gave the students a presentation about his experiences with business and entrepreneurship. With two years of experience as the mayor of Cupertino, eight years at the Cupertino City Hall and extensive involvement in the business industry as the founder of many companies, Lowenthal decided to combine his experiences in local government and business to establish one of his six companies, ChargePoint.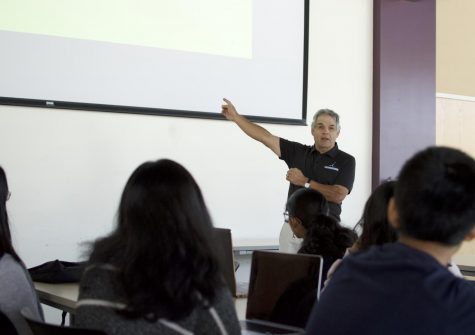 After taking a tour of Tesla, Lowenthal fell in love with electric vehicles and proceeded to study other automakers and their respective plans for electric vehicles. He quickly discovered that there were two obstacles in the way of wide acceptance of electric vehicles: inadequate infrastructure and expensive batteries.
His company, ChargePoint, decided to solve this issue by offering faster and more cost-efficient charging stations for electric vehicles as well as other features including advanced access controls and a valet feature that automatically notifies parking staff when cars are done charging. The company has 35 patents and is one of the 16 companies worldwide that has been recognized by the United Nations for creating a practical, scalable and replicable climate change solution. The company has raised $320 million from venture capitalists and strategic investors since it was incorporated in September 2007.
Following Lowenthal's presentation, the MVFBLA members worked in their groups to establish their own business plans.
After some work time, another guest speaker, Larry Dean, gave advice to the MVFBLA members. Dean is the co-founder of Fine Pitch Technology, a company that provides services involving semiconductors to over 500 companies around the world.
He presented a brief overview of the steps to starting a business, outlining the different steps to the business journey. To begin, he explained the differences between a sole proprietorship, partnership, C or S corporation and LLP/LLC, which are all different types of businesses. He then illustrated the three important steps to forming a company: naming the business, Doing Business As (DBA) filing (what a company must do in order do business under a different name) and corporation with the state.
After a quick question and answer session, the MVFBLA members returned to finalizing their respective projects with their teams. They focused on further developing their business ideas, researching their competitors and establishing their business models. Through this workshop, Yang hopes that students will be inspired by the guest speakers' presentations to establish their own creative startups.
"It's good inspiration for them and they can see what people have done," Yang said. "They can know that it's possible to start their own business by seeing people who have actually done it before. It's not something random and mythological to be an entrepreneur. There are people who have done it and it's not super hard."