Field Hockey: Matadors suffer 0-2 loss on senior night
The team falls to Homestead HS in its last home game of the season
It was an unnatural feeling for her. For the past three years, she has always held up her stick, cheering for seniors as they walked down the field. But now, it was finally her turn.
She stood at the end of a line with her teammates, filled with nervous energy as her hands wrapped around her parents'. When her name was finally called, the stands erupted, cheering her name as she walked across the field, with the younger team members making a passageway for her and her family. For senior Sureena Hukkoo, that moment was one that she would never forget.
It was a day of many lasts for Hukkoo and the rest of the 11 seniors on the team. Knowing that it would be her last time setting foot on the MVHS field as a player, Hukkoo commented on finding solace in the peaceful routine of her final warm-up.
"We warm up after the JV game begins, and I think that's always my favorite time to warm up," Hukkoo said. "It's just us and the team and I was thinking, 'Wow. This is the last time I'm going to warm up with this team.'"
In a tight game full of tenacity from both sides, MVHS lost 2-0 against Homestead HS. Though the Matadors were successful in preventing any goals first half goals, their defense was breached and two goals were scored in the second half, ending the game in a bittersweet loss.
Wanting to leave everything on the field, senior Daya Rao placed heavy emphasis on focusing on her fundamentals, something the team often forgot when under pressure.
"For this game, we just went back to the basic warm-ups we did at the beginning of the year and simple drills," Rao said. "We just wanted to keep it simple for our last practice and just play our game."
The first half was a flurry of back-and-forth ball movement; neither team kept possession of the ball for a long period of time. Senior Hira Ali credits MVHS' stellar defense to her teammates' determination and drive.
"It was intense, in a good way," Ali said. "I saw our whole team working together, I saw us better than ever and working at our prime."
Though MVHS continued to fight for dominance in the second half, the exertion on the defensive side during the first half began to catch up to them. Several loose balls and a few powerful shots from HHS' offense resulted in two goals that the Matadors couldn't recover from. Despite the loss, Ali noted that the connection between teammates was evident in the way they played.
"I think it was just that we got tired towards the second half because we were putting so much effort in from the very beginning," Ali said. "Obviously, I think all of us would agree that would like to have had a better score, but I really liked how we played it as a team. You could see how well we mesh together and the chemistry behind us."
More important than the end result were the experiences and emotions that the seniors recalled from their final game. Rao treasures the relationships that she built with her teammates and all the leadership experiences she gained from being anolder member on the team.
"I [had] never played a team sport before, and suddenly I have all these siblings I've never had before — we all care for each other so much," Rao said. " I think that this community and sisterhood is something that is really important."
Despite the ups and downs of the game, Ali cherished every single moment towards the build up of her final game and the game itself. Through her team and her experiences, she says she found a family and a place where she can let go of her worries and stress.
"I'll miss the smiles I see on the field during practice, the energy, the hype, the commitment and dedication that I see from a lot of the teammates," Ali said. "During this season, my world revolved around field hockey and whatever I needed to do for field hockey — the way I eat, how much I sleep, everything. I think what I'll miss the most is just being part of [this] team."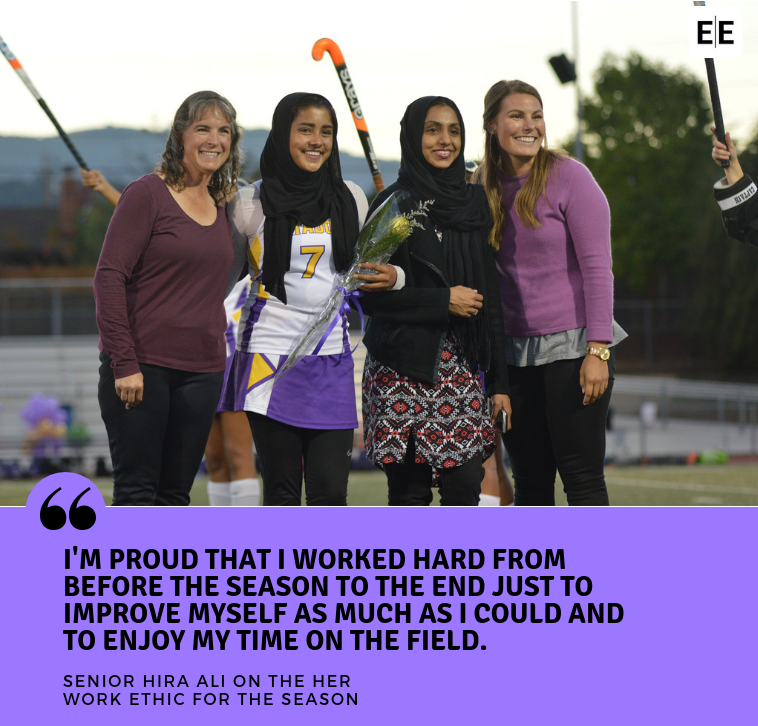 About the Writers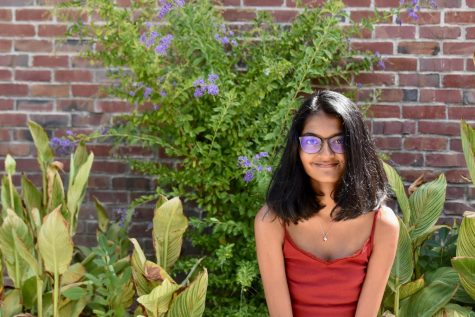 Sreya Kumar, Opinion Editor
Sreya Kumar is currently a third year staff writer and opinion editor. She was previously sports editor and enjoys traveling the world, watching choreography videos and taking photos.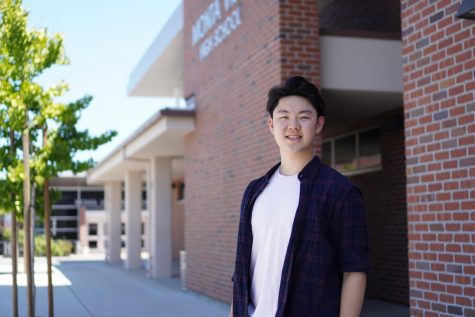 Tyler Cho, Opinion and Design Editor
Tyler is currently a senior and an opinion and design editor for El Estoque. He is a player on the varsity MVHS Boys Volleyball team and also participates in club volleyball. Outside of school and volleyball, he enjoys spending time with his family, playing bass guitar and spending hours on end absorbed with Starcraft.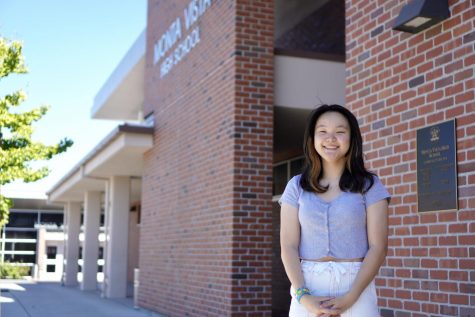 Justine Ha, Managing Editor
Justine Ha is currently a senior and a managing editor for El Estoque. She enjoys taking photos, producing videos, driving to nearby beaches and viewpoints in the Bay Area, and exploring new cafes with friends.