Previewing the NBA season
MVHS students share their thoughts on the upcoming NBA season.
After a tumultuous offseason which included LeBron James joining the Lakers and Demarcus Cousins forming an all-star starting five with the dominant Golden State Warriors, MVHS students have patiently awaited the start of the NBA season. Some plan to watch just for pure enjoyment, others are die-hard fans hoping for their team to grab a championship ring, and there are even those who watch because of basketball-themed reality TV shows.
Most students are hopeful that their respective favorite teams will be able to bring home a championship this season, especially Houston Rockets fan and junior Chirag Mehta.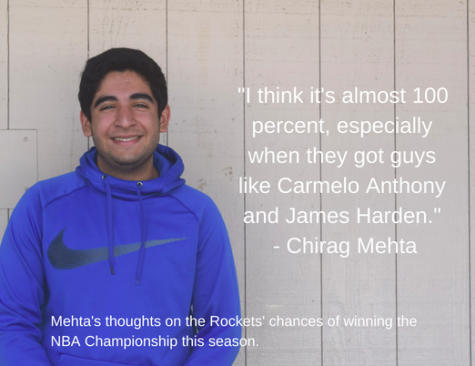 Warriors fans and seniors Manu Kondapaneni and Anik Patel had a similar response for their hometown team. Patel, especially, believes the Warriors' chances of winning are very high.
"[The Warriors are] the best team, they have the most all-stars and they've won it the last two years," Patel said.
A handful of fans believe that the champions can not be predetermined before the season has started.
"Since LeBron switched over, they have a higher chance than they did last season, but it's unpredictable," Lakers fan and junior Kayleigh Hau said.
The Lakers have not made the playoffs for the past five years, but with the four-time MVP LeBron James, Lakers fans like junior Rohit Kumar and Hau anticipate him turning that trend around.
"A lot of my excitement around the NBA season is based on the Lakers success, but for the past few years they haven't been successful." Kumar said. "This is the first season that making the playoffs can actually happen making me much more excited for this season."
With each team playing 82 regular season games, there will be many marquee matchups ranging from all-star clashes to historic rivalries.
A common matchup students like Hau are looking forward to is one in which LeBron James faces the defending champions — the Warriors.