Instatutors
People share their experiences of creating and using a student-made nonprofit tutoring service
Since March 2018, junior Nitin Subramanian and a group of students have been working to build their latest online nonprofit tutoring company, Instatutors.org, in an effort to solve a problem they've struggled with: keeping up in the classroom.
Subramanian found himself behind in various classes, and in an attempt to find an accessible way to obtain the help he needs, he's provided others with the solution he desired.   
"I wanted to build something that I could use but also a lot of other people could use that could benefit from it," Subramanian said. "Eventually, we had this afternoon organization that would tutor kids who were struggling in math."
The original organization took off and became a free tutoring service for students searching for extra support, regardless of their financial status.   
"Building our software, we've seen it grow tremendously," Subramanian said. "From the idea we first presented, to where it is now, it's like two completely separate things. Our goal is to provide students with better tutoring solutions from any background."
To expand to the variety of subjects that InstaTutors offers now, Subramanian started seeking out students who were capable of volunteering as tutors. So far, they have a community of 20 tutors and over 20 requests for sessions, with each session being one on one. According to Subramanian, InstaTutors makes it simple to either become a tutor or student through online registration.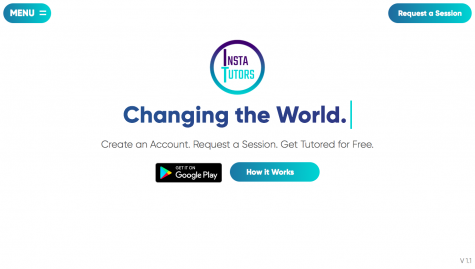 Students interested in applying to be a tutor answer a series of questions about the subjects they are willing to teach, eliminating the need for a college degree that most tutoring organizations require.
Junior Sophie Ye tutors students in math, writing, physics and biology and recently helped junior Allen Li study for his upcoming SAT Physics subject test. Ye explains that the process is quite simple and that the lesson plans tend to fluctuate depending on who she's tutoring.
"It depends on what the person requesting wants to know," Ye said. "If they give me something beforehand, then I might plan for it, do a bit of review of the content to make sure I know what I'm talking about, but otherwise it's just what they want to know."
Li sees this as an advantage when he compares his experience with InstaTutors to Study Buddies, a tutoring service offered by MVHS, being that the latter has more limits unreachable by students with after-school commitments or average grades.
"The problem with Study Buddies is to sign up you need a D or an F, but then anyone can use InstaTutors," Li said. "You can basically book for whatever time and a tutor can try to accommodate."
Subramanian can relate to this experience as well after taking precalculus. He wasn't able to obtain the help he wanted from Study Buddies due to the requirements and schedule conflicts.
"From that, I decided that I was going to create something that could be used by anyone, anywhere, anytime so we don't have these restrictions," Subramanian said.
Subramanian's mentor and father, Subra Kumaraswamy, acknowledges the value of such an accessible service. Kumaraswamy has had experience of his own in innovation, assisting with the development of two previous startups.
"It's really important even if he helps one student who's not able to get tutored but otherwise being able to do this because of his service, it's something that he should be proud of," Kumaraswamy said.
Despite some challenges that InstaTutors has managed to overcome, Ye explains that another remains, one that may not be simply solved easily.
"I know sometimes the culture here suggests that you shouldn't ask for help and that it's shameful to go and ask questions, but it's really not," Ye said. "It's part of the learning process and the sooner you realize that the better off you will be."
Subramanian has already began to tackle this problem with future ideas. He has recently deployed a new addition to the website where students can ask their questions anonymously instead of needing to schedule a tutoring session.
With these developments, Kumaraswamy believes that InstaTutors has the potential to transform into a 'new Facebook.'
"Zuckerberg did this in his dorm," Kumaraswamy said. "He had the idea to connect people, to connect students and teachers, so never say never about where things can go."