No kap: How Colin Kaepernick went from kneeling on the field to kneeling on the sidelines
All football games start with the national anthem, showing the patriotism of sports teams, leagues and fans in the country. Athletes and fans alike are expected to stand and put their right hand over their heart. But in 2016, former NFL quarterback Colin Kaepernick refused to stand and kneeled during the anthem instead.
I just retired after 21 yrs in the Army. STOP USING US to push your racist agenda. #ColinKaepernick is bringing light to an important issue that likely has never affected you. It is more disrespectful to us that you keep spewing this garbage. Stop. #JustDolt #NikeBoycott https://t.co/kAL7qPGrgG

— Robert People (@PeoplesCourt79) September 4, 2018
Along with other athletes who he influenced, Kaepernick kneeled to protest police brutality, specifically against African-Americans in the U.S., facing backlash from the team as well as thousands of NFL fans. Since his kneeling, not one of the 32 NFL teams has offered him a contract, making him a free agent.

After hardly responding for months, making people assume Kaepernick lost sponsorship deals, Nike went on to put Kaepernick's face in an advertisement for its 30 year anniversary, captioned with "Believe in something. Even if it means sacrificing everything." This referenced Kaepernick's refusal to stand with the NFL, who had also signed a contract with Nike until 2028.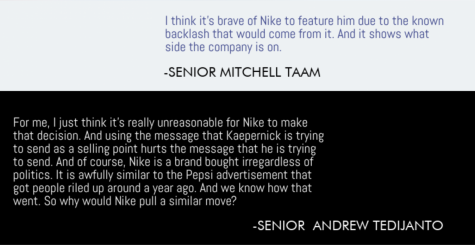 Across social media platforms, fans and Nike wearers posted videos and photos of themselves throwing away or burning their Nike apparel. They show their disapproval of Nike's support of Kaepernick's actions which some claim to be "reckless" and "unpatriotic."

Despite the drops in NFL views and the near 2% fall in Nike stock, investors and sports media critics suggest that Nike won't face much further market damage, aside from their products getting turned to flames on Instagram.