An arachnid, an amusement park or a car
An assessment of recent 2018 album releases: Astroworld, Scorpion, and Beerbongs & Bentleys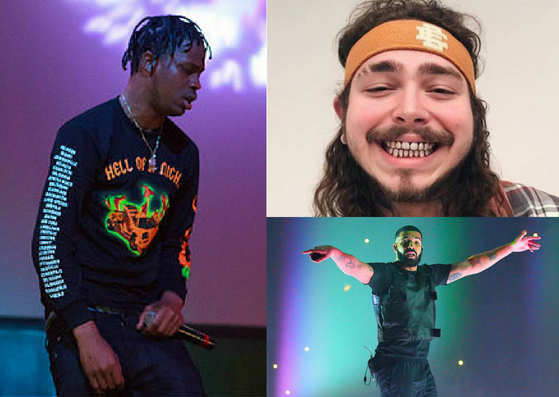 Browsing through Spotify's Top 50 list is a common habit for many hip-hop fans who love innovative and creative artists. The list features rising artists such as Juice WRLD while also including familiar faces such as DJ Khaled. The summer of 2018 was defined by three of the most popular artists in the hip-hop category: Drake, Post Malone and Travis Scott. These artists took over the charts with their signature beats and entertaining summer albums.
Post Malone was the first of the three to release an album this summer. His second studio album, "Beerbongs and Bentleys," prepared hip-hop enthusiasts for what was to be an amazing summer for songs of this genre. In this album, Malone was able to carry the momentum from his first piece, "Stoney," to produce even more compelling pieces.
Using his songs as a medium, Malone engaged his audience as he took them through a roller coaster of emotions. As a young artist who loves cars and leisure, Malone fixated on how his life has been good to him, occasionally adding information about his relationships. The song that stood out to most of his fans as his best performance was "Better Now," in which a heartbroken Malone raps about how he never meant to lose track of his strained relationship with his current girlfriend.
The album was a success from the first song to the very last. According to Nielsen Music, Malone's album broke streaming records and sold 461,000 units in its first week, a number that was the best at the time of his release. It's simple to say, Malone hit the jackpot with this album.
After Malone's success, people waited to see how Drake would present himself in his next album and compare to Malone. Their wait came to an end on June 29, when Drake released his 13th studio album, "Scorpion." Consisting of 25 songs, Drake used this album to give an inside on his life. His relatable lyrics about his child, strange relationship life and the amount of love he has to give helped fans to connect with his music.
In this album, Drake didn't feature many artists, but used creative ways to make his music interactive instead. His versatility was on full display as he sang slow paced songs such as "Finesse" while also singing his traditional rap in the form of "Nonstop." However, the most popular song in his album was "In My Feelings." His song inspired a new social media challenge that went viral, the #InMyFeelingsChallenge. As people took on the challenge, many celebrities joined the challenge, making it a worldwide phenomenon on Instagram.
However, many critics complained about the length of his album, claiming that it is too long. Comprised of 25 songs, this is Drake's longest album and most versatile piece of work. At every turn, Drake surprises his listeners with something new, something unique. According to Nielsen Music, Drake's albums got a total of 170 million streams in its first five weeks of release. It's safe to say that the Drake's common nickname, "6 God," was suitable this summer.
The last album that exploded on Billboard charts this summer was Travis Scott's fourth studio album, "Astroworld," which refers to a hometown kid paying homage to his roots. The name Astroworld comes from one of Houston's Amusement Parks that was taken down to make apartment space. According to Scott, his main goal was to bring the fun back to the city, to get the life back to Houston.
Collaborating with different popular artists and utilizing a variety of beats, Scott was able to assert himself as one of the best artists of today's generation. As a rapper known for his lavish lifestyle and fashion, Scott was able to put showcase his exotic lifestyle in this album. Filled with many fast paced, hype songs like "Sicko Mode" and "Stargazing" while also touching the genre of love in his songs "Coffee Bean" and "Yosemite," Scott was able to make a vast variety of songs in his album.  
However, the song that got the most recognition was "Sicko Mode" featuring Drake. It has two parts in the beginning and the end in which Drake does his magic with his clever lyrics while in the middle and Scott uses a slow tempo to make the song mesh well together. Scott's prowess as an artist was exemplified by his collaborations with other artists in this album.
With the end of summer 2018, one is surely to look back at this summer because of its many surreal albums, which engaged and entertained all the people that listened to them. No matter what albums are put forth in the future, one thing is certain, the summer of 2018 was one to cherish for all hip-hop lovers across the globe.  
About the Writer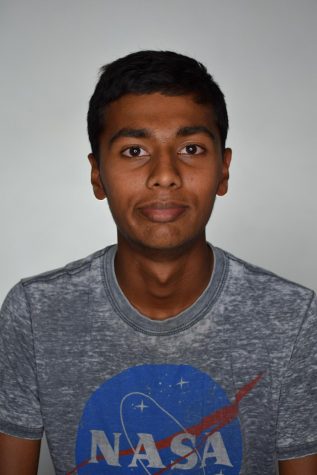 Aditya Dash, Staff Writer
Aditya Dash is a first year staff member of El Estoque Online. Interested in sports, he spends most of his free time on the NBA and the NFL. Aside from playing basketball, he is very enthusiastic about Neuroscience and Biology.