End of the line
Baseball seniors reflect on their athletic careers
Editor's note: Although Anthony Moll is on the El Estoque staff, he has been included in this story in order to include all graduating seniors on the MVHS baseball team.
From walk-on beginners to ten year veterans, the 2018 seniors all came into the MVHS baseball team with varying experiences, goals, skills and backgrounds. On May 10, the seniors completed their senior night game winning with a score of 3-0 with senior Christopher Anderson pitching a shutout. Keep reading for a look at each of the six seniors' experience playing baseball.
Christopher Anderson: Pitcher, infielder
Christopher Anderson began playing baseball when he was only 4 years old, signing up for tee-ball in Little Leagues with the encouragement of his parents. To Anderson, one of his favorite parts of the sport is that there are technical and strength-based aspects to it.
"There's a lot of diversity in baseball," Anderson said. "Many people can play the sport in different ways."
Over the past few off seasons, Anderson had been working on his pitching technique with his pitching coach. He believes that the skills he has devoted practice time and sincere effort to have translated to his success in the game. One of his proudest moments of his baseball career has  score a single run) inning streak that he was able to achieve while pitching during league games. He was also able to hit a no-hitter during senior night.
"Hard work pays off," Anderson said. "If you put hard work in, it'll translate to the game."
Although he may not play baseball in college and is sad to see his high school career end, Anderson is happy that he was able to play for the MVHS baseball team. Above all, Anderson stated that he would miss his teammates after coming out to practice with them everyday and being able to spend time with his friends.
https://cdn.knightlab.com/libs/juxtapose/latest/embed/index.html?uid=3b3d9386-5aab-11e8-b263-0edaf8f81e27
Joshua Huang: Third base, shortstop, closing pitcher
Joshua Huang has continued baseball ever since joining Little League in the first grade. What initially drew him to the sport was his father's love for it.
"My dad is from Taiwan and when he was growing up baseball was super big in Taiwan, so he really liked baseball," Huang said. "But he never got the chance to play."
Once Huang was old enough, his father began to play baseball with him in the backyard. Bonding with his father through this shared interest encouraged him to continue. On top of that, Huang began to see just how meaningful a game baseball was.
"You fail so many times," Huang said. "You fail a lot and you learn how to move past it and it's really a team sport because no one player can win the game."
What he enjoys most about the sport is the feeling of euphoria that comes with hitting the ball well, like when he hit a ground rule double at the senior night game.
"Everyone was there to see it," Huang said. "[The game] felt really special. I think [it was a good ending to our regular season], especially since we did well."
Huang will cherish all the memories he made from being on the team, from scoring in a CCS game in freshman year to the silly banter and discussions about random subjects before practice.
"Baseball is really nice because it brings a lot of people together," Huang said. "I thought about it and I wouldn't have talked to those people if it weren't for baseball."
https://cdn.knightlab.com/libs/juxtapose/latest/embed/index.html?uid=92b8ddce-5f64-11e8-b263-0edaf8f81e27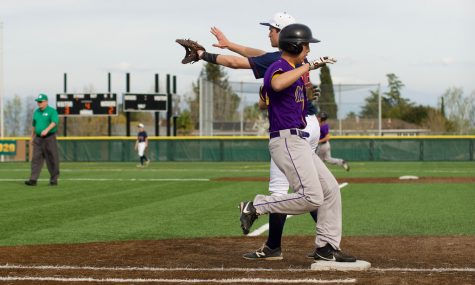 Nathan Hui: First base, pitcher
Being heavily influenced by his brother, MVHS class of 2016 alumnus Matthew Hui, Nathan Hui started playing tee-ball when he was in kindergarten.
"I kind of looked at my brother as a role model and [thought] 'Oh I'll play baseball too,'" Nathan said.
Since then, Nathan moved onto playing in a more competitive setting as he began playing in tournaments for Little League and eventually the MVHS team. Nathan says that hitting was the aspect of baseball that he was going to miss the most, as he is planning on focusing on his schoolwork over baseball during college. For him, hitting was therapeutic because he was able to let his anger out. In fact, one of his proudest moments on the MVHS team was hitting a home run during a game against Mountain View HS.
"We were down by a lot, so my friend Sathya was like 'Oh you have nothing to lose, just go for a home run' and I was like 'Okay' and I swung my hardest and hit a home run," Nathan said.
As many of Nathan's favorite moments on the team were times when everyone was bonding together, he said he would miss the little family they had created. He described that during his senior night, his thoughts were concentrated on the game in front of him.
"It went by really fast for me," Hui said. "I was enjoying in the moment. I didn't really think of anything else like 'Oh this is my last time playing on this field.' I just enjoyed the moment."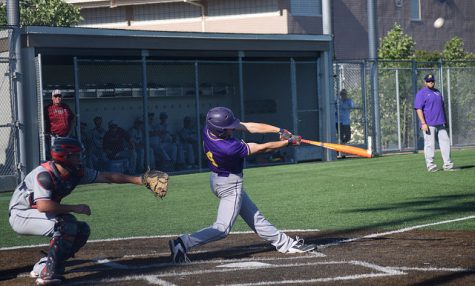 Jarrett James: Co-captain, pitcher, outfielder 
Jarrett James's baseball career began when he was four years old. Although he recognizes his father for introducing him to and cultivating his passion for the sport, James especially grew fond of baseball because he liked playing as an individual, as well as being a part of a team.
"It sounds selfish, but I like the individual competitiveness of the sport," James said. "It's a sport that includes team and individual accomplishment."
Although James expressed that he hasn't observed much improvement in his physical abilities on the field since he was a younger teen, he has learned how important it is to have a focused and positive mindset while playing. James appreciates Coach JC Beeson for helping him build the mental strength that he needed to get out of a four-week slump and become a better athlete.
"[Coach] told me to go up to the plate and envision myself hitting the ball, close my eyes, deep breath, and imagine myself doing it," James said. "I did that and then I got a hit. I always knew baseball was a mental game, like 90% is all in your head, but that really defined it for me."
In addition to improving his mental game, James believes he has grown to be a better teammate over the years. James shared his feelings about his teammates' successes at the senior night game.
"I was so jealous of Chris and Anthony for like being able to [throw a no-hitter and make spectacular plays playing shortstop, respectively]," James said. "But at the same time, [I was] really proud because they got to shine and feel good themselves."
While James admits that he will miss the MVHS team, he is excited to graduate and possibly continue baseball in the future with a team that expresses more focused goals. He describes the MVHS team players as nonchalant about their games, although he knows that many of them have high goals and a strong drive for success. Leaving his teammates of many years will be hard, but also something that h has come to terms with after the senior night game.
"Everyone achieved feeling good about themselves after that game," James said. "It was really good way to end the regular season."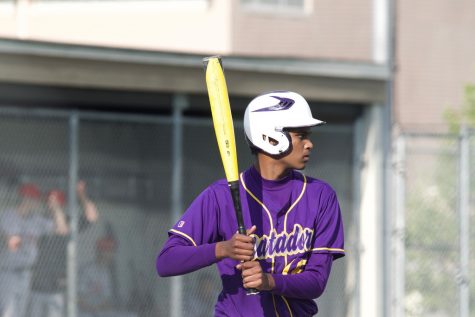 Sathya Kumaraguru: Left fielder, pitcher
Compared to other members on the team that started right when they enrolled into elementary school, Kumaraguru didn't start playing until he was 9 years old. Although he initially didn't like playing sports, watching his brother play inspired him to play as well. Being in the varsity team since his sophomore year — and getting pulled up for CCS during his freshman year — the two of them played on the same field during their sophomore and senior year, respectively.
Kumaraguru stated that it is the people he was able to get to know that made his experience special.
"I can play baseball anywhere, but I think that the thing that makes MVHS baseball unique is that you could play with your classmates and people you've known for so long," Kumaraguru said. "I think definitely the relationships you built is what you're going to miss the most after these 4 years."
When he had first started out, he described that he felt a gap between him and those that had been playing since they were 4 or 5 years old, as he did not know anyone and was not as experienced as others. However, as he has continued to play baseball, Kumaraguru noticed that he was able to surpass in level some of the people he used to admire through mere exposure to the sport.
Kumaraguru stated that unlike basketball or football, baseball does not require natural athleticism, but is more skill based.
"There's so many players who are really short or not so muscular, but they just have a good hand-eye coordination, so they hit the ball well," Kumaraguru said. "So I think in that aspect you don't have to be born genetically gifted to be good at baseball."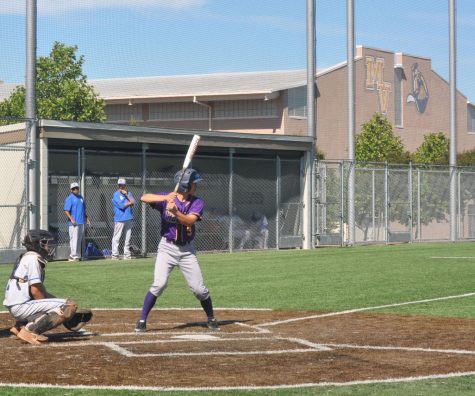 Anthony Moll : Infielder, pitcher 
With the initial support from both his parents, especially his father, Anthony Moll began to play baseball at 4 years old. What started out as an annual hobby grew into a year round career. For Moll, baseball really seemed to differentiate itself from the other sports he was exposed to.
"I think baseball is just a different sport because a lot of people say it's more of a game of failure," Moll said. "Because if you're getting a hit 3 out of 10 times it's considered good, but in basketball if you make 3 out of 10 shots that's really bad."
Moll described that every time he goes onto the field, the experience is always different for him. From feeling the unknown of the happenings of the game to meeting a plethora of characters, Moll said that the game never gets boring.
Although he is sad that his high school career is over, he believes it ended on a high note and is proud that the team was able to make it to CCS. Although Moll described that he felt a sense of relief after his senior night game was over, he still felt sad about its end.
"At first it just felt like any other game because I didn't want to make it anything different or I'd probably get too emotional," Moll said. "But then after the game finished…I was kind of sad because…I won't be playing with the people I've been playing with anymore."
Ginga Sato: Outfielder
Unlike many of his teammates who started playing baseball as toddlers, Ginga Sato was only introduced to the sport at the beginning of high school by a close friend from Japanese school.
"I never did Little League," Sato said. "I never knew the people around me because all the other incoming freshmen knew each other from outside of school baseball and I felt alone."
It was his genuine interest in baseball that really helped him stick with it, despite being a rookie on the team. Catching, throwing and batting were all things Sato loved and looked forward to at every practice and every game.
Sato plans to pursue baseball beyond high school. Even if he does not play competitively in college, he will continue the sport recreationally. The memories he has made and the goals he has accomplished have furthered his passion for baseball. Sato described the senior night game and qualifying to CCS during last year on the MVHS team as the culmination of his high school baseball career.
"I got a hit the last game, and I got to bat, so it was fun," Sato said. "[Making CCS] was great. I was just too happy the moment Chris got the final out, Jason and I in the outfield high fiving each other. We were just happy and excited."
https://cdn.knightlab.com/libs/juxtapose/latest/embed/index.html?uid=14fb46ce-5f69-11e8-b263-0edaf8f81e27