Coming Home
After 14 years under the leadership of principal April Scott, FUHSD's coordinator of human resources, Ben Clausnitzer, will fill her shoes next year as MVHS' new principal.
On April 24, Clausnitzer was one of seven selected candidates who interviewed for a panel that included FEA site president Bonnie Belshe, executive assistant to the principal Diana Goularte and assistant principal Mike White. Clausnitzer was one of three finalists invited to speak at the May 2 community principal forum in the auditorium.
"I liked somebody who I could trust, somebody that I thought was honest, someone who had some experience dealing with high school students and working at a comprehensive high school," White said. "I really was looking for somebody who had a high school similar to MVHS, so [a] high performance high school with our type of student population [was] preferred for me, which all three of the top ones had — they all did that."
Clausnitzer's return to MVHS brings excitement to many on campus, as he is able to continue the progress on building goals that he helped initiate with many familiar faces. As a person who works closely with the principal, Goularte is excited to work with Clausnitzer as she recalls the memories they shared when he served as an assistant principal five years ago.
"It's almost like he is coming home to MV," Goularte said. "He has more experience now with his time in HR. He has had many roles within FUHSD; he has been a teacher, department lead, president of FEA, assistant principal, coordinator of HR … all these experiences will help him as the new principal."
Because of his previous work on the PLC process and collective commitments, Belshe said Clausnitzer was a favorite for the job.
"[For example, Clausnitzer] was the one over the last five to six years who helped shift our school commitments that as a staff we make, no homework over break," Belshe said. "That's the direction I think we still need to continue and go in as a staff and as a school, and so I felt like he would be the right person to help lead that, because he understands that we have made some changes but also how we need to continue to work on those."
The final decision fell in superintendent Polly Bove's hands, who used the comment cards from the community forum in her follow-up conversations with the candidates. Scott sent the staff an email stating that Bove would announce the principal at the May 8 staff meeting in the library. Belshe said she had trouble sleeping and eating because of her curiosity.
As soon as 7th period ended, staff rushed to the library to hear the announcement.
"When they said it was Ben Clausnitzer, [I was] ecstatic about the decision and I think it's going to be really good for our students since he was an assistant principal here," Belshe said. "How he framed conversations was always around what's in best of student interests and how do we do that or how do we get there and I think we need someone with that focus."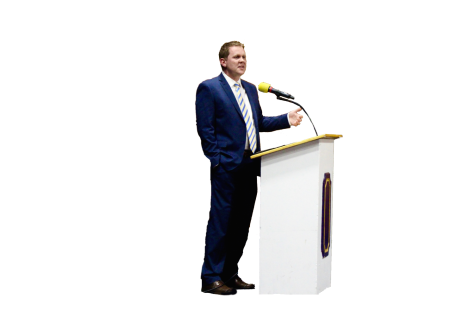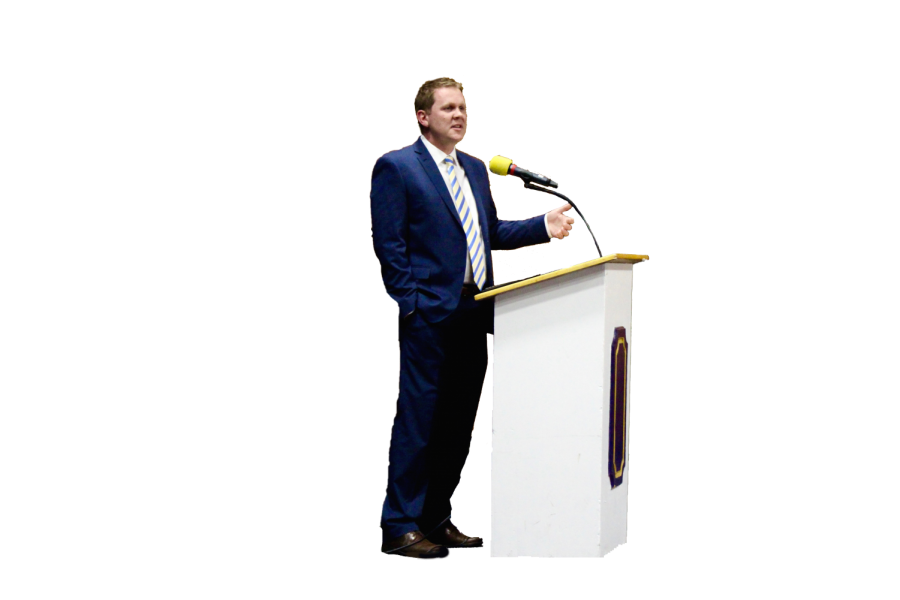 Clausnitzer is just as eager to return home to MVHS and reach out to the community. He especially wants to make sure all students feel safe, welcomed and valued.
"I look forward to partnering with our MVHS community as we continue to collectively work to create a place of learning where all students are challenged to learn at high levels," Clausnitzer said.