Boys volleyball: MVHS triumphs in second round of postseason after 3-0 victory against Wilcox HS
Despite loss of momentum and increase in unforced errors in third set, MVHS continues to move on in CCS playoffs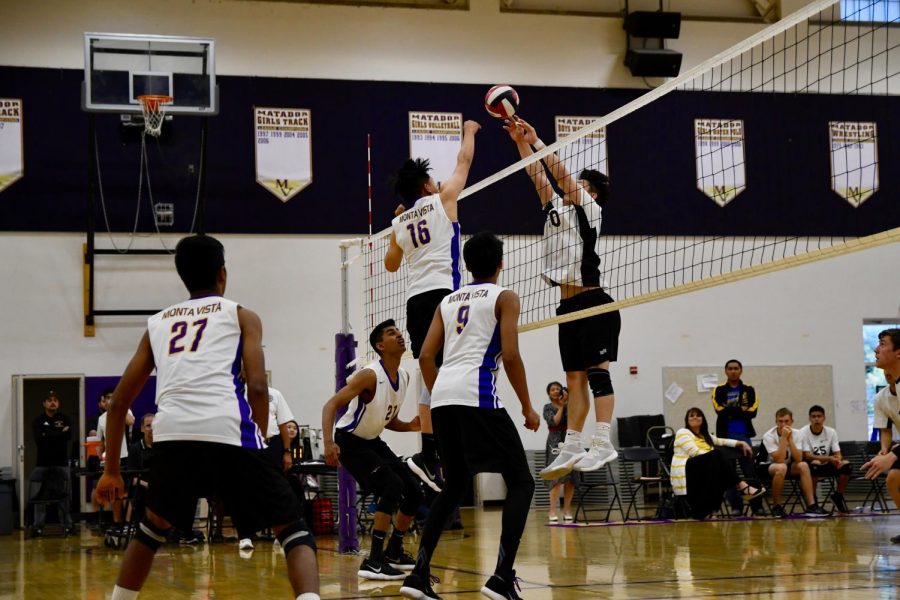 Photos by Cathie Lin 
MVHS looked vulnerable in the final set in their game against Wilcox HS. They couldn't string together their usual scoring streaks with their hitting, and unforced errors started to build as the set dragged on for this team.  Despite this, head coach Paul Chiu was unfazed from the lack of momentum from this set, and the tumultuous play of this game overall.
"We've embraced that – not just this season but it's been that way for the last couple years," Chiu said. "I don't mind scrapping, we can out scrap any team in the country. We hustle. We go after the ball, and no ball hits the floor without someone going after it. I'm not worried about it, because that aspect is our culture now. As a program it's our culture, so it's something we instill starting in open gyms and I don't have to worry about it anymore."
Although Wilcox HS upset Homestead HS by coming back from an 0-2 deficit in the previous round, MVHS' aggressive hitting and defense was too much for the fourth seeded team as MVHS moved on to their third straight CCS semifinals rematch with Bellarmine CP.  
The first two sets seemed more familiar to this MVHS team from their play this season. Both sets ended in 25-13 and 25-16 point victories respectively, and both sets featured hard hits and quick serves from the team that's been pouring them in all season. Unlike their first round game of the CCS playoffs against San Benito HS, MVHS' serves didn't result in straight aces. Instead, WHS was able to mitigate a majority of the damage MVHS was pouring onto them with superior service reception by WHS senior libero Hoon Cho.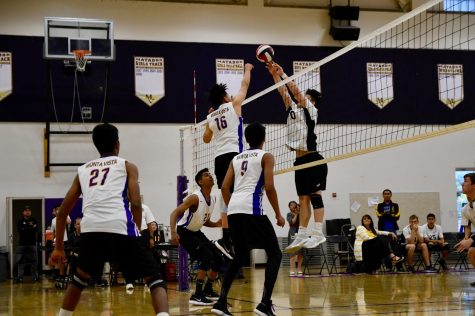 "I think our guys were still rippin' it. It's their receiving quality [that impacted our serves]," said senior captain and libero Jason Shen. "You don't expect a lot of aces and it was a blessing that we could do what we did on Tuesday to make things a little easier, but this game and Saturday's game we're going to have play a lot more volleyball than just relying on our serves."
In the first set, MVHS couldn't score more than four points in any one serving rotation. In the second set, junior hitters Gautham Dasari, Nikhil Bapat and Rajas Habbu were fed clean sets by junior Kevin Mathew and went on a seven-point scoring streak. However, after a service error by Dasari, junior Apoorv Pachori followed up the streak with six straight serves to bring MVHS ahead 15-6. Then, both teams let their hitters roam free. Dasari had five hits, four of which were kills in the last eight points before Habbu finished off the set with a kill from opposite down the length of the net.
"In the first two sets I feel like we played with a lot of energy, and we were all hyped up," Dasari said. "The third set is when we got kind of complacent. And I feel like we were just going through the motions, and they were playing a lot scrappier."
The third set was when MVHS lapsed; they watched their biggest lead of the set, five points, waver as WHS began to capitalize off MVHS errors. Even worse, breakdowns in communications started to occur.
For a while, it looked rough. The WHS portion of the crowd was growing louder when WHS tips and hits made contact with the MVHS half of the court. And MVHS seemed to start scrapping for the points that had come seamlessly for them throughout the majority of the regular season. Mathew opened up the set with a tip that forced a WHS error. Yet in the very next point, Dasari was called for a net violation.
"It was kind of a mixture of [trying to find rhythm and get hits] and sometimes the set isn't always there, so I was trying to adapt to it, and I made a little more mistakes because of that," Dasari said. "I was trying to be crafty also sometimes, and next time I need to be more careful about that."
Then Bapat served up two aces when the score was tied up 8-8, but on the third volley WHS returned a desperate dig by Shen to bring the score back within one at 10-9. Finally, Shen sent WHS reeling from a serve they could only bump back to MVHS, where Bapat swung the ball back into the net for the WHS point.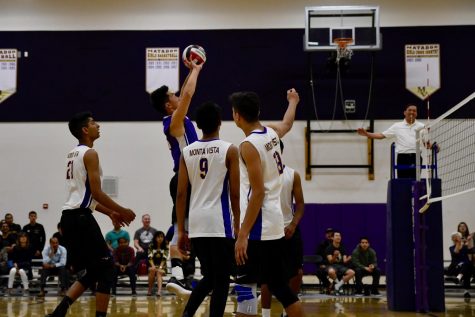 The score was 11-11. WHS had climbed back to the exact same position they were at on May 9 when they began their upset against Homestead HS. And for the first time this postseason, Chiu called a timeout.
"A lot of times we just take our foot of the gas a little bit." Shen said. "And teams like Wilcox – in their earlier game they came back from a 2-0 deficit against [HHS] – and all it is is off errors. When we were making errors they just started getting louder and volleyball is a game of momentum. Both sides. When you give them opportunity they'll take it."
The time to scrap was now. Chiu's normal rotation of servers all errored out, as senior Chris Liou and Jason Yee struggled to stay warm on the bench and deliver clutch serves deep in the third set. Dasari watched his tip fall at 21-18, right before his next hit was bounced back at him for a tool and WHS point. The set was all but over, at 24-19, before WHS froze the MVHS defense with a tip right at the net they couldn't see coming. The WHS bench cheered, the MVHS bench sagged and the score seemed unusual for a team used to winning sets by double digits not staggering to 24-20. Then Mathew called upon the formula that sent this team to the semifinals last year, with a back set to Habbu who let off the final kill of the game down the line, along the net and into the crowd.
And now the real challenge begins, as MVHS is facing BCP for the third time in three years in the semifinals at St. Francis HS. And just like the boys volleyball and MVHS alumni in the stands who can remember advancing to the CCS finals in their 2013-14' season, this team is hoping to accomplish what they couldn't last year.
"We're ready to go," Chiu said. "Everything that we've talked about, we just need to execute. We have no plans, nothing dramatically different for [BCP] on Saturday. We'll make tactical adjustments, in terms of blocking, approaches and stuff like that, otherwise our overall game plan is set. […] Just, one more. One more."