The new 2018-19 dance team includes two male members
Incoming freshman Nikunj Shanker and sophomore Alex Yang discuss their perspectives and experiences on dancing
The MVHS' dance team has had the team name "Marquesas" since its creation during the 1970-1971 school year, according to dance team coach Dasha Plaza. Nearly fifty years later, sophomore Alex Yang and incoming freshman Nikunj Shanker are joining the 2018-19 team, prompting the team to change the female-gendered "Marquesas" team name. During the next competition season, the dance team will go by the name "Monta Vista Dance Team." Yang and Shanker are happy to be the first males on the team, yet they also feel that there should be more male participation in the dance field. Read about Shanker and Yang's thoughts on auditions, the stigma around male dancers and what they're looking forward to in the Q&A below.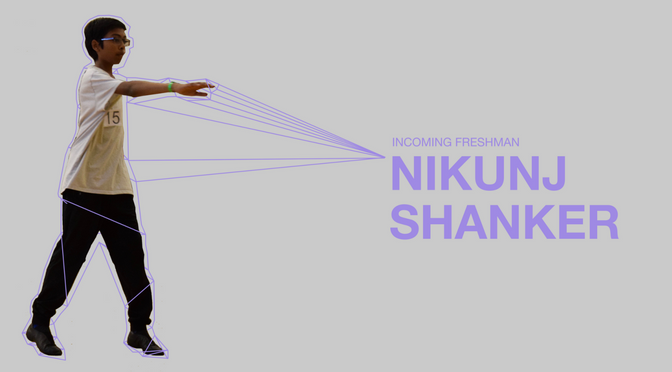 EE: Why did you decide to audition for dance team?
NS: I started dancing around 6th grade and I found my love for dance and I joined the dance team at my studio, which is Dance Academy USA, … and then going into MVHS, I wanted to pursue dance further by trying to audition for the dance team.
I love the show called "America's Got Talent" and my favorite parts were watching these dance routines by different people, different cultures and different dance styles and that really got me interested into the sport.
EE: How did you feel going into the audition?
NS: As anyone would feel, I felt a tad bit nervous but I mean I had to push that feeling aside and try to focus on the choreography that was being taught because I really wanted to get into the team.
EE: Do you think there's a stigma about guys being in dance?
NS: It is very intriguing that after a while there are more boys showing up inside dance team for MVHS but the general idea of dance being a more girly sport just really never fit in for me. I feel that everything can be for anyone and just with dance — it's 2018. By now it's not new that anything can be done by anyone. Dance should be open for boys and girls and although … I think that boys joining the dance team is a little bit interesting but not for the whole culture of dance.
EE: What are you most excited for next year?
NS: I'm most excited about the adventure and meeting new people along with learning something new more about dance, improving my technique and hopefully shaping me into a better dancer.
EE: What are you hoping to learn?
NS: I'm hoping to build a stronger foundation so that in case I do get into dance as a career, I can easily understand dance, I can go through audition processes faster and … hold myself up.
EE: What were you trying to show the judges during your audition?
NS: I was trying to let them know that I am a unique person who brings something new to the team that they should have, so that they can be even better than before because every generation should at least try to be better than what was done before.
EE: Why did you decide to audition?
AY: I've always loved dance as like a form of expression and it's one thing that I know that I'm okay at. I do acting and kind of singing going along with acting and those things kind of make me feel really really self conscious … but when you go into dance, for me at least, it's more comfortable.
EE: Tell me about your experience in P.E. dance and how that influenced your decision to audition for dance team?
AY: There are only two guys in that class, one of them being me — my period, at least — and it was really interesting because our dance teacher, Ms. Plaza, she kept helping me and the other guy specifically. We weren't at a disadvantage but she kept working with us and telling us we should get more guys to join P.E. dance.
I improved so much from that class specifically because we rarely work on technique, but just going through things over and over again [helped me improve.] She put up flyers for the dance team and at first, I thought 'I shouldn't even audition, those are for people who have been doing dance for years and I'd just started.' So when my friend said 'Hey, you should try out' after she watched me doing one of the choreographies, it was like 'no.' And then Ms. Plaza said 'Oh yeah you should do it' — I was like 'Wow, okay.'
EE: What were your thoughts going into the audition?
AY: I was just there to have a good time. I knew that I'm not at the level of the Marquesas, the previous Marquesas so I was trying not to expect anything. I was thinking 'You know what, I should just, as a guy, I should just do it because there's not enough guys doing dance so I just wanted to be secure and have fun and just represent [them] at least.
EE: How did it feel when you found out you made the team?
AY: I was so happy, I was so excited … I got scared because I'm a theater kid so my schedule's already packed and so just making it into something is 'Oh my gosh yay — wait.' It worked out schedule-wise so I was just really really happy. I told everyone … That was an achievement that I am super happy [about] because I'm self-conscious about theater and stuff so [having this] one big achievement in my life that I'm happy and really proud about [and being] ready to share that [made me happy.]
EE: What are you most excited for next year?
AY: I'm really excited [to perform in front of the school] because it's going to be something really new for me because it's a rally and so more people are going to be there.
EE: I know you said earlier that a part of it for you auditioning was representing guys because there's not that many guys auditioning for dance team or taking P.E. dance, so how would you encourage people to take dance? How would you debunk the stigma about dance being a more feminine sport?
AY: As a guy doing even P.E. dance, I completely just have to ignore the stigma. You can't think about [the stigma] when you're trying to go for it and break it really so I think having two guys on the team — well, we may not be the ideals of masculinity … [but] the thing with masculinity for me is that there's being insecure of your masculinity which is — I mean, it's all social, nothing's real — but being insecure about your masculinity for me is being more masculine and then being secure about it is not caring.
EE: Any final thoughts?
AY: I really want people to just audition for things. I want it, personally because arts is a really hard thing to get into personally and as a career so I think the student population should consider doing dance and you don't have to have any experience to audition — just go to auditions whenever they pop up and just have a good time for the musical, for anything. That's really my ideal world, is where everyone just has a good time and tries out for things and if you don't make it, then you know you can try again later.
About the Writer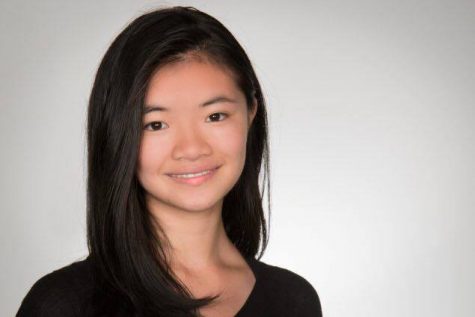 Ilena Peng, Staff writer
Ilena Peng is a senior with a love for tea, books and journalism. Formerly, Ilena was one of two editors-in-chief, as well as a news, entertainment and business editor.