MVHS Model United Nations' new executive officers share their visions
As the second semester rolls by, many clubs have started to think about new leadership for the next school year. With seniors preparing to leave and underclassmen ready and willing to take on a bigger role, MVHS' Model United Nations club opened applications on Feb 28 for executive and non-executive officer positions.
The club has three executive positions that only current officers can take over – president, vice president and president of the Kennedy MS branch, a relatively new position for the feeder club that introduces middle-schoolers to MUN. Seniors Amita Mahajan, MUN president and Nicholas Chen, MUN vice president, were in charge of reviewing executive officer applications and hosting interviews.
"We try to find more intangible traits," Chen said. "Your ambitions for the club, maybe the direction you want to take things in in the future, what you think could be improved about the way we run things in general."
After careful consideration, the new executive team was announced to the club during the third week of March. Juniors Amit Chandramouly and Eric Wang will be the 2018-2019 co-presidents, sophomore Jiani Tian will become the vice president and junior Sarah Feng will take the position of president of the KMS branch. According to the characteristics the previous officers were looking for in applicants, each of these individuals showed promise and ambition, as well as a passion for the club. Chen explains the traits that the senior officer team searched for.
"My goal for next year's officer team is I want them to really institutionalize the success model UN has been finding," Chen said. "I think it'd be pretty great if we had an officer team full of people who have both the vision and the logistical expertise to get something done. I think that would make model UN a very powerful presence at this school."
Each of the officers have their own unique vision of the direction they want to take MUN in next year. After being in public relations last year, Tian wants to increase the club's publicity and make it better-known throughout MVHS.
"Our club needs more publicity. As public relations officer last year I realized our club isn't as out there as DECA or FBLA," Tian said. "I genuinely just want to make our club have an even larger reputation so that freshmen think of MUN as the one club they really want to join."
Like Tian, Wang hopes to increase the number of delegates who are willing and able to join MUN, even if that happens halfway through the year. Wang noticed that many students lost interest after the club promotion day during the second semester because they felt intimidated by the current members' experience and knowledge. MVHS' MUN club has training sessions in the fall at the beginning of the school year, but Wang believes that incorporating a winter training session will encourage new members to join and therefore improve the growth of the club.
As president of the KMS branch last year, Wang also recognizes the importance of fostering a dedication to the club in younger members. He feels that the feeder club could be a main source of delegates for the high school club if utilized correctly.
"In terms of [KMS] we're going to expand it a little bit more," Wang said. "We're hoping to have experienced delegates come in as freshmen so it'll boost the club's dedicated member base."
About the Writer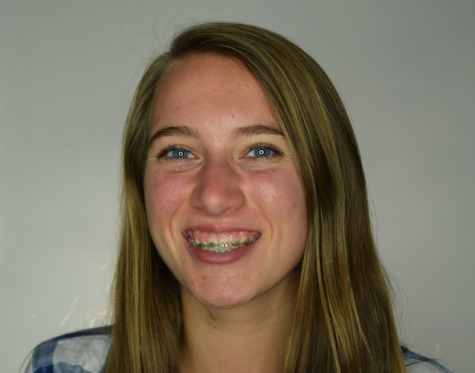 Maggie McCormick, Staff writer
Maggie McCormick is a senior and has been on staff for one year. She likes to swim, play guitar and code. In fall 2018, she will be starting school at University of Redlands in Redlands, Calif.