Bridge Club set to participate in Bay Area bridge championship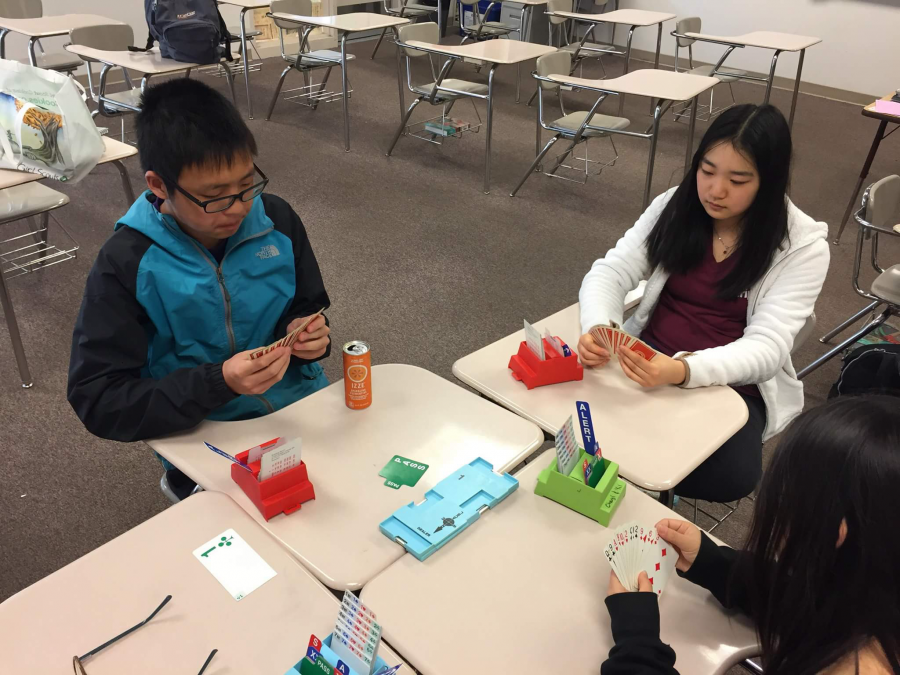 In the hushed silence that falls upon the students gathered in D101, freshman Richard Wu plays bridge, a card game, with two other students and his coach, Cheryl Mandela, who gives her experienced word at the end of each match. Those at his table are relatively inexperienced compared to the team that sits just a few feet away, but both are playing hard in order to succeed at the Bay Area High School Bridge Championship on April 29. The tournament is exclusive to high school students and it involves multiple rounds.
Wu reveals that as a dedicated bridge player, he feels fairly confident regarding the upcoming competition and strives to become one of the top ten players in the competition. He also discusses the inspiration behind his passion for bridge.
"This past summer, one of my friends introduced me to bridge and that is why I joined the bridge club," Wu said.
Due to similar inspirations for other members in the bridge club, senior and president Sophia Lian noticed the difference between last year's club and this year. One such difference this year is that the club is separated into two different teams: one involves more experienced students, while the other includes the beginners.
Since the competition is approaching, the team has been discovering various ways to prepare. Lian believes that they should spend some time bonding with the rest of the team and practice at their coach's house whenever members are available.
As an experienced bridge player, Lian believes that the bridge club community is a special place where high school students with common interests can  get together and bond.
"You get to expand and know people more," Lian said. "[For instance,] I'm rooming with someone else for college who also plays bridge who will also be at the same competition, so it's fun to know that you have common interest[s]."