Last week's rundown of MVHS boys volleyball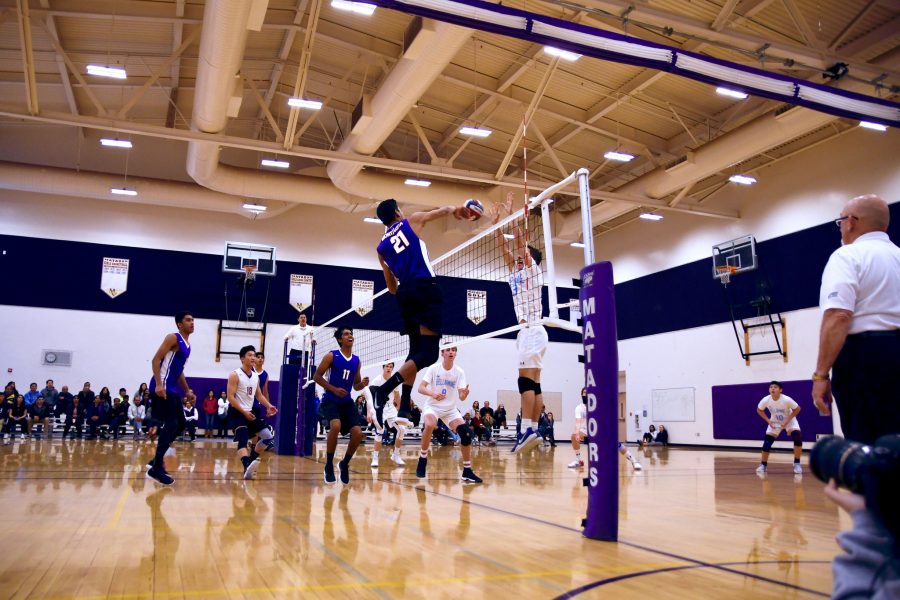 "Win leagues. Win CCS. Win NorCals."
The boys volleyball team has been repeating this phrase consistently for the last three years, yet every year they have fallen short. The team came close last season, with a nearly  undefeated record, but eventually fell to Bellarmine College Preparatory in the semifinals of the Central Coast Section playoffs.
But the team has shifted its agenda to clearing up its bad blood in the postseason. Schools like Bellarmine CP and Homestead HS, that gave MVHS two of their only three losses last year, lost key seniors that made their squads so competitive. As for MVHS, the core of the team is composed primarily of juniors, some of whom have played two years on varsity already.
Last week, the Matadors faced off against two of the easier teams in their league, Mountain View HS and Los Altos HS. Later in the week, they met their star-crossed lovers, BCP.
Click through the story to recap the highs and lows of the boys volleyball team's opening week.
Additional reporting by Aditya Dash, Carol Lei and Jai Uparkar
First two sets of the season are a rout in MVHS' favor
There was no rust and certainly no cobwebs to shake off as MVHS opened up season play by outscoring Mountain View HS by a combined 27 points over the first two sets. In fact, the Spartans couldn't even string together a single scoring streak in the first set, as the Matadors' starting rotation wrapped up the set in less than fifteen minutes. By the time the second set rolled around, even the bench was getting in on some of the action. Senior Christopher Liou was able to drive home two kills in a row to raucous applause from both the crowd and the MVHS bench. Thanks to their aggressive opening, head coach Paul Chiu felt confident enough in his team to start the third set with a rotation virtually devoid of starters.
"[Mountain View HS] barely had a chance. Unless we had a bad hit, like the libero got me a couple times, it came off the net, and I hit it. But other than that, they had no chance."

-Junior Gautham Dasari
Entire bench is rotated in during the third set against Mountain View HS and loses 22-25.
Juniors Gautham Dasari and "Poofy" Pachori attempt a block in the third set against MVHS. Although MVHS dropped the third set against Mountain View HS, they took the fourth set back with ease. Photo by Om Khandekar.
It wasn't showboating, but it definitely wasn't something head coach Paul Chiu would have considered last year either. Instead of grinding his starters to dust in their first of three games in four days, he opted to start three first year varsity players and only two starters to begin the third set. Although MVHS only lost the set by three points, the game slowed down to a gritty back and forth, as both teams struggled amid unforced errors and kills.
"I'm happy with the way it turned out, but we still have some things we have to work on, and the players know that. I asked the team to do certain things, some things were accomplished, but we're going to keep working, and we gotta get better if we're gonna win it all."

-Head coach Paul Chiu
---
FINAL SCORE: 3-1
---
About the Writer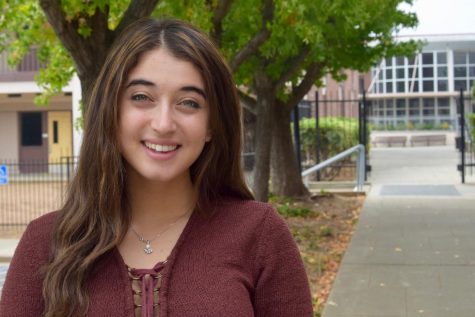 Rana Aghababazadeh, Co-editor-in-chief
Rana is a third-year member of El Estoque and is currently a co-editor-in-chief. She is a former sports editor and enjoys covering basketball and volleyball. In her free time, she enjoys playing movie scores on the piano and watching Billboard's Top 50 hip-hop and R&B Songs of the Week.