Testing the customizable makeup trend
How the experience compares to traditional products
Hang on for a minute...we're trying to find some more stories you might like.
From lipsticks and foundations to shampoos and body scrubs, customizable makeup and skincare items are a trend sweeping across the beauty community. With the ability to tailor different aspects of a product to fit specific preferences, this trend appeals to various audiences.
Finding Ferdinand is one company that offers customizable lipsticks, with their website stating that they "believe beauty is unique to each person," which is why they want to give their customers "a place to explore and create products [they]'ll love." Their custom lip products allow customers to choose their preferred color, intensity and finish.
The first step entails choosing up to four colors to mix together. Finding Ferdinand offers a total of 22 colors, with shades ranging from neutral nudes and pinks to bright reds. They also allow customers to change the intensity of each color by adjusting the percentages on a sliding scale.
To put this to the test, I opted to make a nude lipstick, with slight coral undertones. Starting with a base of Sinful at 100 percent resulted in a darker red and brown color.
Then, adding Orange Sorbet, a brighter red and orange shade, at 80 percent lightened the mixture and added a touch of orange.
The resulting lipstick still erred a little on the side of too dark, but adding in Orange Flare, a creamy orange shade, at 90 percent made the mixture the ideal color.
With its clearly displayed icons, the website was simple to operate, especially as the mix changes when different color percentages are added.
Finding Ferdinand also offers varying choices in formula — creamy lipstick, matte lipstick and sheer lip tint. I opted for a creamy lipstick, which seemed like a middle ground between the options. Since I chose to buy the mini 0.04 ounce version, the total came to $6.52, though they also offer a full size 0.1 ounce version for $30.00.
When swatching the lipstick, the creamy texture glided on smoothly and was pigmented. While the color seemed true to the mix displayed on the screen, the lipstick also had miniscule flecks of gold shimmer, which was unexpected. When wearing it on the lips, the gold glitter particles left a subtle shiny finish.
With its shiny finish, this lipstick isn't particularly long lasting and rubs off easily, so it would have to be frequently reapplied. Additionally, after wearing it for a few hours, the lipstick leaves lips a bit chapped, but applying a coat of lip balm solves this problem.
Overall, Finding Ferdinand delivered what they advertised, allowing customers to control varying aspects of the lipstick, from color to formula. However, with the wide range of lipsticks already available on the market, any color mixed with services such as Finding Ferdinand could likely be found elsewhere, at lower prices. Though these customizable lipsticks aren't necessarily essential, they are a unique experience for those with cash to spare.
About the Writer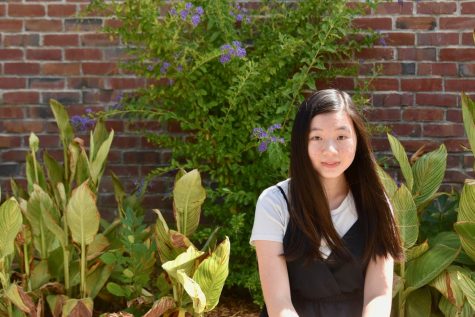 Charlotte Chui, Arts & Entertainment Editor
Charlotte Chui is a senior, as well as a print arts & entertainment editor for El Estoque. She previously served as a multimedia copy editor, and this is her third year on staff.