FIFA 2018 World Cup Predictions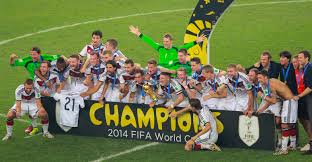 Now that the US men's national soccer team has been eliminated from the FIFA World Cup, Americans have a problem they haven't had in 33 years— who to root for in the World Cup.
Powerhouses:
Germany: The defending champs come to the field with four championships already under their belts, and with coach Joachim Low, stand to continue that streak. With the classic German discipline and the usual deep team with stars Thomas Muller, Toni Kroos and the best goalie in the world in Manuel Neuer, Germany is the favorite to repeat as champions.
Brazil: Some may remember Brazil's 7-1 absolute destruction by Germany in the last World Cup and doubt their abilities, but that was without their best player, Neymar. Now with their entire team healthy, they are poised to make a deep run into the tournament.
The Up and Comers:
Belgium: With a disappointing loss to Wales in the Euro Cup, Belgium is poised to make up for it in the World Cup. With loads of young talent including the likes of Kevin De Bruyne, Romelu Lukaku and Eden Hazard, they can do some real damage and can be a real threat for any team facing them. However, while they have all the talent in the world, they still haven't seemed to put it all together and play as a cohesive team in past tournaments, so it's yet to be seen how they will perform.
Portugal: Portugal is coming in with a lot of momentum, after winning the Euro Cup out of nowhere without a healthy Cristiano Ronaldo. While Ronaldo isn't getting any younger, he is still one of the best players in the world. They don't have as much talent as previous years, but with their slow defensive style, they are still a threat to anyone. Portugal has also added a lot of new, young players, like Andre Silva and Gelson Martins, who could help push the team forward.
France: Much like Belgium, this is a golden era of French soccer talent. With extremely talented, young attacking players like Antoine Griezmann, Paul Pogba and Anthony Martial they can out pace almost everyone in the tournament. With this amount of attacking firepower, they are a threat to any team they play and have at shot a winning it all, if their manager Didier Deschamps can get the best out of all his talent.
Last Chances:
Argentina: 2018 is the last chance this Argentinian generation has of winning a World Cup. With Messi, Higuaín and Ángel Di María all turning over 30 when the tournament rolls around, this is going to be these player's last real shot at a World Cup. However, while they have an older team, this Argentinian team still has one of the best players in the world in Messi, and a winnable group with Iceland, Croatia, and Nigeria. They shouldn't be counted out and still are very dangerous to any team.
Spain: Although still in the process of adding young talent, Spain's experience and new energy shouldn't be counted out. While the team mostly consists of the same group that competed in the 2010 World Cup (Andres Iniesta, David Silva, Pique), they've also added a couple of new talents to the squad (Isco, Marco Asencio). The 2010 World Cup Champions still have a shot at winning the title.
Thanks for Qualifying:
Saudi Arabia: Qualifying for the first time since 2006, Saudi Arabia is one of the lowest ranked teams in the tournament — only Russia and Panama are ranked lower. This team although under the experienced, former Chilean national team coach, Juan Antonio Pizzi the team outside of striker Mohammad Al-sahlawi lacks any real talent. Even so they have been blessed with one of weakest group in the tournament which includes Russia, the lowest ranked team in the tournament, along with a veteran Uruguay team and Egypt, making their first World Cup in 28 years. Don't bet on themhis team to go very far.
Panama: The Panamanian team qualified for the first time in its history, after trying for 39 years. The second lowest ranked team in the tournament next to Russia despite its progress and improvement, Panama does not have the experience to get very far in this tournament. With both Belgium and England in their group, it is difficult to see Panama getting past the group stage.
Wildcard:
Egypt: Africa Cup of Nations runner up, the team has definitely gotten stronger in 2017 and stands to only do better when the Cup rolls around next year. With strong players Mohamed Salah and Mohamed Elneny, the team has the potential to put on a surprising show, especially with an easy group of Russia, Uruguay, and Saudi Arabia.
Morocco: Despite an unsatisfying AFCON performance, important injured players Nordin Amrabat, Younes Belhanda and Sofiane Boufal should make their return, giving the team a fighting chance. With coach Hervé Renard's guidance, Morocco may well have an unexpected performance.
Darkhorse:
Croatia: The classic answer if anyone is asking about a World Cup dark horse, this Croatian team has one of the best midfield in the world with likes of Rakitić, Perišić, and Modrić.
Disappointing:
England: England. The question remains, will they underperform again? They have an easy group with Panama, Tunisia, and Belgium, with Belgium being the only high caliber team. So they will more than likely finish second in the group and play the first seed of group H, more than likely either Colombia or Poland. One would think that England would have a relatively easy road to get to the quarterfinals. But if you're thinking that, then you've forgotten one crucial factor: the English national team. They have underperformed in every major international tournament, since they didn't qualify for the Euro Cup in 2008. While this English team with the likes of Harry Kane, Dele Alli, and Kyle Walker has enough talent to get to the quarterfinals, they will, like they always do, find a way to mess it all up.