Boys water polo: Team loses to Los Gatos HS 6-10
T

he sun was setting on the horizon, casting golden rays that bounced off the MVHS swimming pool as the boys water polo team prepared to play Los Gatos HS in one of their last home games of the season. After losing to LGHS earlier in Sept. by a score of 7-14, the boys anticipated a tough game that they hoped would end with a victory for MVHS.

The first period of the game was fast-paced, and both teams only made one goal each. MVHS' defense worked hard to block LGHS' goals—they played aggressively and made it hard for LGHS to make any shots. The Matadors moved into the second period with a positive outlook, which unfortunately did not end well as LGHS sealed five goals leaving the score 1-6 at the end of the first half. At halftime the score was 1-6 with LGHS in the lead.

"[Coach] said that we're playing pretty well and we just needed to play through, we just needed to keep playing through all the bad calls or whatever was going on," junior Bill Deacon said. "He told us to focus on defense and just play."
Even though LGHS was pulling ahead, MVHS' players were determined to win, and their determination showed in the third period. The playing in the third quarter was intense from both sides. With 45 seconds left on the clock senior Sina Faridnia scored as the shot clock ran out, but the referee signaled it didn't count. An MVHS parent yelled "come on we needed that," and the crowd seemed to hold their breath as LGHS attempted and succeeded in scoring a seventh goal. Faridnia then tried again to score for MVHS, and he made their fourth point as the third period ended, upping MVHS' score by one. Third period ended with 4-7, LGHS ahead.
Within a minute of the start of the fourth period, Faridnia scored for MVHS. He scored again towards the end of the game with less than 50 seconds on the clock, marking his fifth goal of the game. MVHS was doing well, but offense was unable to get the final pass and score. The match ended 6-10. Even though MVHS did not win their second game against LGHS, Faridnia felt that this game was much better than the first.
"[Last game], we tried our best in the first quarter but then as points started racking up, [so] we kind of gave up," Faridnia said. "But this game we kept our heads up and fought through [it] all."
Both Faridnia and Deacon said they felt the team was continually improving throughout the season, and they were looking forward to the last four games of the season.
Check out the photo gallery to see images from the game.
The next boys water polo home game is Oct. 12 at 6:15 pm against Harker HS.
About the Writer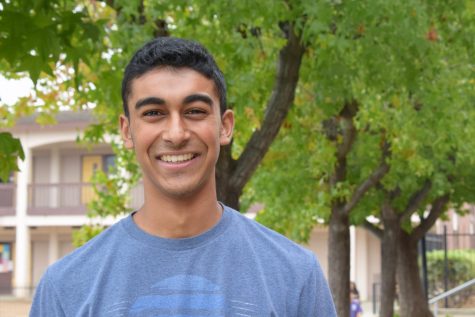 Roshan Fernandez, Co-Editor-In-Chief
Roshan is a senior and co-editor-in-chief for his school's publication El Estoque. He enjoys writing, reporting, interviewing and photography. He was previously a sports editor and a visuals editor in his junior and sophomore years respectively. When he is not writing for El Estoque, he can be found playing soccer or spending time with friends.