Professor Pedro Noguera gives equity presentation for staff
Hang on for a minute...we're trying to find some more stories you might like.
At 7:15 a.m. on Wednesday, Sept. 13, groups of teachers stood crowded around tables of coffee and bagels chatting. They moved within their friend groups not unlike the students that would later stand around the academic quad in their own groups. As the 7:30 a.m. bell rang out, the staff began to file into the auditorium. The seats filled up, and district superintendent Polly Bove stood behind a podium ready to begin the presentation, she stood ready to speak and waited.
The room quieted down as teachers, administrators and other staff members settled down into their seats for the presentation. Professor Pedro Noguera, Ph.D, Director of the Center for the Study of School Transformation at UCLA, took a stand and began to speak.
Noguera, along with neuroscientist Dr. Kelly Kent, Ph. D, were invited to come speak to the teachers of MVHS during their collaboration time early in the morning on "Excellence Through Equity." Although he had previously presented to the rest of the district, he was invited to specifically come speak to the teachers at MVHS because of the school's absence at the presentation for the rest of the district.  Due to timing and parking concerns at the previous presentation before the start of the school year, MVHS was given their own visit. Noguera has conducted much research on the subject of equity and how to best prepare students for success with fewer resources and support systems.
Noguera's speech focused on equity and his work in schools across the country. He has worked previously to help implement measures that promote equity and create an academic environment tailored to students from different backgrounds with different needs.
As he talked to the staff about equity, Noguera repeatedly brought up parallels between teaching and parenting as a way to make the content more relevant to all students.
"We are surrogate parents as educators, by law 'In Locus Parentis,'" Noguera said as an opening. "Who we educate, is who believe has rights in this system."
The presentation is part of a long term effort on the part of the district to incorporate equity across all schools. Noguera will be working with the district to determine areas of improvement in the future, but as of now he is unsure of his exact role in helping the district.
"Much of his work has been with schools drastically different to fremont union high school," said Principal April Scott. "He was really honest about that, so he said, well let me kind of figure out what defines FUHSD and defines each school, and then I'll determine what the best way is for me to help that school move forward."
After presenting to the staff in the morning, Noguera spent the rest of day touring the school and speaking to focus groups of students and teachers. As of now, the plan is for Noguera to revisit the school at a later time in the year to work with the school on implementing practices that promote equity.
About the Writer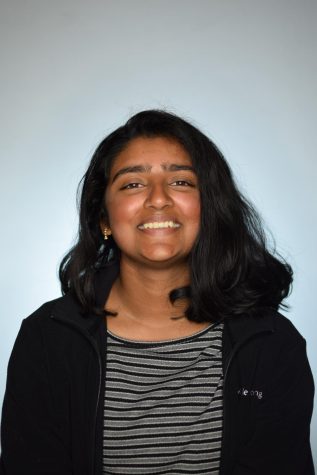 Priya Reddy, Staff writer
Priya Reddy is a senior at MVHS, a third year staff member and a managing editor. Priya was a multimedia Special Report editor her sophomore year and a print Special Report editor her junior year. She likes to read, watch trashy action movies and take long naps.