Restaurant Roulette: Rio Adobe
T

wice a month, El Estoque goes to restaurants around the area and takes a chance by asking the waiter to personally choose our food for us. This week, we continued the alphabetical theme by going to Rio Adobe in Cupertino.

Address: 10525 S De Anza Blvd Ste 100, Cupertino, CA 95014

A warm ambience and the sound of bustling kitchen staff greeted customers entering the restaurant. Service is friendly and quick. Unfortunately, customers were not able to order many of the dessert options such as chocolate empanadas and sopaipillas on Sunday evening because there was no dough left. Rio Adobe attracted many families, and customers began to pour in once 7 p.m. rolled around.
---
Yellow Corn Chips – complementary
Rating: 5/10
Once seated, customers are brought fresh and crisp tortilla chips, and are welcome to head over to the salsa bar, located on the left side of the restaurant, to choose from a selection of eight salsas. There was barely any taste to the fire roasted tomato salsa, which was overpowered by the saltiness of the chips. On the contrary, the salsa traditional had a strange, wine-like flavor and soon enveloped the tongue in fiery pain. The fresh and flavorful pico de gallo offers a refreshing experience compared to the other two salsas.
---
Pueblo Nachos – $7.50 (add steak for an extra $1.75 or chicken for an extra $1.00)
Rating: 8/10
The huge portion size of the Pueblo Nachos definitely make it a family-friendly appetizer. The yellow corn chips are loaded with jack and cheddar cheese and are topped with guacamole, pico de gallo, sour cream and the customer's choice of chicken or steak. The nachos are definitely a staple comfort food, but since toppings are somewhat sparse, act fast before all the guacamole, pico de gallo and sour cream are scraped clean from the plate and you're left with a soggy, cheesy chip.
---
Carne Adobada Burrito – $8.25
Rating: 6.5/10
Be warned — even the menu notes that "This is SPICY!!" The burrito, also rather large, is easier to consume when cut in half, which reveals the tingling smell of a blend of New Mexico chiles and spices. The slow-cooked pork melts in your mouth, and the rice, onions and cilantro offer more texture to the bite. The tongue experiences a slow, gradual burn from here on out which slowly renders the customer unable to taste any other flavors, so make sure to take breaks and have some ice water on hand.
---
Overall rating: 7/10
Give Rio Adobe a try if you're craving a savory meal experience, and consider bringing some friends to tackle the large portion sizes together. Although the salsa can be hit or miss and the spicier foods a bit intense for some, the options are satisfactory and definitely not lacking in the flavor department. Drop by one day, and hopefully you'll also be able to try the chocolate empanadas and sopaipillas.
About the Writer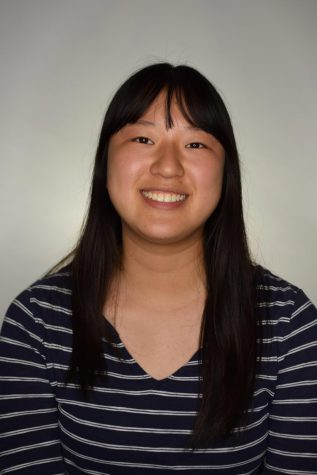 Jennie Chen, Staff Writer
Jennie Chen is a senior and third-year staff writer on El Estoque, and has previously served as the beats editor and the PR editor. In her free time, she enjoys reading various articles and blog posts.