Field hockey: Team starts their season strong with a win against Lynbrook HS
Hang on for a minute...we're trying to find some more stories you might like.
Seconds before the referee blew the whistle, senior captains Devin Pereira and Sara Nordby yelled, "Start strong!" The players felt a mix of emotions before the start of the game. Some, like Pereira, were nervous, for they hadn't played the Lynbrook HS team during the preseason and did not know what to expect. Others, like Nordby, were filled with resentment and wanted to redeem themselves after their loss to LHS on senior night last year.
"I definitely felt that revenge spirit where I [wanted] to win so [badly], and… a lot of times, in different sports, [LHS] can be considered a rival," Nordby said. "But this game was definitely a game where I was very passionate about winning."
Although LHS started with the ball at the start of the game, solid passes and continuous communication allowed MVHS to work offense throughout the first half. With 22:38 left on the clock, junior Rose Wang scored the first goal with an assist from senior captain Estelle Yoo.
When a MVHS player missed a ball, nearby teammates continued to encourage them, responding, "You can do it!" Through a long sequence of short corners and passes, Senior Madison Moore scored with 18:30 left in the first half. Cheers erupted from the side of the field and the illuminated score board on the side of the lower field displayed the score 2-0.
As tension arose between the two teams, the passes became reckless and players moved up and down the field with referees running closely behind the players. Frequently, the sharp shrill of the whistle sounded, and the referees pointed to the center of the field. When the timer on the scoreboard showed 6:10, MVHS scored their final goal, and the first half ended with a score 3-0.
"We got the fever, we're hot, ooh we can't be stopped," the MVHS team yelled.
In the second half, LHS players had gained same familiarity with MVHS' gameplay. With 28 minutes on the clock, LHS scored their first goal. MVHS continued their offense taking shots but the ball repeatedly bounced off the metal corners of the goal post. At around four minutes, LHS scored their second goal, leaving only a one point difference between MVHS and LHS. Panic arose on the field, and the MVHS team transitioned to more defense and individual plays.
"I think we lost a lot of touch in that second half and so compared to our first half," Nordby said. "We were playing more as individuals in the second half, which made it harder to play as a unit."
MVHS displayed strong defense as they protected their goal. When the buzzer sounded, MVHS players all cheered in unison. They had defeated LHS with a score of 3-2. Just as much as they were happy about their win, MVHS knew they could have done better.
"It was just really frustrating to see that they were making a comeback," Pereira said. "It was more frustrating than scary because I know that we as a team can do better than how we played in pretty much all of second half."
Starting their season with a win, the team captains have a good feeling about the rest of the season and are working hard towards their goal of a CCS Championship title. As they face different opponents and plays, the captains want to remind their team to continue to be flexible with criticism.
"I think that for the rest of the season we always have to have a growth mindset to always improve, [because] you never know what's going to happen," Yoo said.
MVHS will have their next home game against Los Altos HS on Friday, September 22.
About the Writer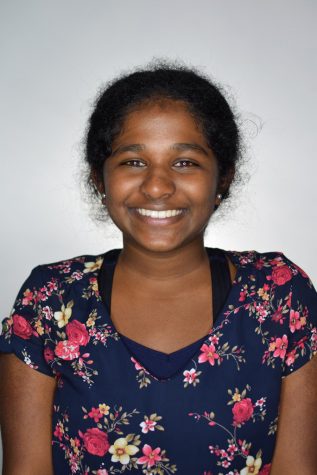 Aditi Gnanasekar, Staff Writer
Aditi Gnanasekar is a first-year staff writer on El Estoque and a senior at MVHS.