Shoulderspeaker's apprentice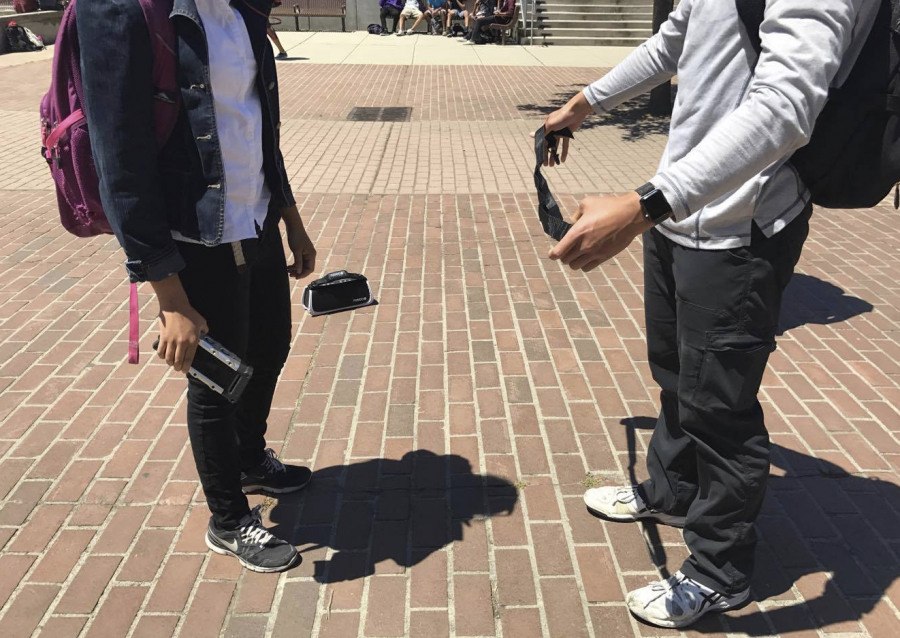 They stand together outside the girls' locker room, right in front of the lower field. His hands fly in front of him as he touches the speaker on his shoulder and then motions to the phone he's holding in his right hand. The girl next to him listens intently, obviously focused, but also a little confused. Her own speaker, slightly smaller than his, is also slung about her shoulder. They talk until the bell rings, signaling the end of brunch and the end of their meeting. Walking down the path between the girls locker room and the fieldhouse, they part ways towards the C building.
He walks away, and for the first time in two years, his speaker stays silent. However, there's still a rhythm in the air, music echoing not from his speaker but from the girl's.
Senior Andrew Hsu has found his successor — a prodigy to carry on his legacy.
And despite terms that have been used in the past to name what he has been doing, such as "Music Man" or "Speaker Boy" — both gender specific terms he wasn't necessarily fond of — he prefers the official title of Shoulderspeaker.
"Shoulderspeaker … is not just for the privileged people," Hsu said. "It's not for the person that everyone likes … it's [something] everyone should relate to, and I think that's why I wanted it to be Shoulderspeaker."
Most know about Hsu, or have at least heard his music blasting through the hallways during passing periods. For some, it is a source of relaxation — a break from grades, competition and stress. For others, it's entertaining. When he first began Shoulderspeaker, his primary goal was to unite the students through music and to make them happy.
"[MVHS] is a very negative environment," Hsu said. "It's very competitive and there's a lot of negativity that's associated with this school … Basically, what I'm trying to do is to use something that almost everyone enjoys and try to just make this environment and this negativity seem less vile."
He first began to think about finding a successor when he realized how big the Shoulderspeaker role had become and was convinced the majority of the student body approved of his actions.
Hsu likens the self-confidence in being Shoulderspeaker to standing on stage and giving a speech one knows nothing about. Understandably, he considers freshman Shreya Patibanda as a stroke of luck who approached him herself.
"At first, I wasn't very good at finding people that would actually do what I do,"  Hsu said. "[Because] it takes a lot of guts to play music really loud in front of a lot of people."
Patibanda remembers being "mind blown" the first time she heard Hsu's music because she never thought something as bold as this would exist; akin to Hsu, she commends the guts it takes to play loud music.
Before coming to MVHS, Patibanda was already wary of the school's reputation as stressful and depressing and references how school spirit simply decreases after the welcome rally, pushed aside by fretful thoughts of academia and colleges for the rest of year.
"It's not just about grades," Patibanda said. "It's about living your life to the fullest extent."
Spotify playlist compiled by Andrew Hsu.
Patibanda came to know about the open position for Shoulderspeaker at Challenge Day. Both Patibanda and Hsu were present, and it was at this time Hsu announced that he was looking for a successor. Patibanda leapt upon the opportunity — to her, it was a chance to liven up the dreary school atmosphere. She immediately approached Hsu one day and expressed her interest in following his lead. She simply told him that she was going to be the next Shoulderspeaker no matter what.
They agreed to meet the next day, March 24, a Friday, to talk about what the role of Shoulderspeaker means. Patibanda quickly learned that being Shoulderspeaker was much more than just blasting music.
"First he shared with me a document … that's a list of 15 things Shoulderspeaker should do," Patibanda said. "The point was to play music that makes people feel lit. Another thing was that in addition to just playing music when you walk, you have to smile to others – it brings a more personal connection and it makes them happier."
Hsu and Patibanda strive to respect all the varying student opinions of Shoulderspeaker. As certain teachers are more conservative and sensitive about profanity, Hsu firmly emphasizes the importance in considering teachers' different tolerance levels — especially for song selection, a considerably delicate and tedious process. He cites the weather, time of year and day of the week all as factors swaying song selection, with holidays like Christmas or Halloween bringing in more of a festive touch. For Patibanda, the student and teacher reception has been a little unexpected: rather than teachers, it is her fellow students who are startled by the profanity and who dissuaded her from playing particular songs.
"I walk into a classroom and then [the song has] swear [words] every five seconds," Patibanda said. "And the funny thing is that all the students that are around me … [they] say 'no Shreya, don't play that song, you're going to get in trouble' but all the teachers are chill with it."
Occasionally, students have confronted Hsu and Patibanda for "disturbing" people, yet Hsu genially dismisses the negativity, choosing instead to highlight the positive experiences the Shoulderspeaker has offered students and the grateful hands he has shaken — laughing, he remembers an anonymous student's comment by the B building.
"She ran all the way down the stairs," Hsu said, "and [came] around a corner just to shout that my speakers are sexy."
He recalls a freshman who previously perceived the "high school experience" as a "kind of hell," a degree of pessimism echoing Patibanda's eighth grade self. Luckily, the freshman's outlook immediately brightened after seeing Hsu and his speaker: there's some good to find at MV.  
"Winning hearts and changing opinions is definitely one of the most powerful things in the world," Hsu said.
About the Writer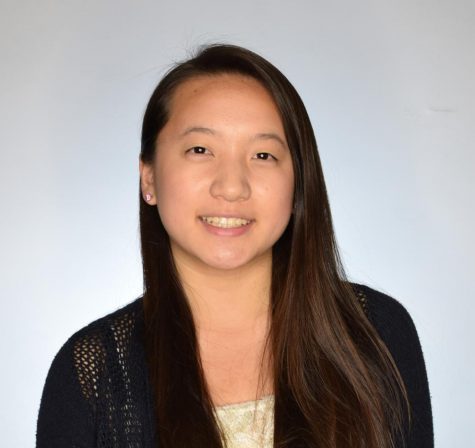 Vivian Chiang, Staff Writer
Vivian is a third year staff writer and former Features and Opinion editor on El Estoque. In her free time, she likes to make videos, listen to music, and hang out with friends.