Sunday Projects: A day at the Cherry Blossom Festival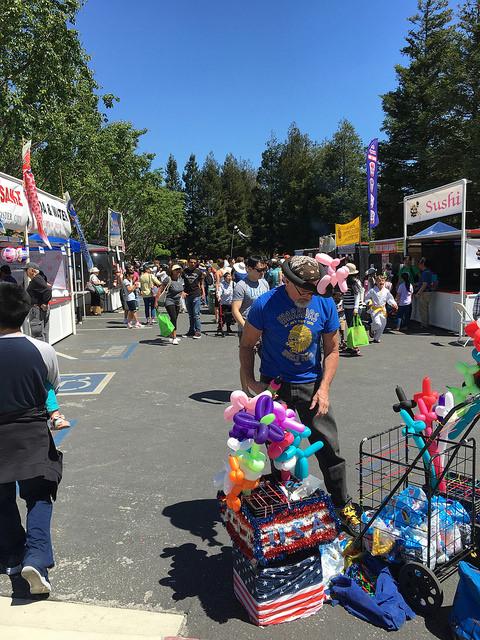 T

he smell of fresh kettle corn being popped. The taste of soft mochi. The shriek of children shouting out above the deep thump of traditional drums. The feeling of itchy gravel and grass. The sight of a small pink cherry petal floating past a Hello Kitty bouncy house. Cupertino's annual Cherry Blossom festival is a symphony that consumes the senses, and although the festival happens every year, Japanese food, music and culture saturated the festival air with a feeling of timelessness, as if the old festival were brand new. One of the festival's purposes is to strengthen the bond between Cupertino and its sister city in Japan, Toyokawa. The convergence of different cultures in one familiar place, Memorial Park, makes the festival a unique experience for the families, volunteers and performers that attended.
A

midst the crowd of T-shirts, shorts, and sun-hats, the yakisoba stand's salespeople wore full khaki and green uniforms. They are Boy Scout Troop 487, a troop based in Mountain View that attends the festival nearly every year to raise funds by selling spam musubi, mochi, and yakisoba, a type of stir-fried noodles.
Preparing the ingredients — namely chopping vegetables and making the noodles — is done the Friday before the Cherry Blossom Festival, which they call "Chop Night." Besides Chop Night, the troop also prepares its spam musubi and mochi before the festival. Making spam musubi is fairly simple, but the mochi requires a precise recipe of jello, mochiko flour, sugar, rice and water, so not every scout knew the exact recipe. Nonetheless, when Barbara Bonini, an adult leader in the troop, heard that four scouts did not know the recipe, she promptly delivered a slap across the air in front of their faces.
---
U

nder a game booth with a sign saying "Speedball," a boy reels back his arm, a wild smile on his face, ready to chuck the ball in his hand with full force. His mother, though, looks on with worry.

"Will he be okay?" asks the boy's mom, pointing at a dog sitting in the booth. The dog stands right in the middle of the booth, fearless, his front paws resting on a wooden plank and his eyes watching the ball that he knows the boy will soon throw.

SpeedBall, held in a booth that resembles a small batting cage with balloon aliens and bats covering its outside walls, is a game of controlling how fast one can throw a ball. After two trial throws, customers say a speed and try to throw their third ball at exactly that speed, measured by a radar.

Jeff Wojcik, the booth tender, reassures the mother. Eddie — that's the dog's name — has been in Wocjik's family for three years. Wojcik normally leaves his dog in his sister's care when he runs his booth. Unfortunately, the last time Wojcik dropped Eddie off at his sister's house, the fence got kicked down and Eddie was nowhere to be found. After waiting to hear any news of Eddie, Wojcik finally received a call that night from a woman that lived on a farm five miles away. She had found Eddie and called the number on his tag. Wojcik was relieved, but his good mood was dampened when he smelled Eddie. Evidently, Eddie had rolled in cow manure.

And so Eddie ended up as a special visitor at the game booth.

At first, Wocjik tried to keep Eddie out of the cage by placing balls outside the cage, but Eddie only wanted the balls thrown inside the cage. Succumbing to Eddie's stubborn attitude, Wocjik let Eddie stay inside and tried to teach him how to retrieve balls — to no avail. Eddie had no problem jumping after the balls as they were thrown, but he had no intention of bringing the balls back.
Wocjik's work started long before his friendship with Eddie began — in fact, he began his business around 30 years ago, after his divorce. Suddenly a single father, Wocjik needed a way to support his son. And so, with a wooden booth, a radar, and several balls, he started SpeedBall.
Now, Wojcik's son is 35, but Wojcik has continued his SpeedBall booth because of the people he meets. He's been to local churches, cities like Ukiah and Reno, and other places in the area. At the places that he frequents, Wojcik sometimes sees familiar faces: people who had played SpeedBall at his booth one, two, or even ten years earlier.
"I've had men come up to me with a big smile on their face and they say, 'I played this when I was a little kid…and you were here,'" said Wojcik.
After the boy finishes his four trial tosses (Wojcik let him redo two tosses that were too high to be picked up by the radar), he guesses 20 miles per hour, takes aim, and throws the ball. Unfortunately, he throws too hard, at 24 miles per hour. As Eddie pounces on the ball, the boy begins to walk away, accepting his loss — but before he can leave, Wocjik stops him and offers a prize.
"We guarantee the kids a big bat or a little alien," said Wojcik, indicating the balloon toys on the booth walls."I don't want to see the kids leave with nothing."
---
M

ichael Kanner travels from fair to fair around California teaching people the art of Shakuhachi, a Japanese flute making technique. As a man who's been at the Cherry Blossom Festival for seven years and has been making and playing flutes for over forty, Kanner has taken the art of Shakuhachi from Hawaii, to Berkeley, to where he lives now, Santa Cruz.

Kanner's booth is always flooded with children. They reach for the bamboo flutes on display, and blow into the flutes to create whistling noises. He patiently helps them attach an assortment of beads and sequins to the ends of their flutes and even offers to show the group of kids how to play them. He hopes to teach them the art of the Shakuhachi flute, the same way teachers from Berkeley and Hawaii have taught him in the past.

"You have to have faith and you have to practice because something like this, you can get very discouraged easily," Kanner said, "The first flute that I bought — the Shakuhachi flute — I couldn't play it. But I figured, if [the man in Berkley who taught me to play the flute] is doing it, and if I practice, I'll get to do it myself."

To Kanner, the craft's greatest beauty may be its portability. Because he can bring it anywhere, it allows him to connect with people he wouldn't otherwise: like the people he met while bringing his tools with him to Hawaii, or the children here, most of whom are of Asian descent.

"Well first of all music is a way to communicate, everyone has their own style of music that they like to sing or dance to or play. So that could come in many forms … they could learn to be a music teacher, who knows what it could bring," Kanner said. "As long as it is worth it. I've been making flutes for over 40 years I've meet so many people interested in flutes interested in music, so I get to share their views. It's just a growing experience."