Then and Now: Food without thought
Hang on for a minute...we're trying to find some more stories you might like.
T
he bell rings. He leaves his class and pulls out his phone. Junior Noah Youngs dials a number and makes a call, one that he makes frequently around lunchtime. At the end of lunch, he rushes out to pick up his food — waiting for him in the hands of a DoorDash or UberEATS driver, either at the bus circle or student parking lot. If the food is in the back of the car, then the driver will get out of the car, rifle through other deliveries and pass it to him. Other times, he'll get handed his lunch through the car window. It's the little things that frequent users like Youngs notice.
Youngs frequently uses food delivery services to buy lunch for both himself and his friends and has them delivered to MVHS. This way, he gets the best of both worlds: food from restaurants he likes without the hassle of driving there and back in the span of 45 minutes.
He uses food and other delivery services three to four times a week, including Amazon Prime Now, the company's instant delivery service that brings orders straight to your desired location, at least once a week. Youngs started using UberEATS when it first came out last August, and he started using Prime Now last spring.
UberEATS is an expansion product of Uber Technologies. Utilizing their popular car service, Uber introduced an on-demand restaurant delivery service in 2014, allowing a person to order and receive food from nearby restaurants in "10 minutes or less."
Payment is the same as the car service, cashless and charged on the customers' smart phones and couriers include drivers and bikers along with walkers.
The services aren't always perfectly seamless, as sometimes, the food will be cold when delivered.
Youngs remembers one time when he had ordered food from a restaurant through UberEATS and got a call from the delivery person, who seemed impatient.
"The driver guy called me and told me to cancel the order because he's been waiting in the restaurant too long," Youngs said.
After the call, Youngs called UberEATS support and received a new driver.
Youngs believes that part of the popularity of these services is due to the bustling nature of Silicon Valley itself. He believes that the close proximity of residences in the area makes it possible for these services to thrive.
Youngs thinks this availability can make people lazy. It makes it so they don't have to go to the grocery store if they run out of milk, for example, and use apps to get someone to do it for them. But maybe, he says, it's not a bad thing.
Junior Jesse Wong says he has had experiences with incompetent UberEATS drivers. Once he waited for over an hour for his Caribbean Passion smoothie.
The UberEATS driver still couldn't identify Wong's location, who, attending a prep class, had made five phone calls to said driver and still hadn't received his smoothie. Wong recalls this memory good-humoredly, chuckling to himself.
"[The driver's] a weird guy," Wong said. "He was just really loud."
Wong, who uses UberEATS and orders it to his house every month or so, considers the service inexpensive depending on what one orders. He also acknowledges the convenience of general food delivery services, especially for people with limited access to nearby restaurants.
"Sometimes no one feels like cooking, so we just order [from UberEATS]," Wong said. Unlike Youngs and Wong who both use UberEATS, guidance counselor Monique Balentine prefers to use a service called DoorDash.
Founded in 2013, DoorDash is also an on demand restaurant delivery service, which first launched in San Francisco and expanded to the Bay Area. Customers can browse and order from nearby restaurants on the DoorDash smartphone app, and delivery persons, nicknamed "Dashers," can deliver the food in just under an hour.
Since last August, Balentine has ordered from DoorDash three to four times a month. Overall, Balentine interprets DoorDash as a double-edged sword; while it is convenient, she feels that she is becoming consistently lazier, preferring to simply "DoorDash" meals if she hasn't bought enough groceries or is just too exhausted to cook.
"It's definitely so convenient," Balentine said, "So convenient it hurts."
DoorDash has often aided her in a pinch, and she specifically remembers one example with the MVHS Speech and Debate club. As an advisor of the club, she had accompanied the kids to their event at another high school. She was promptly faced with a dilemma: the on demand restaurant delivery service, which first launched in San Francisco and expanded to the Bay Area. Customers can browse and order from nearby restaurants on the DoorDash smartphone app, and delivery persons, nicknamed "Dashers," can deliver the food in just under an hour.students were hungry, and yet she couldn't leave the kids to pick up food.
"[So] I DoorDashed them Subway sandwiches," Balentine said. "They all got something healthy and nutritious and I was able to watch them and make sure nothing [dangerous] happened."
Usually, according to Balentine, the deliveries run as smooth as silk, although she is still puzzled over an instance when the deliverer claimed he sent the food, yet she did not receive the food.
As the food industry service continues to advance, Balentine believes people will become more dependent on these types of services, and simple everyday tasks will become increasingly convenient.
"A lot of people say things [of the future] about self-driving cars and artificial intelligence and robots," Balentine said. "Maybe there will eventually be robots who deliver DoorDash and sit in self-driving cars."
That's certainly food for thought.
About the Writer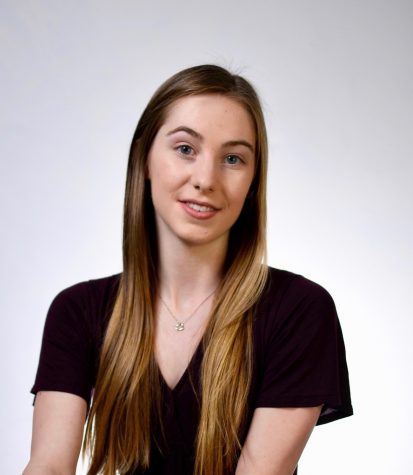 ZaZu Lippert, Staff Writer
ZaZu Lippert is a senior and this is her third year on staff. She previously served as the News and Special Report editor. When she's not working on El Estoque, she can be found in the theater working on a play or musical, dancing, or writing songs.