Design it: Students detail their interests in fashion and their process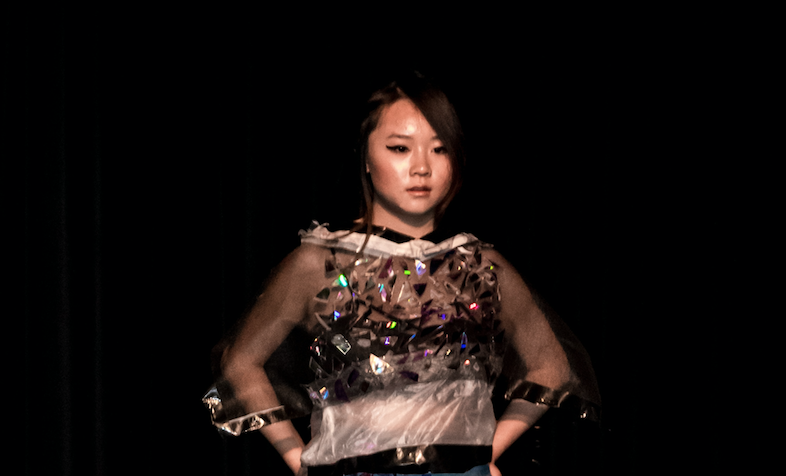 I

n a small room of long-legged models strutting down runways, clicking their heels with every step, senior Yiting Li had an epiphany. There, at the age of five or six, she realized her calling: fashion design.

Li has her mother to thank for the experiences that allowed her to realize her dream so early. An active member of the fashion industry and an owner of multiple retail clothing stores, Li's mother gave her opportunities to see the inside of the fashion world. A friend of her mothers works at Ultimate Network, and Li has him to thank for connections that have given her opportunities and exposure into the seemingly exclusive world of high-fashion.

In 2015, his network opened up a sea of opportunity for Li's mother — who was offered the chance to attend New York Fashion Week. She declined, but when the offer popped up again a year later, Li boarded a plane headed to New York City with her mother's friend's girlfriend, Vivi Tian — a top Miss Universe China contestant — and Tian's friends.

Less than an hour after landing in New York, Li was in a taxi, headed for the New York Fashion Week. Accompanied by Hayat Ammouri, the founder and editor-in-chief of online fashion magazine Glamouria, Li walked through the show's immersive live gallery, which featured stunning models dressed from head to toe in the brand's signature eccentric designs.

The designs junior Sian Yongyuth saw at a miniature fashion show set up by a store in a Korean shopping mall while on vacation, inspired her in the way that the New York Fashion Week inspired Li. She was intrigued by the idea of attending fashion week, not only to satisfy her interest in the actual clothes, but also in part to experience one of Kanye West's shows — a spectacle she's heard was a chaotic disaster. The small show she attended in Korea may have been nothing significant in the fashion world, but for Yongyuth, it was an opportunity to finally see clothes the way she feels they are supposed to be shown — not hanging on a rack, but elegantly draped on a human form, just as the creator intended.

For Li, the inspiration she found from being among fashion greats, models and designers helped her design pieces for her fashion portfolio. In order to have a chance at the design schools of her dreams, Li has compiled photos and sketches of her proudest creations to place in her portfolio. But while Li sat in her bedroom, hunched over a few of her sketches, she wasn't the only one contemplating her portfolio.
At her mother's persuasion, senior Aditi Jain found herself in San Francisco for the annual National Portfolio Day, an informational workshop for hopeful art students across North America, the January of her junior year. Though she was initially hesitant about attending — and the idea of majoring in fashion in general — her mother's constant support and encouragement helped Jain gain the confidence to pursue her dream. To pursue her dream, Jain has been working meticulously on her fashion design
and techniques.
On a trip to Italy last winter, Jain was captivated by a museum exhibit featuring the elaborate costumes of people living centuries ago. Before she knew what she was doing, she had taken out her sketchbook and begun to draw. Her brow crinkled as her pencil glided across the paper, her designs drawn and redrawn every so often until she she got the result she had imagined. By the time she finished, she had drafted an entire clothing line from the inspiration she found at a single exhibit.
Back at home, Tian sits on the edge of a brown suede couch, arms crossed against a dress with a bright, form-fitting top and an asymmetric neckline. Her hands rest comfortably upon the cascading white chiffon gown surrounding her. Standing but a yard away, Li stands alert, ready to snap a photo. It is her dress, her design. After snapping a few pictures, she places them in her fashion design portfolio — among the many other models of her clothes.
The inspiration behind Li's dresses comes from the most unknown of places. After watching the film "Finding Nemo" in Mythology class, Li was inspired by Dory's characterization. Dory's particular personality and design inspired Li to sketch a vibrant blue dress with lace patterns projecting out of the side, mimicking Dory's fins.
Yongyuth, on the other hand, cannot recall finding inspiration in any one concept. For her, inspiration comes from clothing itself: fabrics, cloth and a desire to personalize a creation, to make it her very own.
A difficult video tutorial paired with seemingly endless hours of hard work resulted in the creation of her favorite piece to date — a backpack.When she finally finished the backpack, a project that she was not actually sure if she could complete, she was beaming with joy and pride over her creation.
For Jain, inspiration comes from different places. Beyoncé's visual album "Lemonade" was the muse behind a clothing line she designed in her sketchbook, featuring the now-iconic yellow dress which she wore in her "Hold Up" video. But while the dress may beinspiredbyBeyoncé,Jainletspracticality run the most of her designs.
"It depends on like the material I have and if I think it's doable," Jain said. "Since I'm still a rookie at this, there's a lot of things that I obviously can't do, and so the more complicated ones, I decide, 'This is nice to look at, but there's no way I'm going to actually be able to execute it.'"
Over summer break, Li found herself sitting in the offices of Vogue, sitting beside her mother's friend as he spoke to executives about business with the magazine. During one of these conversations, he brought up the topic of fashion design colleges for Li. Anna Wintour, the editor-in- chief of the magazine was there, listening.
Shaking in anticipation, Li slowly raised her hand, her palm glistening in the hue of the office lights. She shook Wintour's hand.
Though it was nothing but strictly formal, Li will never forget the quick exchange the two shared, Wintour's words of advice for Li's future in fashion and her thoughts on the Chinese fashion industry encouraged and inspired Li.
"She said the fashion in China isn't up- to-speed and she's expecting more talented people to do the job," Li said.
And that's exactly who she wants to be.
As for Yongyuth, she doesn't see herself majoring in fashion in the future, but she does see a career in design. The preparation leading up to the creation of a physical object from the mind that envisioned it fascinates her more than the exhausting process of doing it. Now, she is looking into product design and advertising — not directly related to fashion, but more about designing runways.
"Making a product is always interesting," Yongyuth said. "I think that getting taught how to change, like, a thought into a physical object, I think that's really interesting."
In turn, she's applied to many design programs — including ones at Stanford and Boston University. To her, the programs' process is insane, not very art-based, but just plain intriguing.
She says there's quite an interesting stigma about the lack of career choices in art and design.
"Usually you consider arts, you're like you're going to be an art teacher or you're going to be a painter," Yongyuth said. "But you don't really consider how this applies to … everything you see in your life, someone had to have made it, right, and people don't really consider that."
An interest in fashion led Yongyuth to realizing her passions just as it inspired Jain. Fashion design. New York with her friends. Managing a boutique. For now, that's Jain's simple aspiration. Or at the very least, she yearns for the chance to escape Cupertino and submerge herself in art. In her own attempts to increase her chances of being able to get into top fashion schools such as Parsons School of Design, she plans to attend De Anza for the next two years, working on building up her portfolio and
honing her fundamental designing skills.
But not everyone agrees with her dream. Although her father has come a long way in his approval of her dreams, Jain remembers a time where he could only voice confusion of her hobbies and future. However, she knows that despite his support, he's still apprehensive. She chuckles, recalling a particular moment of well-intentioned commentary on his part. In the midst of creating a beautiful gown, she showed him the unhemmed version of the final physical design to her father, only to be met with utter confusion.
"He thought it looked really nice," Jain said. "But the first thing he told me, because it was really long because I hadn't hemmed it yet, was, 'So who's going to wear that, some monster?'"
The motivation for Li, Jain and Yongyuth's is fed by having the support of their parents. Although the support may not have come easy for all of them, they've all finally been able to receive their help — and criticism — and utilize it to hone in on their skills. For Yongyuth, her dad's always been a beacon of support. With constructive criticism and genuine interest in her work, Yongyuth knows that it is this constant support that has driven her to where she is today.
At one point of time, Yongyuth was fascinated by painting, telling her father there was a particular artist whose work she really wanted to see. When her family went to Chicago, he planned the trip to make sure they could stop by a museum to see that artist's paintings.
Yongyuth often notices people staring at paintings and other forms of art with one idea in his or head: that the painter just grabbed a canvas and threw some paint on it, expecting everything to fall in place. To her, what they don't understand is that in fashion and in art every detail, every color is planned. It was her interest in art that led her to developing a passion for design.
"[My mother's friend] told me that if you could shake Obama's hand," Li said, "then you could do anything in life."
As everybody else took out their textbooks for a last-minute cram during finals week last year, Li was on a plane headed to Washington D.C. She broke through the crowd of spectators trying to reach then-President Barack Obama's hand.
She thinks for a moment.
She could picture her future here, in D.C. A plan to get her own high-end design brand jump-started by designing dresses for these politicians. After building a clientele among the Washington elite, she would have the following and the experience to start her own brand.
After a handshake with the president and the first lady, Li was overjoyed. The two hours she spent in the crowd were worth the wait. After eating dinner at the White House, Li rushed herself to the airport in a frenzy to fly back home.
After that handshake, she understood what her mother's friend said. She could do anything. She was ready to do anything.
Li's clothes all begin with a sketched design. Years of practicing art gave her the ability to draw the human model with accuracy. However, the difficulty lies in drawing the actual clothes — whose designs must be completely reflective of the final desired product for the garment to be produced as intended.
The designers all have a process that they follow ever so meticulously, in an environment created solely for the purpose of actualizing designs that were previously limited to the depths of their imaginations.
0.0
When the rest of the world is submerged in darkness, Jain is wide awake, holing herself up in her living room at 2 a.m. to take advantage of her creative energy. With up-beat Korean-pop music reverberating in the empty space, Jain can just barely hear her mom, awake to provide support, speaking behind her. Jain sings along to the music, moving around the room, always returning to the sewing machine on the kitchen table when an idea hits.
Every so often, Jain listens to her mother's advice, whose lovingly honest comments help shape her dresses' style. By the end of her night's work, Jain can barely lift herself back to her room, exhausted by the long, draining process of executing her designs.
Yongyuth's first article of clothing that she's really wanted to make came from a cut up table cloth with a captivating print. She used it to create a makeshift skirt, underwhelmed when she found out the skirt fit her instead of her mother, who she had made it for.
Looking back, she realizes that she wasn't organized enough when planning out the procedure. She learned from experience to start embedding structure within her design process, while also keeping the flexibility and spontaneity needed to propel her creativity forward.
When designing, Yongyuth's room is chaos. Scrap pieces of cloth and rainbows of fabric line the floor and hang off of the blue and white walls. Yongyuth herself is lying alone in the center of the floor, surrounded by paper, sketches, fabric and anything with which she can tell her story. However, the chaos is structured – once inspiration hits, she is in a zone in which hours seem to pass in minutes, where all the preparations needed to execute the design are planned and executed carefully, painstakingly.
By the end of the day, no matter how exhausted they are or how heavy their eye bags droop, the three persevere. Design is an irreplaceable, essential aspect of all three of their lives.
"Fashion means everything to me," Jain said. "Fashion is my life. I don't know what I'd do without it. If I didn't have it, I wouldn't have any talent, I wouldn't have a place here. Fashion is my life source."
About the Writer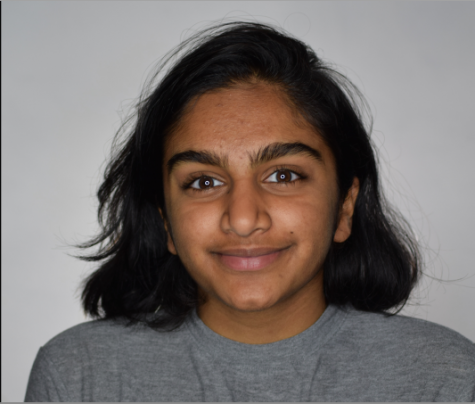 Himani Yalamaddi, Staff Writer
Himani is a senior at MVHS and a second-year staff member. She enjoys trying new things, going to different places and being outdoors.