Lessons from wearing a hijab for a day
The word "hijab", according to sophomore Hira Ali, means "barrier". While individuals like columnist Yasmin Alibhai-Brown see the veil as an oppressive barrier forced onto Muslim women by conservatives, Hira sees it as a different kind of barrier—one with a more positive connotation. To her, and to sophomore Afrah Ali, wearing the headscarf holds a deep significance in their culture and religion.

"It gives me a sense of independence. It allows me to control what other people see and what they judge me on," Hira, the secretary of the Muslim Student Association at MVHS, said.

But to the rest of the world, the hijab is merely a symbol of the Islamic religion.

"It lets people know that I'm Muslim, and that I'm proud of it," Afrah said.

"

"It lets people know that I'm Muslim, and that I'm proud of it." – Sophomore Afrah Ali

"

Women that wear the hijab have historically been discriminated against, as reported by the American Civil Liberty Union. Afrah recounted a memory in eighth grade, when she had to sell magazines for a school magazine drive. She went into a store and politely asked them if they would like to purchase a magazine subscription. The owner asked her if she was Muslim. When her reply was affirmative, he immediately told her that they weren't interested in buying a magazine from her.

On February 1, World Hijab Day, a day dedicated to celebrating the headscarf worn by many women who practice the second largest religion in the world: Islam. According to an article published by BBC, non-Muslim women all over the world wore the headscarf in a show of solidarity to their Muslim sisters.

After hearing from Hira about the discrimination and reactions she faced when she donned the hijab, I decided to wear the headscarf for World Hijab Day as well. Not being Muslim myself, I knew that I wouldn't be able to connect to the religion through this, nor would I experience the day-to-day discrimination that many feel. But to fully understand the significance behind the hijab, I asked Hira to teach me the religious meaning behind the scarf, and how to properly tie a hijab.

[embedyt] http://www.youtube.com/watch?v=BXU-ULOlrdo[/embedyt]

The nervousness I felt the night before was something I didn't expect. I considered backing out more than once. The following morning, as I got ready for school and wrapped the headscarf, I felt almost embarrassed to step out of my house. Not only was it a completely new experience for me to hide my hair  —I found that I wore a lot more makeup to compensate — but I also wondered what other people would think of me. As an Indian, I had seen the negative stigma surrounding the hijab first-hand.

A few years ago, while visiting India, I used to cover my freshly straightened hair with the scarf that came with my traditional Indian outfit. I remember one of my relatives, an old Indian lady, coming up to me as I stood in the temple, and firmly telling me to remove the scarf from my head. She told me that I looked like a "terrorist" with it. Shocked, I tried to explain to her the seriousness of the generalization she was making, but to no avail. I meekly took the scarf off and let my straightened hair fly in the wind.

This incident made it clear to me that wearing the hijab would make me stand out as a Muslim, even if I wasn't. Even though I knew that whatever happened to me in the course of the day would be nothing compared to what girls like Hira and Afrah face every day in their lives, I also knew that, like Hira said, my behaviour while wearing the hijab, even for a day, would represent a whole culture of people, an entire religion — even if I wasn't Muslim.

My hesitance to hide something as superficial as my hair showed me how attached I was to something that shouldn't matter so much. I found myself wishing for the ability to hide my face with my hair at many times throughout the day, a habit I didn't even know I had.

Since I only wore it for one day, I couldn't fully understand how wearing the hijab let people judge me for my personality, rather than my outward appearance, but when I went out for lunch that day, I did feel extremely self-conscious. I felt as though people were staring at me, while they probably were just looking at the menu on the wall behind me.

Wearing a hijab for a day made me realize the importance of behaviour over looks. Like Hira said, when a major part of your outward appearance, like your hair, is covered, people are forced to look beyond that before they judge you.

I realized that, even though I wasn't Muslim, to many people I represented an entire religion just by wearing a scarf. The way I behaved could easily affect what they think of that religion. It's a responsibility and a commitment, and now I have a much deeper respect for the women who, in the face of discrimination and intolerance, still choose to wear their faith around their head.
About the Writer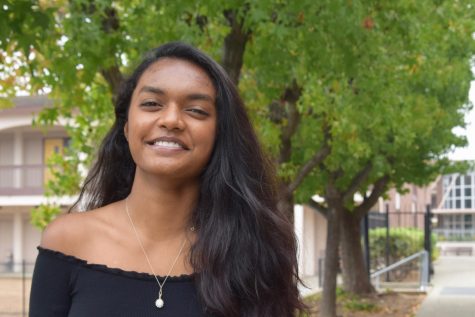 Gauri Kaushik, Managing Editor
Gauri Kaushik is a managing editor on staff and has served previously as a News editor. In her free time, she enjoys rereading Harry Potter and going to the park with her dog Jackie.