What it feels like to be a freshman on varsity: Freshman sensation
When girls varsity tennis coach Lu Tang yelled for his players to huddle up at the end of tryouts, freshman Meera Bambroo felt a bit lost. Since the coach hadn't posted a roster, she was unsure whether she had made the varsity team or not. But after a talk with the team captain, Bambroo discovered she was indeed on varsity, and the matter was quickly set aside. But this would not be the last time she felt out of place, as Bambroo would still continue to feel slightly unsure of herself throughout the season. In fact, this hesitation and indecisiveness is a common feeling for underclassmen playing at a varsity level. Especially freshmen.
At MVHS, the varsity sports teams are generally reserved for upperclassmen. But occasionally, there will be a few exceptional freshmen, and they'll be called up to play on the varsity team. This was the case for Bambroo, along with a few other freshmen this year.
"It has been really cool being on varsity," Bambroo said. "I didn't even think I was good enough to make JV, so this was definitely a nice surprise."
However, the varsity competition has still proven to be quite the challenge for both Bambroo and freshman varsity soccer player Jamie Chan. The majority of their games are played against bigger, stronger and more experienced opponents. Chan, who was moved up from the JV team shortly after the start of the season, is still learning to cope with this change in physicality.
"It's a little tougher for me, since I'm smaller," Chan said. "But my teammates all help me out and I'm learning to deal with it."
However, Chan distinctly points out that age is the one factor that plays no role in the way the game is played. Despite her young age, she is still respected by her teammates, her coach, and her opponents.
"When you're playing soccer, age doesn't really matter," Chan said. "Because when we are on the field, everyone is pretty much equal."
"When you're playing soccer, age doesn't really matter. Because when we are on the field, everyone is pretty much equal."- Freshman Jamie Chan
Despite the age gap between teammates, both Chan and Bambroo can agree that they benefit from the relationships they form with their upperclassmen teammates. They fit right in, and the varsity mindset really helps them mature as individuals.
"It's nice to be playing with older people, because they can teach me all the things they know," Chan said. "It helps me gain more experience and confidence."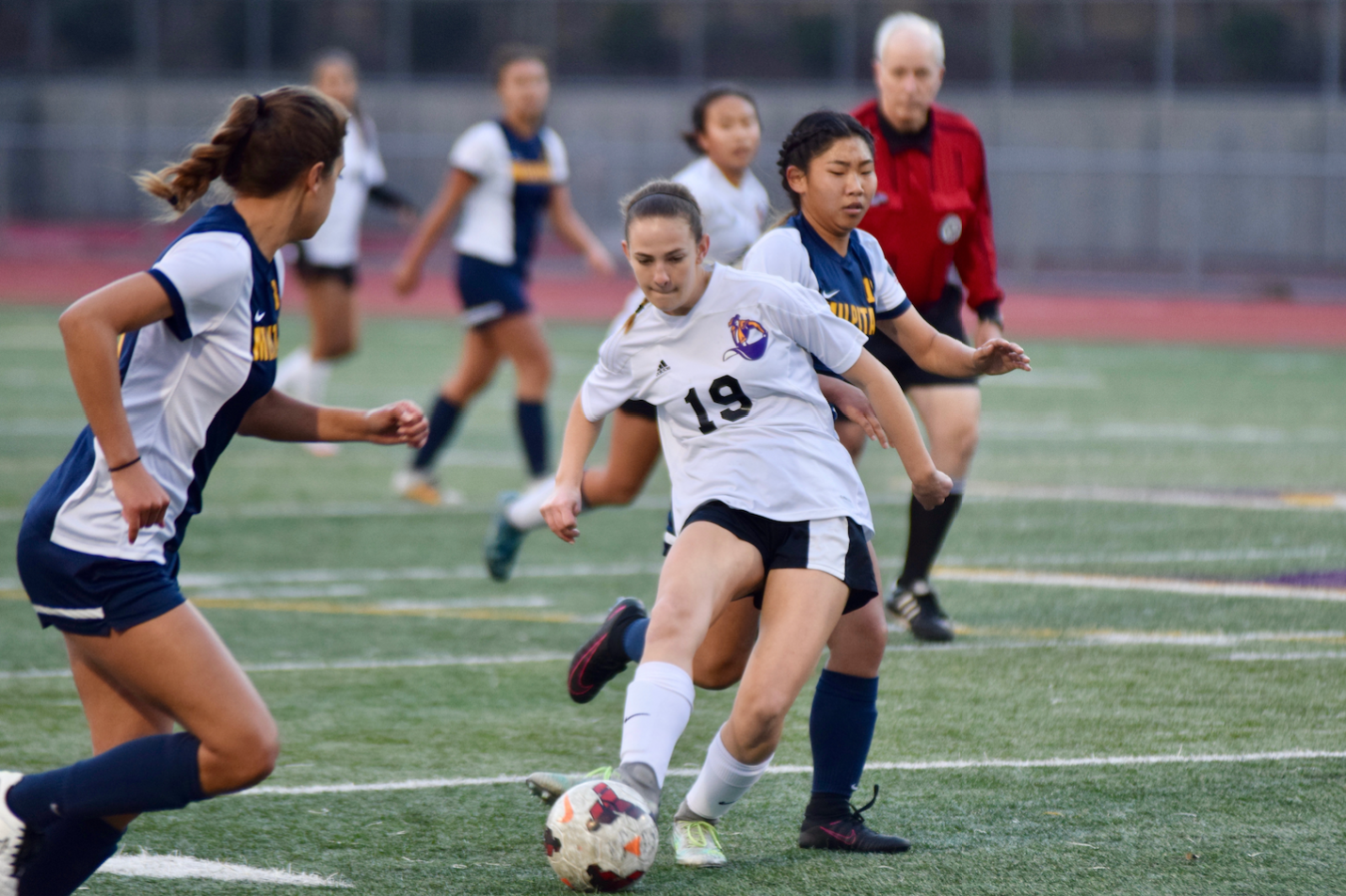 Freshman varsity soccer player Claire Ettinger adds that these relationships have also been beneficial off the field.  Her teammates guide her and give her advice when it comes to the other aspects of her life, such as school. Upperclassmen teammates help out with things such as course selection, teachers, and giving tips on how to succeed in certain classes.
"They kind of give me an insight on what high school will look like in the future," Ettinger said.  "So it's kind of cool that can see what will happen as I progress [through life]."
All in all, the varsity experience has transformed Chan, Bambroo, and Ettinger both on and off the field. For freshmen, varsity forces them to mature both as players and as people. In the beginning, they all feel nervous, slightly intimidated, and a bit unsure of themselves. But as the season progresses they gained confidence and certainty, realizing that they truly belong.
"I found out that being on the [varsity] team is a really big deal, and it's something to take seriously," Bambroo said. "I got to meet a lot of new people, and we're all friends, so overall [it's] an excellent experience."