French Honor Society hosts annual Fête du Fromage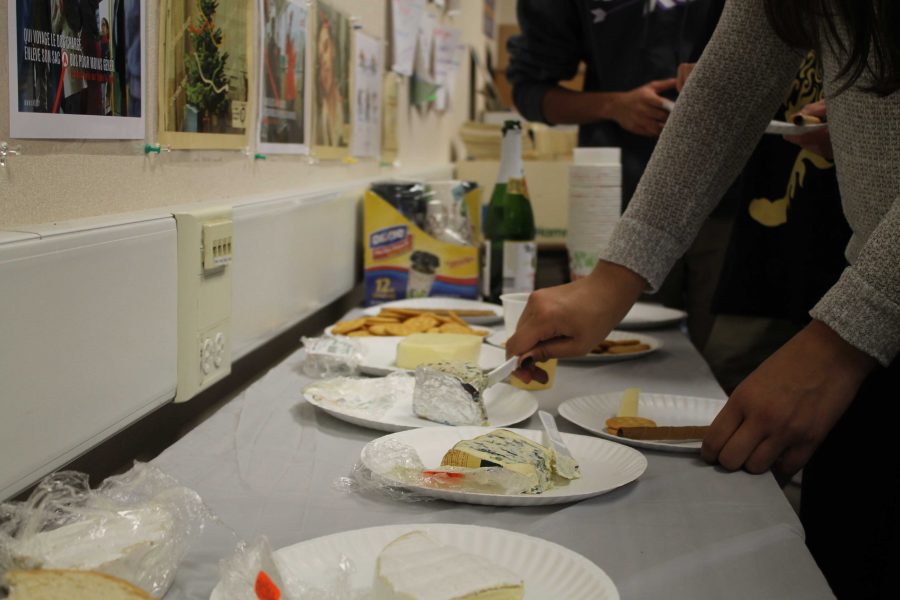 Amanda Chan
November 19, 2016
At 3:30 p.m. on Nov. 18, French Honor Society members were seated at the desks in B213, introducing themselves to other members and sharing their favorite type of cheese. Many members giggled and smiled while other members shared their responses. It was the start of FHS' annual Fête du Fromage, a cheese party.
FHS society members grab some cheese and crackers after a short introduction of the members at the start of the event. FHS has held Fête du Fromage for many years as a fun way for the club's members to get to know each other. Photos by Amanda Chan
Members then made their way to a table in the back of the room filled with bread, different types of cheese, crackers and chocolate rolls. According to senior and FHS president Christine Chyu, cheese tasting is a popular aspect of French culture; cheese making is seen as a traditional craft and the many varieties of cheese add to the flavors of French cuisine as well as reflect the nation's cultural diversity. FHS has been holding Fête du Fromage for many years as an informal way for members of the club to get to know each other and to celebrate a big part of France's culture.
"We bring a lot of different sorts of cheeses and introduce them to everyone and let people taste them, enjoy them," junior and FHS secretary Anika Ramachandran said. "We normally do it in a party setting, bring some other food, watch a movie just to have fun and mingle."
After the members filled their plates with some food, the lights in B213 were dimmed and club members started to watch a movie, The Little Prince, in French. FHS usually shows a different movie every year to make this event more than just a cheese party.
"We wanted to bring the aspect of cheese tasting into a class, but we didn't want just 30 minutes of trying cheese," Chyu said. "So we thought 'oh, we could also play a French movie'. So not only do students know more about the language aspect of it or the academic aspect, but [there'll be] more learning about the culture and [they'll be] just enjoying themselves."
While Fête du Fromage has been held by FHS for many years, the event has varied from year to year. Two years ago, the club had members taste cheese and guess which one they were eating. But, according to Ramachandran, since most members didn't have much knowledge of cheese, it didn't work out too well. So this year, the officers planned for members to just eat the snacks for a short amount of time before starting the movie. Ramachandran and Chyu have both been a part of FHS' long-standing tradition of Fête du Fromage during all the years they've been in the club. And now, as officers, they've enjoyed continuing the tradition by putting on an event for members to learn about French culture, watch a fun movie and snack on some cheese.