Behind the scenes of the polling booths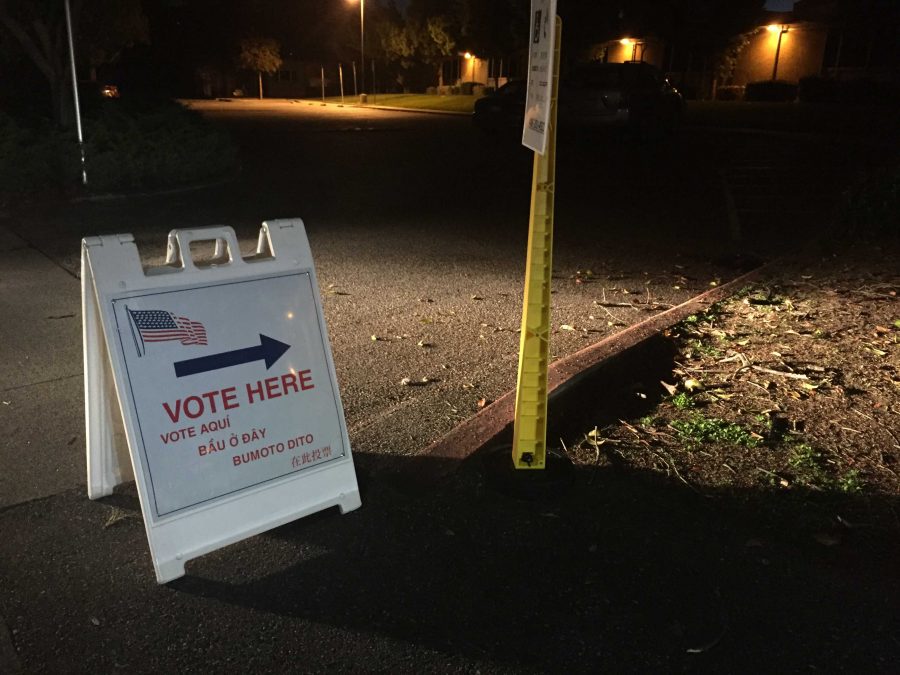 Chetana Ramaiyer
November 9, 2016
It's election day. All around Cupertino, people line up at polling stations to cast their ballot or drop off their mail-in ballot. Voters come and go, but the volunteers get to the stations at 6:00 a.m. and stay until late at night to tally all those who have voted, account for every ballot, and pack everything up so that it can go back to the registered voters. For these volunteers, election day is a lot more than just casting a ballot. Read below to hear the stories of these volunteers.
"The go-to person"
At the polling booth located at Kennedy Middle School, field inspector Cathy Larkin wore a bright orange vest as she helped organize and process the voters that were coming in to cast their ballots. She is the troubleshooter. She is the overseer. She is in charge.
To get to this position, however, Larkin started out as a clerk, who tallied up the number of all the people that have voted, accounted for every ballot and packed everything up so that it could go back to the registered voters. Then, she moved up to a precinct inspector, who's in charge of a particular precinct. And finally, after serving a certain number of hours and going through an interview process, she was promoted to the position of field inspector.
"I'm [the] go-to person for anything," Larkin said, "so if they have problems, all they have to do is call me."
Larkin became interested in this volunteering service when she tried to enlist in the military. Back then, there were rules regulating what someone's family does when they enlist in the army, which is what kept Larkin from joining.
"They wanted me to relinquish custody of my children and I said 'I can't do that'," Larkin said. "Now I don't think that's true, so people can serve with families. I was a single mom. I was divorced and I had two sons. They needed someone to assume custody of my kids while I was enlisted and it was too much because I had older parents. You know there was nobody else for them to go with. So I didn't enlist."
Now, Larkin's two sons are grown up, and although she can't be a part of the army, she still spends her time working at these polling booths.
"I wanted to do some public service for my country," Larkin said. "So this is one way of doing it for me."
"Just a Clerk"
Wallace Limura is – in his words – "just a clerk." But even if he is currently "just a clerk," this is the 17th election that he's worked. He's served as a precinct inspector since 2000, but as age caught up to him, he settled for the less physically demanding role of clerk. But just because it's less physically demanding doesn't make it any less difficult.
"It's a job that somebody has to do because you need to facilitate the voting process," Limura said. "So that's the fun part. Being here at 6:00 a.m. is no fun. And then we are here between 8 and about 9:30 p.m. cleaning up and processing the voters. So that's a frantic time because we're trying to get done, we're trying to be accurate, and there's [only] so many minutes to get it done."
With the convenience of mailing in ballots in recent years, he said that voting lines have grown shorter. The first year he worked back in 2000, very few people voted. He recalls the lines must've been at least 80 people while today, the most that were in line were six or eight individuals. Yet, there are still many people that came by today to vote.
"Today had more people casting ballots than the primary," Limura said. "We've had spurts, but we've also had some slack time too. So, it's not a crushing number of people that came. But there's an awful lot of people that just dropped off their vote-by-mail ballots."
Seeing the change
Vicky Gilfix worked at her first polling place in a garage, while the rain poured outside. She got involved when her neighbor asked her to help out. That was in 1968, over 48 years ago.
Over these 48 years, she's worked as both a precinct inspector and a field inspector. But like Limura, as she grew older, she decided to work as a clerk. She's seen the way people vote change – back when she first started working the polls, election day was a close-knit community affair.
"Each time we had voting, one of the mommies would stay home with all of the children and the rest of us and work the polls, and we'd alternate so that there was always a mommie home with the little people and somebody that was able to work the polls," Gilfix said.
At that time, there also weren't any scanners so she'd stay out late and count ballots, sometimes leaving the house at 7 a.m. and not coming back until 10 or 11:30 p.m. But even with the rise in mail-in ballots and voting machines, Gilfix said that many still stay away from the mechanized version of voting.
"There are a lot of people who still are resisting using the voting machine because they want to see their ballot go in a box, they want to see a receipt, they want in their hand to convince themselves that they have actually voted," Gilfix said.
But her favorite memory of election day wasn't seeing people stream in to cast their votes or waiting for the outcome, it was watching the children who came with their parents to the polls.
"When I was working as an inspector at a precinct long time ago, we used to have a machine where we could punch on a card and I would make sure that the little people [did] a sample ballot," Gilfix said. "So when they left with their mommies, they not only had their sticker, but they had their ballots, so they could share at school the next day that they had voted."