Girls tennis: Team stays positive after losing 1-6 in first league match of season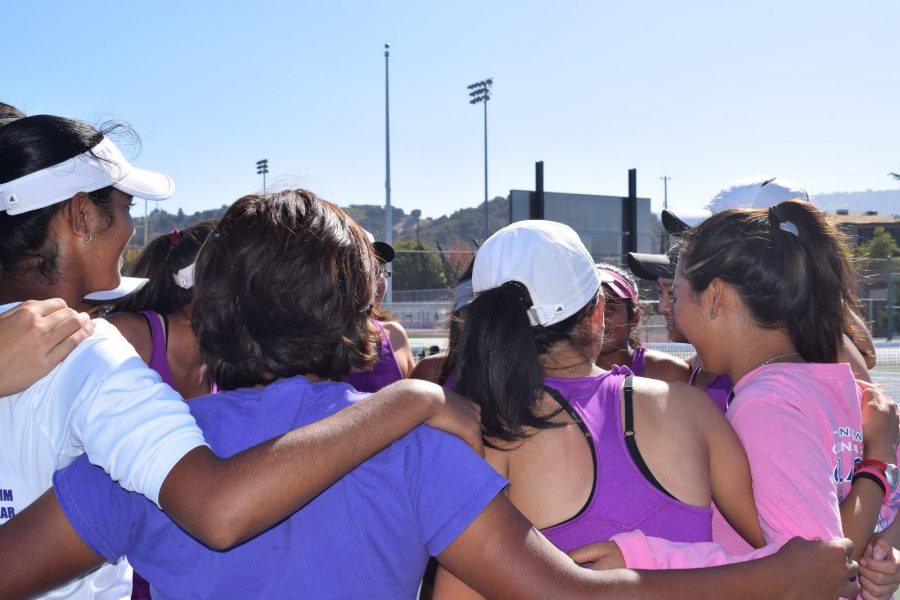 History repeated itself at the girls tennis team's first match of the season. Saratoga HS, who beat MVHS 6-1 at the CCS quarterfinals last year, delivered the same outcome on MVHS' home turf on Sept. 15.
SHS made it to CCS finals last year and with the addition of new, stronger players to their lineup, MVHS knew that they would have to work harder than they had last year to beat them.
Before the match began, Coach Lu Tang kept his expectations in check. He understood that SHS was a strong team, and newer players made it even more difficult to beat. He expected the score to be very close; around 4-3 with either team in the lead, giving each a 50/50 chance of winning.
"It's the first match for the whole season, right? So let's see," Tang said. "Fingers crossed."
Unfortunately, the score wasn't as close as he had hoped.
Before this season even began, MVHS faced big changes. The loss of graduating seniors was a huge blow to team dynamic and Tang, a new coach this year, is fundamentally different from the previous coach Gene Fortino. The team finds Tang pushing them to practice harder and more often than they had last year, a quality that co-captain Arushi Rai was confident would help the team become stronger.
The team's confidence, however, was one of the sources of the disappointing score. In freshman Jai Uparkar's opinion, the team had looked ahead more often than staying in the moment.
After being paired up with their opponents, the players' confidence shined through in the bright smiles and small talk they exchanged with their competition. Despite this being the first match of the season, the players seemed at ease.
When the matches began, however, MVHS' initial scores didn't reflect the confidence they had shown earlier, and for most, the score stayed that way.
Sophomore Leslie Ligier, the only player to win a match for MVHS, was also losing to her opponent earlier in the game and was showing signs of disappointment after losing points. Though she pulled through, her teammates struggled to make a comeback.
Junior Rashmi Ghonasgi, who lost her match 0-6 and 1-6, felt like she found herself pushing harder than she should have earlier in the game. Another factor in her loss was a foot injury the night before. After a seemingly minor accident, Ghonasgi was left without a toenail on her left foot. The injury made it difficult for Ghonasgi to move and run around the court, majorly inhibiting her performance.
During her match, she found herself "tapping" the ball over the net in places where she could have been more aggressive. Though she's glad that her serves remained solid throughout the game, Ghonasgi noticed her forehand and backhand shots going out more than usual.
Despite missing these crucial moments and allowing her opponent to take advantage of her injury, Ghonasgi believes that there's no use in dwelling on her loss.
"I mean, there are off-days," Ghonasgi said. "When there are off-days, [there is] nothing you can do to prepare for it. I think [the player from SHS] was definitely good though, [I'll] give her credit for that."
Uparkar and her doubles partner sophomore Cynthia Hom played in the court next to Ghonasgi,and ended up also losing their match with a score of 0-6 and 5-7 after playing a tiebreaker in the second set.
Despite doubles being admittedly more difficult for Uparkar, she thinks she and Hom played fairly well, especially nearing the end of the game.
"In the second set I got way more consistent," Uparkar said. "It was just really tight points, really important points … that we weren't able to close out."
Like Ghonasgi, Uparkar also feels like it was the shots that she and Hom missed that should have been attempted more consistently. In fact, this is a skill that she believes is essential if the team was to beat SHS.
Now that the game is over, both Ghonasgi and Uparkar are looking forward, hoping to improve their performance. Uparkar believes that the biggest thing that the team needs to work on as a whole is being patient and staying calm under pressure.
"I think we had a chance of winning the entire match against Saratoga [but] … we thought ahead too much," Uparkar said.
The next home games are on Thursday, Sept. 22 against Homestead HS and Sept. 29 against Gunn HS.
About the Writer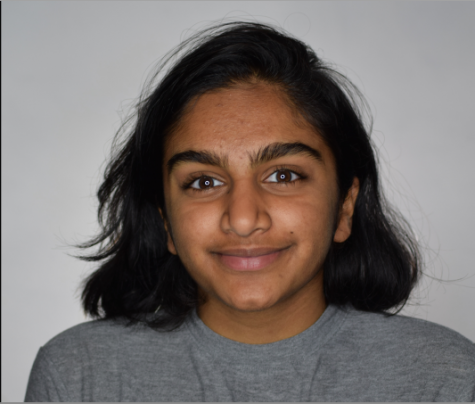 Himani Yalamaddi, Staff Writer
Himani is a senior at MVHS and a second-year staff member. She enjoys trying new things, going to different places and being outdoors.