17-year old student at Fremont High School arrested after threatening students at Homestead and Fremont HS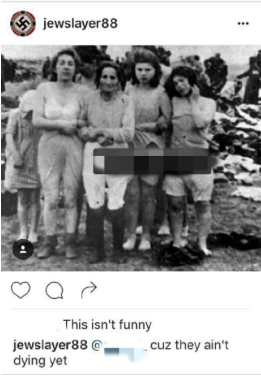 Over the Labor Day weekend, a Fremont High School student made several anti-Semitic and anti-Islamic threats through instagram. The Sunnyvale Department of Public Safety arrested the 17-year-old suspect on suspicion of hate crime and criminal threat offenses on the morning of Sept. 6, after parents and school officials brought the matter to their attention.
According to Captain Shawn Ahearn, the suspect was booked into Santa Clara County Juvenile Hall, but the suspect's home didn't show any weapons that proves they could've carried out the threats.
The suspect, whose name has not been disclosed because he or she is a minor, admitted to posting messages in order to "intimidate" a group of about 50 Jewish students, according to Ahearn.
According to the Epitaph, the Homestead Publication, various social media accounts under usernames, "jewslayer 88," "fu*muslims123" and "columbine4202k17," were created. They were all found to have posted Anti-Semitic and Anti-Islamic sentiments, tagging students from Homestead High School and FHS.
According to Deputy Lee Hickinbotham, school resource officer at the Santa Clara County Sheriff Office, "there was an incident that happened at Fremont High School, all the high schools in Cupertino are safe, and there's no [longer any] threat."
Even though the situation was deemed safe, police were stationed at the high school all day Wednesday to make the students feel comfortable. Fremont High School principal Bryan Emmert sent out an email to the parents of the Fremont students, the students' safety was assured.
"The safety of students and staff remains our top priority," Giglio said. "School counselors will be available to provide assistance to any students experiencing stress over this situation."
Students across the district were affected by these threats, even though the threats were only made to Jewish and Muslim students in FHS and HHS.
Senior Omer Katz, an active member of the Jewish Student Union at Homestead High School, deliberately went to school in order to show that he's not afraid of the threats made to students at his own school.
"I was surprised because I'm not used to dealing with racism, especially at school," Katz said. "But then I thought, I have to come to school, I can't give into the racism. I have to show them that I'm not going to be scared of it."
According to the Epitaph, at HHS, 161 students were reported absent from first period, compared to the usual 50-60 students who are absent. Katz, however, believes that by going to school, he showed that these threats didn't affect him.
"You can't believe you're a victim yourself," Katz said. "If you believe you're a victim, you become a victim."
Another senior at HHS, Shauli Bar-On, who is also an active member of the Jewish Student Union, was surprised by the threats.
"Unfortunately, it's not very rare [for Jews to be targeted]. I think it is rare in the Silicon Valley, though, when we are not that small of a minority," Bar-On said. "We have a lot of Jews in the Silicon Valley, and especially a lot of Israelis."
Although the threats were serious, both Bar-On and Katz believe that they did not have a huge impact on them as students.
"It was pretty surprising, and it was kind of shocking, but I don't think it's that big of a deal," Bar-On said. "I think the necessary steps were taken and I think the general population knows that it was not a good thing."
Updated Sept. 7: A previous version of the story that appeared on Sept. 7 incorrectly attributed the principal of Fremont High School.