The 2016 VMAs Recap
On Sunday evening, MTV's 33rd Video Music Awards made its triumphant return to New York City's Madison Square Garden. From Beyoncé's amazing performance of Formation to Jimmy Fallon's impersonation of Ryan Lochte, the VMA's was a night to celebrate up and coming talent  make headlines.
The Highlights
So, what made headlines? Britney Spears returned to the VMAs for the first time in ten years, sporting a glittery yellow body suit. Introduced by Kim Kardashian, she performed "Make Me…" ft. G-Eazy, a song off of her album "Glory". Spears has had a long and colorful history with the VMAs, from her infamous dance with a live snake to her kiss with Madonna.
Ariana Grande and Nicki Minaj teamed up to perform Grande's song "Side by Side", decked in bright gym gear. Grande's performance depicted fitness in a sultry and unapologetically sexy way, which was well-complimented by the reggae elements of the song.
Many black artists used their performances to bring attention to the instances of black violence in the news this year, starting with Alicia Keys. Before presenting Calvin Harris for the Best Male Video Award, she introduced her anti-violence poem turned powerful acapella with "Today marks the 53rd anniversary of Dr. Martin Luther King Jr.'s 'I Had a Dream' speech".
She hopes that our nation will continue to progress to the point where all women and men can truly be treated equally.
Kanye West also continued to bring attention to black violence on the streets. Many people wondered what crazy things West would say with four minutes of completely uninterrupted screen time. While he delivered with his provocative and completely strange performance of "Famous" and "Fade", he made some philosophical points as well.
While he couldn't help himself from mentioning his current feud with Taylor Swift, which involved Kim Kardashian leaking a private phone call in which Swift gives her permission for West to use her in his song "Famous", he also touched on topics such as gun violence in Chicago.
"If you think about it, last week there were 22 people murdered in Chicago," West said, during his VMA speech. "People called me like 'man, take down Taylor.'"
He continued, sharing a story about a young fan approaching him at a speech last year. "He said, three of my friends died and I don't know if I'm going to be the next."
A number of US Olympians this year came up to introduce awards, from Michael Phelps to four of the Final Five gymnasts — Simon Biles, Aly Raisman, Laurie Hernandez and Madison Kocian — and not to mention Ryan Lochte. Or, Jimmy Fallon impersonating Ryan Lochte.
The host of the Tonight Show poked fun at the controversy surrounding the Olympic swimmer's false burglary claims by "lying" about connections he has with pop stars.
I directed all five nominees for Video of the Year," he said, in his VMA speech. "I'm the one who gave Adele that flip phone."
"I made 'Lemonade' with Queen Bey," he said before calling himself "Reezy with the good hair."
Phelps loved it, laughing and snapping a picture when Fallon came on stage.
And lastly, Beyoncé completely swept the awards floor Sunday night. Her surprise performance was announced late Sunday night on MTV's twitter, and she completely blew audiences away with her 15 minute mini concert featuring her album Lemonade.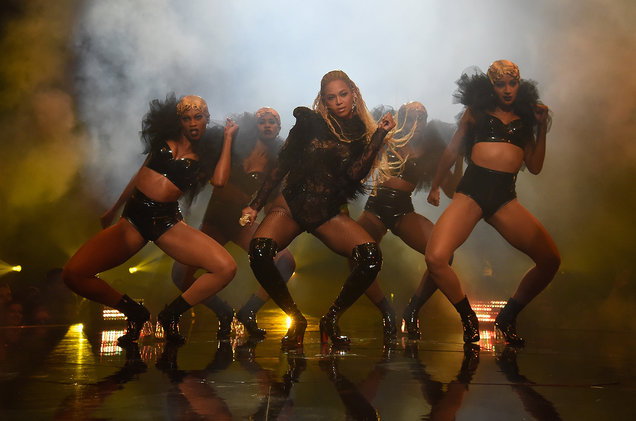 She, like Keyes and West before her, used her performance to highlight black lives issues along with iconic feminist imagery. She invited to the awards ceremony the mothers of Trayvon Martin, Eric Garner, Michael Brown and Oscar Grant III, four black men who saw their lives cut short due to fatal encounters with police and in Martin's case, a volunteer security watchguard.
The Winners
To see MVHS students predictions, read EE's recap here.