Highlights of the 2016 farewell rally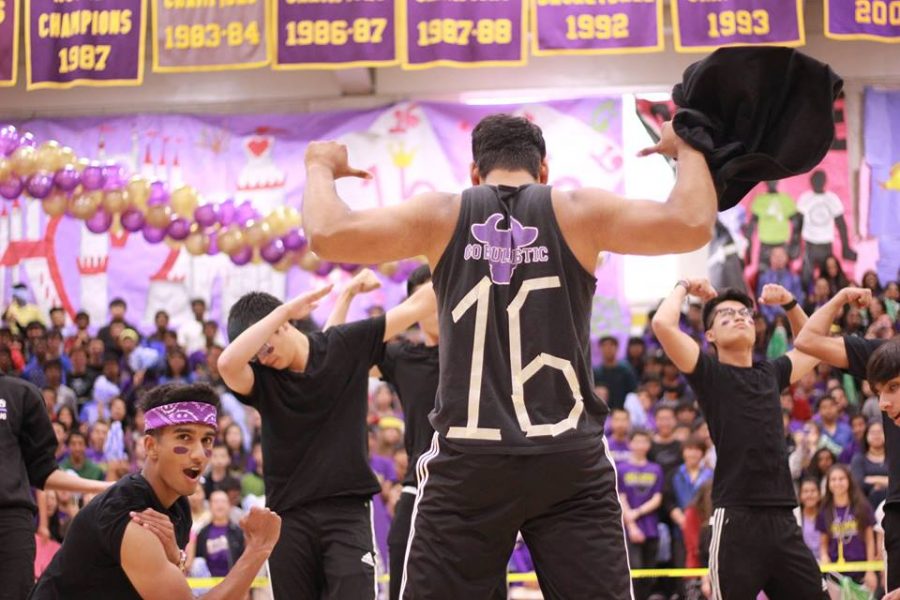 The farewell rally. The last time the class of 2016 would tear through the poster and crowd up onto the gym bleachers, screaming at the top of their lungs and forming a sea of purple and gold by waving their pom-poms. The last time competing in the rally games, shouting the 15-second cheer and singing the alma mater along with the rest of the school. The last time they'd participate in a MVHS rally. For the seniors, this rally was special and was their way of saying goodbye to the people and the school they had known for four years.
The farewell rally took place on May 20 and featured a variety of performances and games. If you missed the farewell rally or just want to relive the last rally of the school year, scroll down for a recap of what happened.
Beginning:
The rally started off with the classic "How do you feel?" and 15-second cheers for each class.
First performance:
MVHS Spirit, including the Cheer and Song team, performed first with their cheer routine, complete with flips and lifts.
Second performance:
Seniors Shovik Guha and Marcus Laguisma performed a breakdancing routine and were later on joined by more senior boys on the dance floor.
Rally games:
Each class sent three volunteers to participate in a game called Capture the Chicken, where one person on each team flings a chicken with a slingshot and the other two try to catch it in a tarp. The class of 2018 won the rally games, followed by 2016, 2017 and 2019.
Third performance:
The MVHS Marquesas performed their routine last and hyped up the crowd with their upbeat and modern moves.
Yearbook dedication:
The managing editors for the yearbook announced the dedication to history teacher Bonnie Belshe.
One last song:
The lights were turned off and students turned on the flashlights on their phones as they sang along to a remix of "Forever Young" by Jay-Z.
Results:
The seniors were announced as the winners of the rally and they all crowded around the center of the gym floor for a final huddle, cheering together one last time.
Featured image by Justin Kim