One step at a time: three friends backpack across Europe
Co-reported by Ananya Bhat and Jessica Xing 
They'll start in Ireland. After maybe three days, they'll move on to France. Then it's Italy, Germany, Czech Republic, Hungary and finally, the Netherlands. At least that's the plan — for now. For one whole month, seniors Eric Pala, Duncan Levy and college freshman Rohit Khandekar will be traveling across Europe by foot, EuroRail and whatever other local transport they can find. Although they say that they'll make it up as they go, they do have a rough plan: a plan that Pala' s dad constructed when he took the exact same trip across Europe after his senior year of college.  
It started in freshman year as a romanticized idea. The idea of having a senior trip has been on their minds for four years and has gone through many changes: at first they wanted to bike across Europe (later scrapped for convenience, safety and comfort reasons), then they wanted to road trip across the U.S. — they even briefly considered going to Japan. Now that the dream has actually come true, the boys are hesitant to call it one.
"I guess this is our senior trip, but it is not the classic 'going to some resort in Hawaii,'" Pala said. "This was going to be something more worthwhile and different."
The three of them always knew they were going to do something like this; it was just a matter of when, where and how.
"That was our idea in freshman year," Khandekar said. "We were like, 'Dude, we gotta have an all out senior trip.' We didn't care, at the time, about having a lot of fun or anything. We just wanted to make sure it was a senior trip worth remembering."
Each of them had ideas, like biking through Europe or roadtripping to New York, but it finally all came together around September of last year, when they decided to pool in all their efforts to make the trip happen. Europe, they decided, was the best place to go because, while this trip is about freedom and independence, there is some comfort in familiarity. After all, Pala had family in Italy and Levy had his parents' home in France, a reliable safeguard in case they ever ran out of money. Levy's mom plans a family trip to Europe almost every summer, so it was easy to get her to assist in planning in terms of destinations, airfare and cost.
That was our idea in freshman year. We were like, 'Dude, we gotta have an all out senior trip.' We didn't care, at the time, about having a lot of fun or anything. We just wanted to make sure it was a senior trip worth remembering.College freshman Rohit Khandekar 
"For the first month of summer I'm always in some different European country," Levy said. "My mother's really good at planning these trips —  I mean she just finds a house in just the perfect spot, she's really good at finding places along the way."
They already had their game plan laid out for them about 30 years in the past, as Pala's dad backpacked across Europe with some of his buddies after his last year of college.  They all had money saved up with little else to spend it on. Being able to use it on something big and worthwhile, Pala said, was a way to mark his transition into adulthood. For Khandekar, spending his own money meant he could grow independent from his parents.
"They definitely wanna cancel it the moment they can," Khandekar said. "The only the reason they can't is because it is my money. They don't actually have access to the money I'm using toward this trip."
For Khandekar's father Milind Khandekar there are the general safety concerns. What happens if Rohit loses his passport? Misses his train? Europe, according to Milind, has an entirely different culture than the U.S., and having his son, who is barely 18, backpack through Europe makes him feel apprehensive.
"Different country, different languages, different culture, different system, just the three of them, all barely 18, 19 backpacking," Milind said. "Not enough money, not mature enough — we were completely freaked out."
"Then, we realized, you know, he's 18, we don't have much choice," Milind said. "But it is going to happen. So we might as well just embrace it, help him out. We bought him a new phone so we can stay and touch. Told him over and over and over again how to protect his important documents. And to take lots of pictures! I hope he is able to reach us in Europe and is willing to reach out to us."
Rohit understands why his parents are a little wary, but this trip has been something he's always wanted to do — he's been saving up for awhile now, so in his opinion, it wouldn't have mattered if his parents had been involved or not.
"[Planning the trip] has just been in places — saving for this, saving for this, but at one point we were just like, you know what, we're just gonna put it all together for this," Khandekar said. "I feel like this is a young enough age where I can do stupid stuff like that."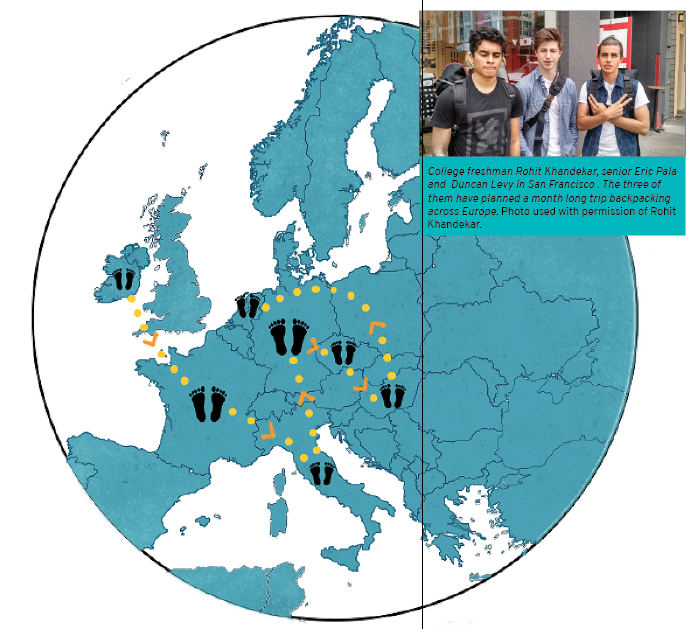 Senior trips can be a lot of things — a once-in-a-lifetime experience, a taste of freedom, a goodbye. For Pala, Khandekar and Levy, it's all of the above.
While they do have some party excursions planned, this trip isn't meant to be all fun and games. Pala wants to explore the culture and get to know each country for what it is, moving away from the Instagram-worthy landmarks to discover the heart and soul of each city he's in.
"I want to really dive in and involve myself with the people," Pala said. "Like when Duncan [Levy] went to Ireland, he made a bunch of friends. I thought ideally, I want to make connections like that everywhere."
But the month-long trip is also about pushing boundaries in preparation for college independence. After depending on their parents for most of their lives, this one month out on their own might be tough, but it'll give them a feel for the freedom they'll experience now that they are adults.
When you are 16, 17, 18, that's always when something happens. You want something to happen, and if something doesn't happen, you have to make it happen yourself. Senior duncan levy 
"I feel like it would be a good way to sign off on our high school experience and transition into something new," Pala said. "So we're kind of leaving our family for a month, and the three of us went through high school together, so I guess in a way it's kind of sadly saying goodbye."
Four years of friendship: laughs, games and memories, like building their own custom bikes. This trip will be the last month they have together before they leave for college. While they are sad to say goodbye, the boys feel that they are ready for this.
"When you are 16, 17, 18, that's always when something happens," Levy said. "You want something to happen, and if something doesn't happen, you have to make it happen yourself."