Homemade Hipster: DIY canvas art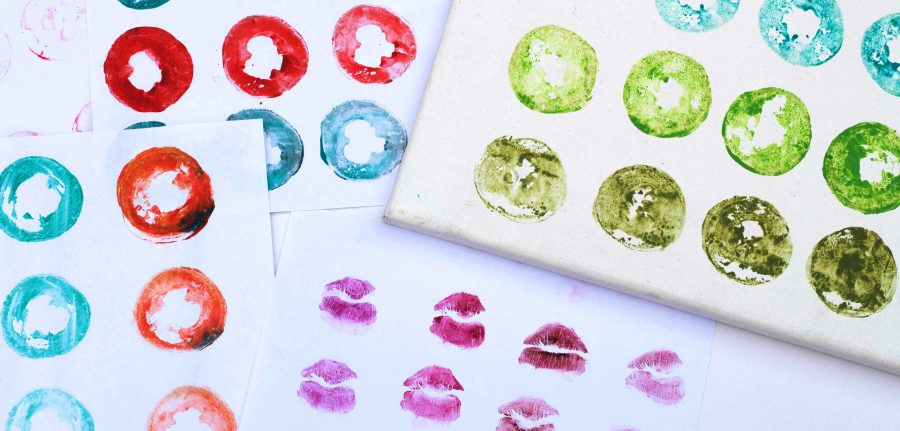 Fatima Ali
February 1, 2016
If you've found yourself leaving your New Years' motivation behind, try renewing it by redecorating your room with DIY canvas art. Walking past the bright colors and fun prints will spring you into February with a smile. Follow the steps below to learn how to create canvas art of your very own.
---
COOL AS A CUCUMBER

YOU WILL NEED:

a cucumber "stamp" → about a fourth of a cucumber
various colors of acrylic paint
a canvas or paper
foam brushes → one for each different color is the most efficient, but you can also clean them in between, or even leave them dirty for a multicolored, dimensional effect

STEPS

1. Place a drop of paint onto the cucumber, then use a brush to cover the surface with a thin coat of paint. Use a foam brush for a flat, even layer, or use a paint brush for a more textured one.

2.Place the cucumber onto the canvas, press down firmly, and lift to reveal.

3.Pick up the cucumber stump and continue the process for the desired effect. If an initial stamp doesn't come out well, carefully place the cucumber in the previous position and stamp down to easily hide the do-over.

4

. Repeat the process until you've achieved the desired number of lines.
CUSTOMIZATIONS:
COLOR → Switch paint colors with each stamp or stamp line
PATTERN → Switch colors, shapes, or stamp directions in an orderly fashion to end up with a distinct pattern
OMBRE → Continue to use the same stamp without reapplying paint after the initial stamp
As you continue stamping, less and less paint remains on the stamp, creating a beautiful gradient effect.

---
KISSABLE KEY TO THE HEART
The process for creating this piece is a tad strange, but it'll be worth it.

YOU WILL NEED:
various lipsticks
a sheet of paper
washi tape → to hold a sheet of paper against a wall at the ideal height without damage

STEPS
1. Apply a generous layer of the first color of lipstick to your lips.

2

. If you're working with paper, use washi tape to adhere the sheet to a nearby wall at a face-level height. Washi tape is significantly less damaging to the paper than regular tape.

3

. Kiss the paper to begin a sequence, similar to the cucumber stamp.
4

. Continue downwards, using fingers as a guide for the kiss placement. Repeat process for the desired number of lines.

CUSTOMIZATIONS:
COLOR → Switch lipsticks with each kiss or kiss line
PATTERN → Switch shades, pairs of lips, or kiss orientations in an orderly fashion to end up with distinct patterns
OMBRE → Continue kissing the canvas without reapplying lipstick in between for the shade to gradually lighten.
If you try out any of El Estoque's Homemade Hipsters, post it on social media with the hashtag #EEHomemadeHipster for the chance to get featured on our Instagram, @elestoque.
Videos by Fatima Ali