A guilt-free Thanksgiving: an environmental and health-conscious meal
T

hanksgiving is one of the most traditional American holidays and accordingly, its food is also very traditional. Turkey, stuffing, cranberry sauce, pies and cornbread are all among the tried-and-true staples of a Thanksgiving meal. But in the 394 years since the pilgrims' first Thanksgiving, people have become more aware of the environment and their own health. As a result, vegetarianism, veganism, pescatarianism and other sorts of lifestyles have been adopted. Pescatarianism is a lesser known lifestyle in which the only meat eaten is seafood.

Senior Osher Fein has experienced each of those eating lifestyles, having been pescatarian for three years and then vegetarian for another two and a half years as a transition into her current lifestyle: veganism. She acknowledges that Thanksgiving meals do have a very stereotypical structure, yet she thinks that the stereotype can and should be broken.
"I don't think that a food, or a type of food, makes a holiday," Fein said. "It can be part of it, but things can always change and things are always changing so saying 'Hey it doesn't always have to be this way, you have this option and that option' is kind of important."
Even so, the traditional Thanksgiving meal has never changed to accommodate those with special diets. So what do vegans and vegetarians do for Thanksgiving?
Fein and the rest of her family tend to be very health-conscious so they all enjoy a vegan-friendly meal together. When asked what a typical Thanksgiving meal consists of, she said "a lot of potatoes and a lot of beans."
Being vegan on Thanksgiving doesn't mean giving up dessert. Although there might be no rich buttery pecan pie, there are alternatives. Even though vegan desserts might sound impossible, without eggs, milk and butter, Fein can easily recall several delicious vegan desserts, including a vegan parfait that her mom made the year before for Thanksgiving. Items like this parfait remind Fein that veganism doesn't have to limit what one can eat.
For senior Nina Rice, it's her first vegan Thanksgiving. In previous years, she followed the traditional turkey-and-stuffing meal. Yet knowing the amount of turkeys being slaughtered all across the country, she won't be missing the turkey all that much.
"It's sad that one species is targeted for the enjoyment of our country on this one holiday," Rice said.
She's excited for this year's Thanksgiving, as she's planned out several recipes as alternatives to her favorite Thanksgiving recipes.
However, not all members of a family share the same eating habits. Sophomore Madi Anderson is vegetarian and she says that although her parents fully support her lifestyle, she still has to make many of her own meals. One of her favorite healthy alternatives to carb-laden Thanksgiving treats is cauliflower.
"Cauliflower is the best," Anderson said. "You can actually make a lot of stuff out of cauliflower. You can make pie crusts out of it, pizza crusts out of it and taco shells out of it."
As for desserts, Anderson takes fruit platters as a simpler alternative. Not only are they easy to put together and entirely natural, to Anderson, they're sweet enough to pass as a dessert.
Even though Thanksgiving has long had a very specific format for a traditional meal, those with different lifestyles can still find plenty of ways to enjoy a satisfying holiday meal.
About the Writer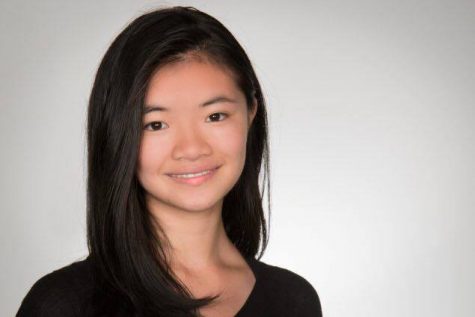 Ilena Peng, Staff writer
Ilena Peng is a senior with a love for tea, books and journalism. Formerly, Ilena was one of two editors-in-chief, as well as a news, entertainment and business editor.