Polo bros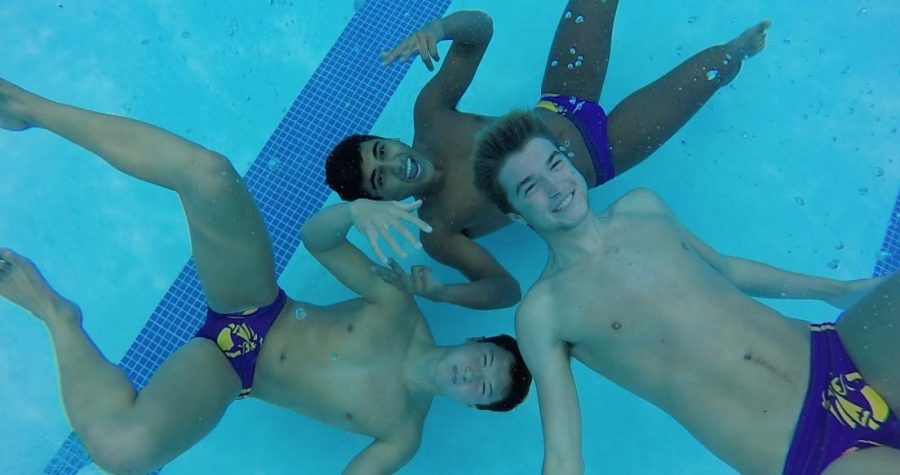 Stephanie Lam
November 18, 2015
Sitting on a broken wooden deck outside the wrestling room may not be where water polo juniors Spencer Springsteel, Brendan Hughes and Pranav Madanahalli made their best memories. It doesn't have that chlorine smell that the boys have grown up with. It isn't wet, like the drenched pool deck after a game. But it doesn't matter. Because when they are together, anything is worth remembering. The trio laughs every few minutes at inside jokes, from old games to random memories, like Hughes's almost forgotten pet rock.
"What was his name —" Hughes said.
"Jimothy," Springsteel said.
"Jimothy! Jimothy!"
The name bounces back and forth among the trio and they erupt in laughter. When they talk, neither boy can finish an entire story by himself. Each story is finished by another, continued on mid-sentence. It's a special chemistry between them that has developed from swimming with each other for six years.
"It's just that commonality and sense of brotherhood that happens when you play that closely on a team," Spencer's mother, Cindy Springsteel, said. "The [boys] can almost finish each other's sentences and predict how they are going to respond in certain situations."
Springsteel and Hughes have known each other and swam together at Cupertino Hills since the age of five. Hughes met Madanahalli at De Anza Cupertino Aquatics in sixth grade and introduced Springsteel to Madanahalli. Swimming and talking outside of school together was what started their friendship, but it wasn't until JV water polo in freshman year that they all became closer.
Hughes cracks up suddenly, remembering a particularly funny event that happened during their freshmen year.
"One time our coach told us not to touch a ball…" Hughes said.
"Yeah, I remember that," Springsteel said, continuing the story. "The coach was like, 'The next person who touches a ball does a thousand butterflies.' Then [junior] [Madanhalli] flicks the ball up on the pool deck. We did a thousand butterflies. [Madanhalli] just laughed the whole time."
Hearing this, Madanahalli laughs and turns away from Hughes and Springsteel.
The bond not only affects them in the pool, but out of the pool as well. Coach Ben Vierra, who has known all three boys and is a current director at DACA water polo, says that the chemistry between the team and the boys is what makes the team successful when they play.
"A team that's grown up and played together, or even just some of the players," Vierra said, "that chemistry, that bond, that friendship, it makes them want to play for the other guys." Vierra also pointed out how the bond between the boys strengthens their teamwork, an essential quality for any team. "In water polo you have to work together," Vierra said. "Not one person can do it, not two. The whole team needs to back each other up. You motivate each other in and out of the pool. It's a sport where you really need to be a team."
Madanahalli agrees that the closeness of a team is an important factor — to Madanahalli and Vierra, there is an obvious difference between a team that bonds and a team that does not.
"You can see it," Madanahalli said. "[A] team's chemistry isn't there when you're playing. Even on the deck, you're just not bonded together. You don't know each other's in's and out's, like what the other person likes on a play in the game or other stuff, you know, [the bond is] not there."
Teammate junior Madhav Mukundan, who is a close friend with the trio, sees the closeness of the team as not just a factor for playing well, but also as a second family.
"[The team environment] is great. We're all really close," Mukundan said. "It's like a little family, having people there to walk through anything you might be having trouble with, whether it's in the pool or outside the pool. It's always something you can come back to."
It is a close experience the boys think will not be available after high school. "
It's like a one time experience," Hughes said. You look back on this, 50 years from now, you get together and you're like, remember that time… "
For a rare moment, the trio is silent as they finish laughing. They gather their backpacks, and walk away toward their lunch group, still chatting with each other. They may look like an ordinary group of friends. But, in reality, they are teammates, best friends, brothers whose love of water polo and swimming have brought them closer together
Correction: 'Brenden' Hughes's name was changed correctly to 'Brendan' on Nov 17