Badminton Club's Halloween Mini-Tourney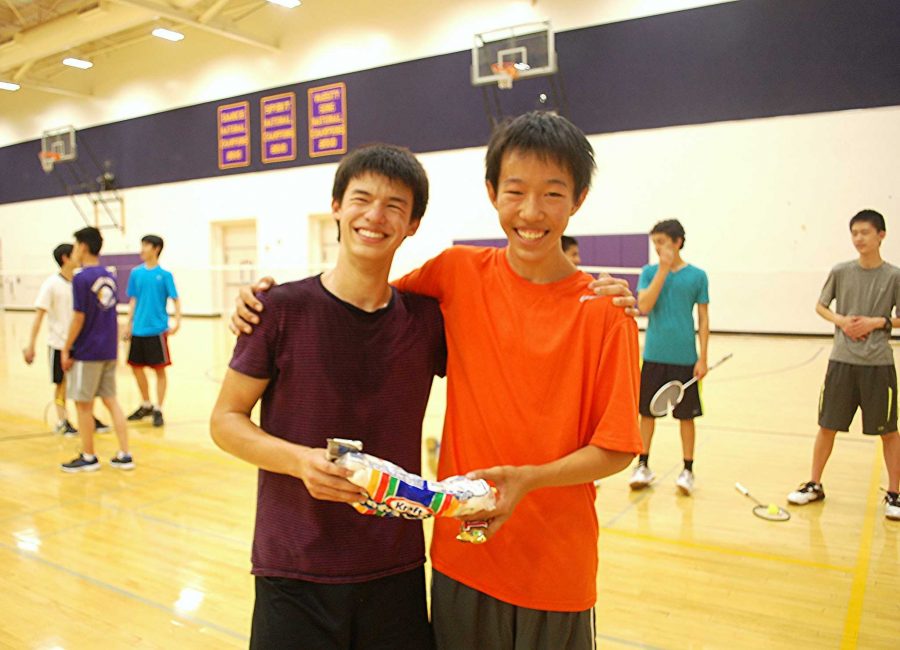 Karen Ma
November 10, 2015
At 5 PM on the night before Halloween, the doors to the field house open and members of the Badminton Club pour in, each carrying an equipment bag for rackets, shoes and water. Normally, a Friday would mean a fun, welcoming day of open gym, where players would play casual games and get to know one another before the start of the season. This time, however, the club officers planned a small doubles tournament amongst the club members, in the spirit of Halloween.
Club vice president junior David Chen explained that since they didn't have enough time to make the Halloween Mini-Tourney a bigger event and invite the whole school to participate, they settled to make it a fun club activity on a Friday.
"Since it's Halloween this weekend and we had an open gym," Chen said, "we figured that maybe it's just good to have a little celebration once in awhile for the baddy club."
A week before the event, a sign-up sheet was posted in the badminton team's Facebook group titled "Charley's Dummies", named after the team's former varsity and JV coach. Those who wished to participate were to write their partners' and their names on the sheet. In the Facebook post, players were encouraged to play with someone they wouldn't normally play with to avoid team-stacking and promote a more fair and playful climate.
"I was very worried in the beginning that people would be too concerned of winning, so they'd just partner up with super strong people, but I'm seeing a varsity level two guy playing with a backup guy," varsity and JV coach Evan Blomquist said. "People are really taking it to heart and playing with different levels of partners."
The rules of the elimination tournament were simple — one game to 21 points, winners move on. And, of course, the prize for being in the top four was none other than candy. Each game was played with enthusiasm and a sense of camaraderie, with laughs bouncing back and forth with the bird and smiles exchanged during and between rallies.
As for the purpose of the event, sophomore Shaunak Tulshibagwale put it simply: "To get people together, to have fun [and]  play badminton."
Freshman Karina Wang, new to MVHS and its badminton club, explained that her first badminton club event experience was a blast. She played with junior Chi Lao, who has been on the team and part of badminton club for all her years of high school.
"It was really fun playing with an upperclassman, improving my skill and learning how to play doubles better," Wang said.
In the end, freshmen Carl Rosenthal and Kevin Zhou secured first place and were rewarded a large bag of marshmallows, of which the pair shared with some friends.
Ultimately, Badminton Club's first event of the year was a friendly, laid back occasion intended to welcome newcomers, allow members to get to know each other and spice up the upcoming holiday. Blomquist firmly believed that whether you win or lose doesn't matter, especially in a good-spirited competition like this one.
"That's my philosophy," he said. "Come, play, have fun."