Around Town: The story behind it (st)all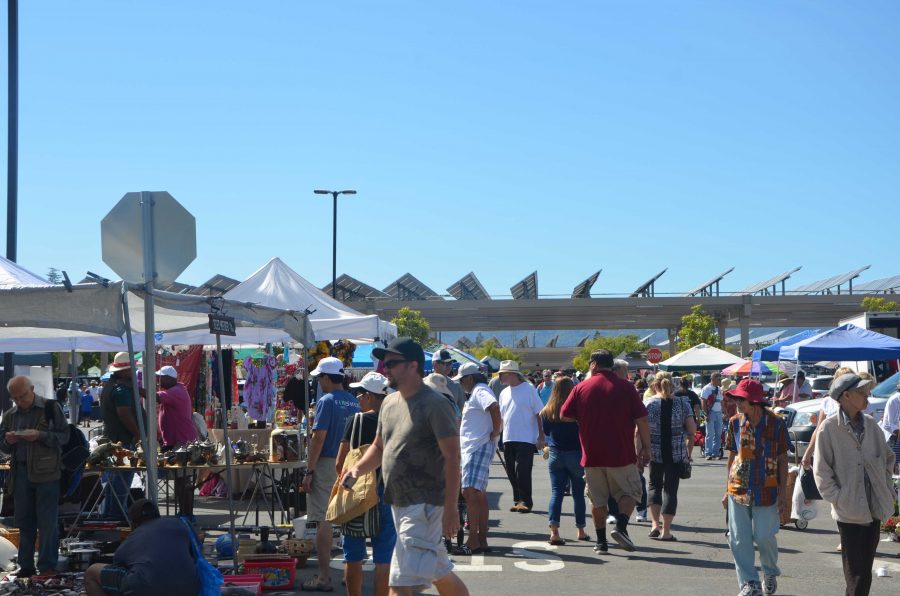 Minion tic-tacs, legos and jewelry — the crowd of shoppers meandered through the stalls, waving to acquaintances as they continued on their way.
Cowboy boots, rotary phones and jazz records — high schoolers were scarce, as seniors and families with young children made up most of the shoppers.
Bowties, perfume and wooden tennis rackets — fall decor dominated the scene.
The monthly De Anza College Flea Market has a rich sense of culture, balancing a blend of new and old. Here are the stories behind a few stalls and what they were selling.
The flea market at De Anza showcases a wide variety of objects, many of which can be bargained for a lower price. Here are five items, each under $20, to help everyone from Cupertino get acquainted with the monthly market.
[embedyt] http://www.youtube.com/watch?v=KNH3md09J9I[/embedyt]
Fandango at a flea market
Lourdes Beltran met Maestro Posadas nearly eight years ago. Since then, she has come together with other violinists, guitarists and dancers to play a style of music called Son Huasteco and to learn a type of dance called Fandango. The music revolves around a certain theme — in this case it's a horse, and includes improvised verses.
The group usually performs once a month, although they meet together to practice on a weekly basis. They've learned to sing, dance, and play their instruments with no formal training, instead learning through videos and street performers in Mexico.
"We go and meet [Fandango dancers], and we learn from them," Beltran said.
A different kind of superhero
From taking classes to selling signs, Judy Bender has spent much of her life in Cupertino. She started out creating oil paintings, but due to time constraints, switched to selling books and signs.
"I've been here forever," Bender said. "I went from blankets to books, which I love, to the signs that my grandson sells."
Designs on the drawings range from Coca-Cola to Captain America to Superman — all crafted to look like a professional painting, but with prices as low as 10 dollars. Although she buys them from another company, Bender is positive about one thing:
"They're made here in America," Bender said. Not China.
Built from pieces
Angel Monje has collected a multitude of Lego parts for the past seven years. Between trades, Lego conventions, and Craigslist, he has built an impressive array of toys. Monje often travels across the United States to attend conventions, and owns an online store where you can buy Legos from him.
He proudly featured a large, female Lego-doll he had traded for earlier in the day.
"The only way you could get [these kind of Legos] is if you found them in the trash because [the store was] ordered to destroy them," Monje said. "So the fact that this one survived is pretty cool."
It started with a character
Stephanie Oberst and Paula Cazares run a crafts stall. Inside there are buckets filled with colorful bowties and numerous head bands spread across the table. Some feature Mickey Mouse-style ears, while others are covered in gemstones. Their inspiration?
"It all kind of falls back to like going to like a character," Oberst said.
A headband of particular value to the friends is one they based off the movie "The Little Mermaid". They crafted the band based on her color scheme, and included a fork as a token from the movie.
She finds sea shells by the sea shore
Jeanne Henderson has been collecting shells for nearly 40 years. She's found a variety of shells and rocks from the coast of Mauritania, South East Asia and Monterey.
"I can't go to the beach and not pick something up," Henderson said.
She started out gluing pieces of abalone, shells beaten with a hammer and gemstones to terracotta pots. Eventually, she expanded her techniques to include spray painting and a cigar-box base for a jewelry box.
"Whatever I feel like sticking on there, I do it," she said.

About the Writer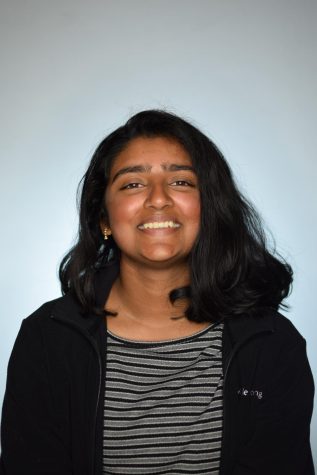 Priya Reddy, Staff writer
Priya Reddy is a senior at MVHS, a third year staff member and a managing editor. Priya was a multimedia Special Report editor her sophomore year and a print Special Report editor her junior year. She likes to read, watch trashy action movies and take long naps.